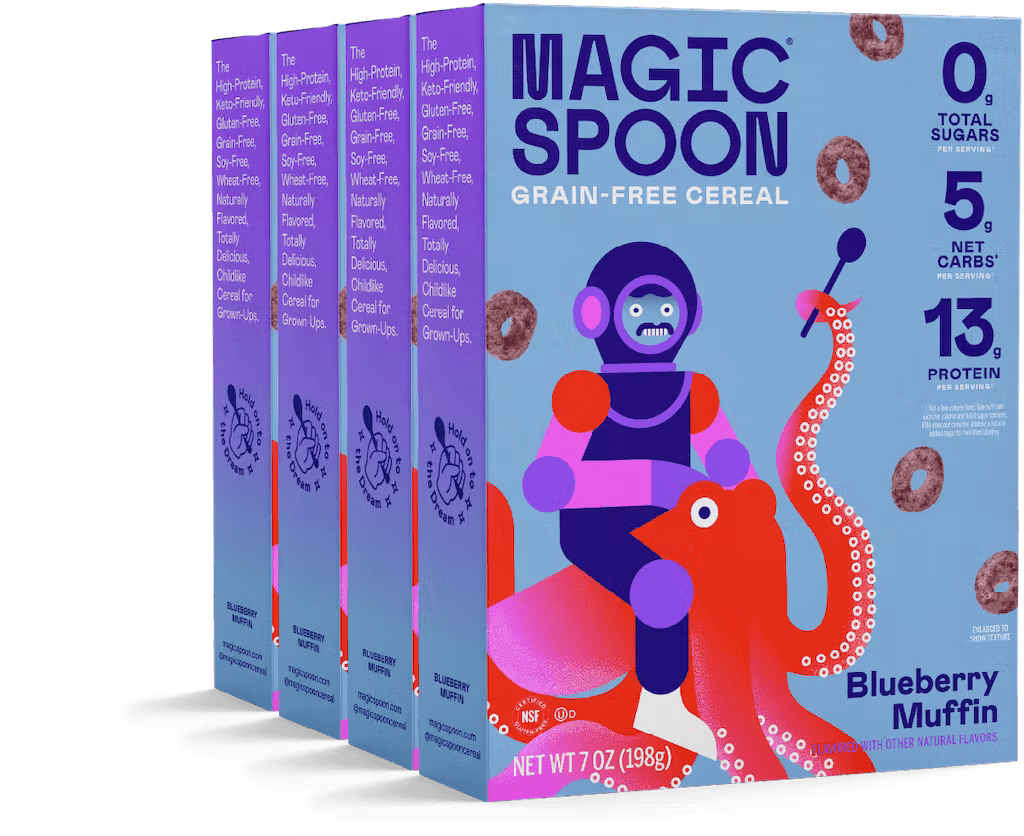 Finding a healthy but tasty cereal for your daily routine can be challenging, especially with so many sugar-laden options out there. Thankfully, Magic Spoon offers a range of healthy cereals available in a wide range of flavors perfect for low-carb diets.
One of the best options they provide is their Blueberry Muffin flavor, a delicious option suitable for fans of fruity flavors. Take a look below to see how this grain-free product compares to similar cereals on the market!
Nutrition Facts
Knowing what nutrients each cereal offers can help you decide on which option you want for your morning routine. Here is a list of what an average serving (37 grams) of blueberry Magic Spoon Cereal provides:
Calories – 147Kcal
Total Fat – 6g
Saturated Fat – 0g
Trans Fat – 0g
Cholesterol – 7mg
Sodium – 160mg
Total Carbs – 13g
Dietary Fiber – 1g
Total Sugars – 0g
Protein – 13g
Vitamin A – 0mcg
Vitamin C – 0mg
Calcium – 333mg
Iron – 0mg
Potassium – 0mg
Ingredients
Before you splash out on a box of new breakfast cereal, it's important to check the ingredients to see what your choice contains. Blueberry Magic Spoon cereal contains the following ingredients:
Milk Protein Blend (milk protein isolates, whey protein concentrates)
Sweetener Blend (allulose, monk fruit extracts, steviol glycosides)
Oil Blend (high oleic sunflower oil, avocado oil, vitamin E)
Tapioca Starch
Chicory Root
Natural Flavors (No artificial flavors)
Vegetable Juices
Blueberry Powders
Salt
You can generally find a full list of ingredients on the back or the side of your breakfast cereal box.
Is Magic Spoon Blueberry Cereal Healthy?
Magic Spoon cereal garnered a reputation for being a healthy cereal choice, but how accurate is this? We are happy to see that Blueberry Magic Spoon is a surprisingly healthy choice, perfect for breakfast and as a midday snack.
It features a high protein count whilst maintaining a low carb count, which is great news for anyone on a keto diet. Magic Spoon cereal also contains no sugar, which is extremely rare in the world of breakfast cereals and ensures this cereal is suited to most diets.
The low sugar content also helps balance your blood sugar levels.
Magic spoon cereal does lack some of the macronutrient content of competitors, but this can be easily made up for with a few added nuts or fruit!
Is Magic Spoon Blueberry Cereal Gluten-Free?
This Blueberry Muffin flavor cereal is completely grain-free and gluten-free. If you are trying to cut down on the amount of gluten in your diet or you are celia,c then be sure to consider adding this delicious healthy box to your morning routine.
For a complete experience, consider pairing it up with an alternative milk choice. Both oat and soya milk complements the blueberry flavor well and can add an extra bunch of nutrients to your diet.
Is Magic Spoon Blueberry Cereal Vegan?
One of the biggest ingredients is dairy-based protein, which sadly isn't suitable for vegans. If you are on a vegan diet, then you may need to look at other similar cereals, especially options that contain a high amount of plant-based proteins!
Is Magic Spoon Blueberry Cereal Keto?
Avoiding a high amount of net carbs is important to any ketogenic diet. A lot of popular cereals available today feature sugar in a range of forms, such as maple syrup and cane sugar, which is why cereals are rarely recommended for keto diets.
Thankfully, this fruity flavor cereal is low in carbs whilst still offering a high amount of protein per serving. This makes it an excellent choice for anyone who is currently undergoing a keto diet.
Is Magic Spoon Blueberry Cereal High in Protein?
One of the biggest selling points of Magic Spoon cereal is its incredible protein content. In a typical 37-gram serving size, you can expect around 13 grams of complete protein, which is especially high when compared to similar cereals.
A complete protein is incredibly important for most bodily functions, especially growth, so a cereal with a decent protein amount is essential.
Is Magic Spoon Blueberry Cereal High in Fiber?
Fiber is an important carbohydrate used to protect your gut from a range of issues and to prevent stomach problems from cropping up in the future.
When compared to similar cereals, this blueberry option contains an average amount of fiber per serving, 2 grams. This is a decent amount for a morning snack, but if you require higher amounts of fiber, you may need to add more fruit or grains to your diet.
Magic Spoon Blueberry Cereal Store Brand Alternatives
As this is a fairly new addition to the breakfast cereals market, there aren't many store-brand alternatives out there. If you appreciate the fruity taste offered by this cereal, then be sure to check out either Fruit Loops or Fruity Pebbles, as these offer a similar taste.
For a blueberry flavored alternative from a store brand, consider checking out Millville Blueberry baked bars. Although this isn't a typical cereal, it offers a healthy start to your day alongside a tasty blueberry flavor.
Where You Can Buy Magic Spoon Blueberry Cereal
You can buy these cereals from most popular retailers, including Walmart, Target, and similar high street stores.
Costco offers a fantastic variety pack that contains 4 boxes ideal for anyone looking to stock up on their favorite blueberry cereal. In this selection, you can find peanut butter flavor, blueberry, fruity, and cocoa flavor options.
This healthy cereal is also available on a range of online stores such as Amazon and similar online retailers.
Famous Magic Spoon Blueberry Cereal Commercials
There are a few commercials out there for Magic Spoon cereals; however, they tend to cover all flavors as opposed to just focusing on your favorite flavor. One popular commercial compares the amount of protein in an egg to how much you can expect from this breakfast option.
The commercial even ends with a $5 discount code that you can use to get money off a variety pack!
User Reviews
Review Summary
0.0 out of 5 stars (based on 0 reviews)
Recent Reviews
There are no reviews yet. Be the first one to write one.
Submit a Review