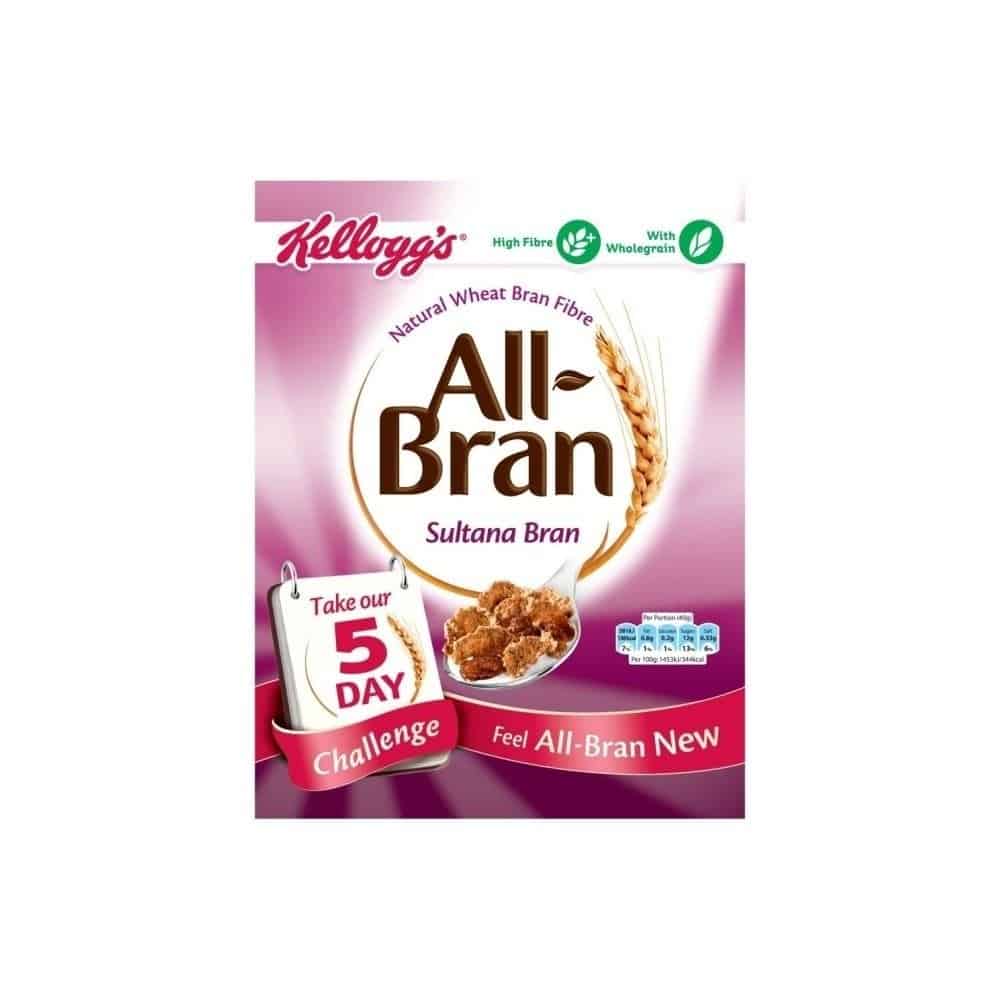 If you're a fan of whole wheat, crunchy wheat flakes with an edge of tart sweetness, Kellogg's Sultana Bran with its juicy, plump sultanas is a great way to start your day.
Kellogg's Sultana Bran is also an extremely easy way to increase your fiber intake, all while enjoying the natural sweetness of sultanas.
Nutrition Facts
All of the below nutritional information related to cereals facts are based on a single serving of Kellogg's Sultana Bran measuring 40 grams.
Energy: 590kJ (7% of your recommended intake)
Fat: 0.8 grams (1%
Fat that saturated: 0.1 gram (0.8%
Carbohydrates: 27 grams
Carbohydrates that sugar: 12 grams (13%
Fiber: 4.4 grams
Protein: 3.7 grams
Salt: 0.23 grams (4%
The above numbers are based on an average adult consuming between 8400 kJ/2000 kcal per day.
Ingredients
Kellogg's Sultana Bran contains the following ingredients:
Whole Wheat: (43%)
Sultanas: (27%)
Wheat Bran: (13%)
Wholemeal Flour
Sugar
Glucose Syrup
Barley Malt Flavouring
Salt
Natural Flavouring.
Vitamins and minerals
One box of Kellogg's Sultana Bran contains the below vitamins and minerals:
Niacin
Iron
Vitamin B6
Vitamin B2 (Riboflavin)
Vitamin B1(Thiamin)
Folic Acid
Vitamin D
Vitamin B12.
If you have allergies, it is always a good idea to check the back of the box for additional nutrient and ingredient details. Allergen notes are normally highlighted in bold.
Is Sultana Bran Healthy?
If you're on the hunt for a high fiber cereal that is low in saturated fats, Kellogg's Sultana Bran is a great option. It contains juicy sultanas, which add to its celebrated taste, and is lower in whole grains.
If you're after a breakfast cereal with a sweet edge, this is the option for you.
Is Sultana Bran Gluten-Free?
Kellogg's Sultana Bran does offer a gluten-free cereal, making it a great choice for those wishing to stick to a gluten-free diet and those with certain allergies. On top of being gluten-free, it is high in fiber and taste.
If you are intolerant to gluten, always read the dietary information on the product packaging.
Is Sultana Bran Vegan?
Unfortunately, Kellogg's Sultana Bran is not vegan. One of the ingredients is vitamin D3, which is derived from lanolin, in other words, an animal product.
Strict vegans will not be ok with this, while some are happy to consume small quantities of vitamin D3.
Is Sultana Bran Keto?
For keto followers, the majority of generic packaged cereals are completely out of the question — this includes both the extremely sugary varieties and healthy cereals such as Kellogg's Sultana Bran.
All are heavy on the carbs and crafted from grains, which are a big no-no for those looking to stick to a strictly keto diet.
Is Sultana Bran High In Protein?
As well as being low in saturated fats, total fats, and cholesterol, Kellogg's Sultana Bran is a great protein source, particularly in terms of plant-based protein.
Each half a cup serving of Kellogg's Sultana Bran (which is the equivalent of 29 grams) contains 5 grams of protein. You can add further protein by serving with the likes of tree nuts, Greek yogurt, or nut milks.
However, Kellogg's Sultana Bran is most celebrated for its high fiber content.
Is Sultana Bran High In Fiber?
The carbohydrates found in the unique lattice shape Kellogg's Sultana Bran flakes are extremely high in fiber, zinc oxide, and barley malt extract!
A serving measuring just 0.75 cups contains an impressive 4.4 grams of fiber in total, along with 21.3 grams of net carbs, 28 grams of total carbs, 0.8 grams of fat, 153 calories, and 4.3 grams of protein.
Aside from bringing a taste sensation to your breakfast program, this bran cereal from Kellogg Australia is a breakfast trademark worldwide.
Sultana Bran Varieties
There are two key Kellogg's Sultana Bran varieties; those from the same family include the following:
All-Bran Golden Crunch: A deliciously light cereal that comes in the shape of an oven-baked, multi-grain cluster that is extremely high in fiber and offers that celebrated golden crunch. Flavors comprise a delightfully sweet caramel, which gives this wheat bran its tempting flavor.
All-Bran Original: A traditional cereal that is extremely high in fiber. All-Bran Original is brimming with delicious natural goodness and boasts an appealing malt-like taste. As well as promising to brighten up your day, this cereal will also heighten your digestive health, which is all down to the natural source of wheat bran fiber.
Sultana Bran Store Brand Alternatives
One great Kellogg's Sultana Bran alternative (and another family favorite) is Nature's Path Flax Plus Raisin Bran.
Although a little higher in terms of calories, it's still brimming with fiber. It contains an abundance of healthy fats, which come from flax seeds and vitamins and minerals, including zinc oxide, barley malt extract, and golden corn.
Combine these ingredients with the mouth-watering taste sensation of juicy sultanas and whole-grain goodness; this trademark family favorite is a natural source of fiber.
Where You Can Buy Sultana Bran
You can purchase these crisp malty flakes online from a breakfast website or in your local grocery store, where you will find them in the cereal aisle next to other nutritional information-related cereals.
Famous Sultana Bran Cereal Commercials
There are a handful of celebrated Kellogg Australia commercials, often showcased on breakfast program TV, as well as breakfast website platforms, our favorites of which we have listed below…
One of the most renowned Sultana Bran commercials, which was created for Kellogg Australia, is the one that boasts the #FullOnFibre. This 30-sec commercial is based on the concept 'full-on days require #fullonfibre,' and this golden corn cereal gives you all the energy you need to combat whatever your day may throw at you!
'Every sultana is a surprise; the taste just hits you, so lovely and light' – another great whole wheat bran ad created in 2000 that boasts an animation that showcases the fusion of flavors housed by these mouth-watering, wheat, crisp malty flakes, which boast a unique lattice shape.
User Reviews
Review Summary
0.0 out of 5 stars (based on 0 reviews)
Recent Reviews
There are no reviews yet. Be the first one to write one.
Submit a Review