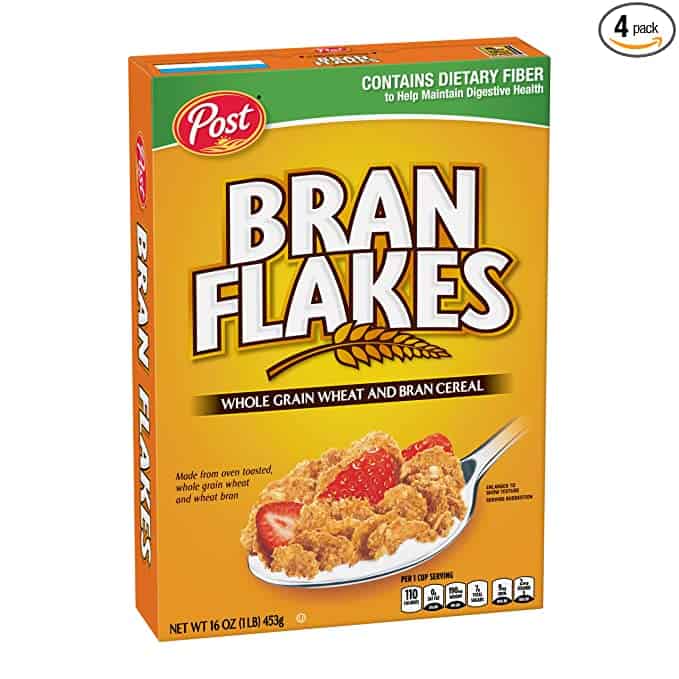 Bran flakes cereal is a breakfast option suited to the entire family. Crafted out of wheat bran and whole grain, each serving provides 7 grams of fiber, 21 grams of whole grain, and an impressive 13 essential vitamins and minerals, including the likes of zinc and Vitamin B12.
As well as posing as a great breakfast cereal, bran flakes can also be used in many delicious recipes, such as cinnamon applesauce bread, delicatessen rye bread, and double apple bran muffins.
Nutrition Facts

Post Bran Flakes boast the following nutrition guidelines. These are based on a 29-gram serving:
Total calories: 110
Calories from Fat: 4.5 grams
1% Total Fat: 0.5 grams
0% Saturated Fat: 0 grams
9% Sodium: 210 mg
0% Cholesterol: 0 mg
5% Potassium: 160 mg
8% Total Carbohydrates: 23 grams
20% Dietary Fiber: 5 grams
Sugars: 5 grams
Protein: 3 grams
25% Vitamin A
100% Vitamin C
0% Calcium
100% Iron
All of the above values are linked to a 2000-calorie diet.
Ingredients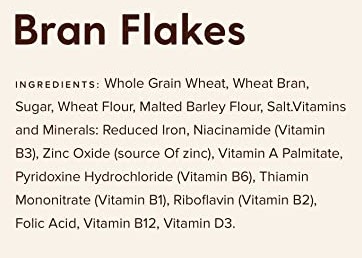 You will find the following ingredients in a typical box of bran flakes:
Wholewheat (59%)
Wheat Bran (18%)
Wheat Flour
Brown Sugar Syrup
Barley Malt Extract
Glucose syrup
Salt
Natural flavoring
Folic acid
Is Bran Flakes Cereal Healthy?
High in dietary fiber, this cereal assists in lowering blood sugar rates and insulin levels post meals. This in turn lessens the risk of a heart attack or type two diabetes.
On top of this, a healthy intake of fiber can heighten a healthy microbiome. Fiber can also help to stop or treat constipation.
Both oat bran and this whole grain wheat cereal boast numerous body benefits. Wheat bran in particular is jam-packed with an array of essential nutrients, comprising Vitamin B6, Iron, and Riboflavin.
Oat bran, in turn, is packed with disease-preventing antioxidants and supports healthy bowels. This includes both soluble and insoluble fiber.
This is one of the reasons many choose to order several boxes over a month, either from local stores or purchasing online.
Is Bran Flakes Cereal Gluten-Free?
Bran flakes are not a good option for those wishing to stick to a gluten-free diet as it is made up of wheat and other ingredients containing gluten.
Is Bran Flakes Cereal Vegan?
Overall, this breakfast cereal is typically suited to vegans. However, it is still worth double-checking the ingredients on the back of the packet, especially if you are highly intolerant to certain products, such as milk proteins (like casein or whey) or other food types derived from animals. The presence of vitamins derived from animal sources can make a cereal such as bran flakes not vegan, so ensure you thoroughly check the ingredients before purchasing if you are vegan.
Is Bran Flakes Cereal Keto?
Those on a keto diet plan should avoid bran flakes, as they are not classed as keto-friendly. Why? It is a high-carb processed food, which comprises several ingredients incompatible with a keto diet.
Thankfully, there are a number of other similar products synced to a Keto diet plan which are more suitable
Is Bran Flakes Cereal High in Protein?
Cereals high in wheat, such as raisin bran cereal, one variety of bran flakes, are a great protein source and contain several highly beneficial nutrients and healthy ingredients.
On top of this, it gets 5 stars for being relatively low on the calorie front. The best part? This breakfast cereal, with its brown sugar syrup, tastes great!
Is Bran Flakes Cereal High in Fiber?
Whole grain wheat cereals, such as the infamous bran cereal, as well as the likes of wheat flakes cereal biscuits, raisin wheat flakes cereal, and malted wheat cereals (which contain malted barley flour), are high in fiber yet can contain salts and sugars.
With this in mind, you might want to avoid adding further artificial sweetness to your breakfast bowl, opting for berries and fruits instead, which still provide a delicious taste.
Even a spoonful of honey is better than a spoonful of processed sugar for extra sweetness.
On top of this, check out the label on your milk or yogurt products as these too can contain hidden sugars.
If you're lactose intolerant, opt for almond milk or another milk alternative instead of cow's milk.
Bran Flakes Cereal Varieties
There are several styles of this cereal to choose from, the first being Kellogg's Raisin Bran® Original. This is a popular choice for those who like a little tart sweetness added to their bowl.
Next up? Kellogg's Raisin Bran® with Bananas is a great option for those looking to add even more fiber to their diet.
Then you have Kellogg's® Raisin Crunch®, Kellogg's Raisin Bran Wheat Flakes with Cranberries, and Kellogg's® Raisin Crunch® Vanilla Almond – all promise tasty flavors, a great fiber source, and a heart-healthy favorite cereal option that can help to combat the likes of heart disease due to the low saturated fats and vitamins and minerals contained in every bowl.
There really is a flavor and cereal literally suited to the whole family, and all include vitamin E, come in regular size box's as well as family pack size boxes and are stocked at most brick and mortar and online stores.
This makes them a delicious choice and gives them 5 stars for those looking for a hassle-free breakfast option.
Other brands include Post Bran Flakes, which is another classic take on the bran cereal variety.
Where You Can Buy Bran Flakes Cereal
You can purchase this healthy whole grain cereal from most grocery stores and online, including Walmart, Target, and amazon.com This cereal is the perfect option for the entire family and is often worth buying online in bulk, especially if there are few stores close to you or your neighborhood foodtown store doesn't sell this product.
Famous Bran Flakes Cereal Commercials
There are several famous ads available, some of which can be viewed below. First up is the 1982 'They're tasty flat' advert, which can be viewed here.
Another advert, the 1987 commercial 'they're too tasty to interrupt'. This advert boasts a sing-a-long style, about a trainmaster who uses his time between level crossing to enjoy a bowl of one of his favorite cereals, reveling in the great taste.
User Reviews
Review Summary
0 out of 5 stars (based on 0 reviews)
Recent Reviews
There are no reviews yet. Be the first one to write one.
Submit a Review