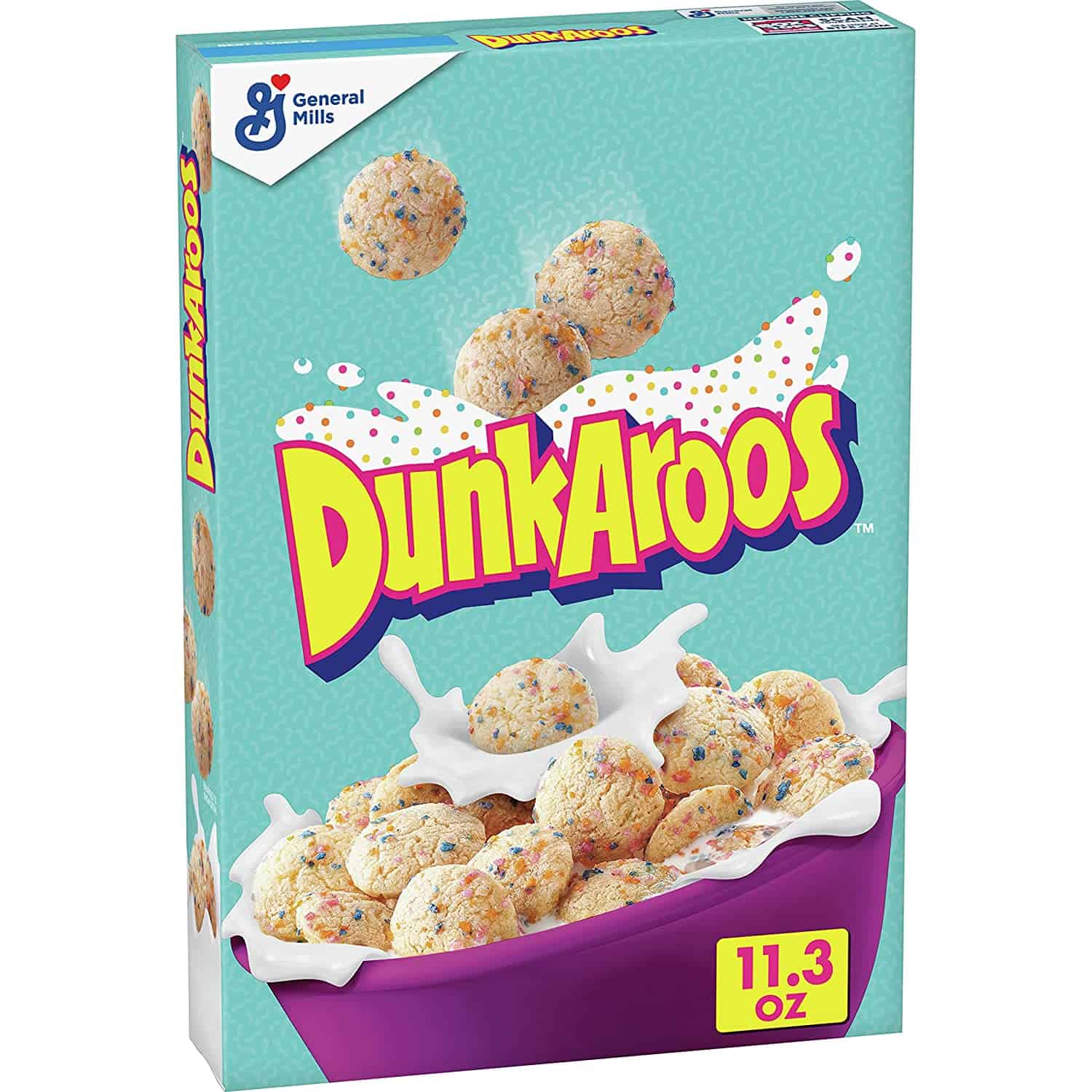 Breakfast just hits the spot – especially when it's a hearty and wholesome bowl of cereal. Dunkaroos Cereal is one of the most loved cereals and markets itself to be full of nutrients and vitamins – it comes in yummy flavors too!
Dunkaroos cereal was on the market for around 20 years before being discontinued. It made a much-anticipated return in 2021. Let's explore one of the most popular breakfast foods that 100,000s eat every morning!
Nutrition Facts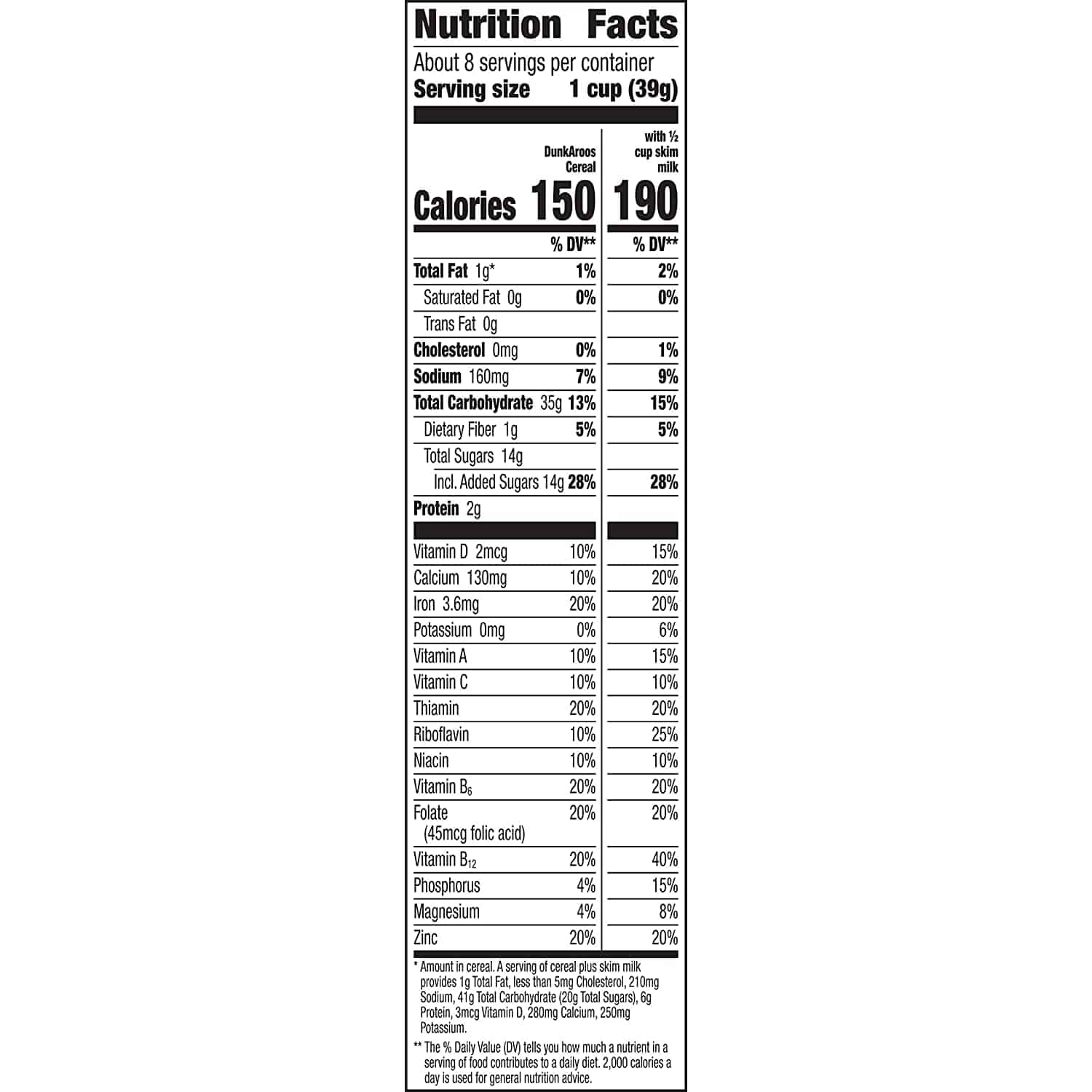 One cup (39 grams) of Dunkaroos Cereal contains:
Calories – 150
Total fat – 1g/1% DV
Trans fat – 0%
Saturated fat – 0%
Monosaturated fat – 0.5 grams
Polyunsaturated fat – 0.5 grams
Sodium – 160mg/7% DV
Cholesterol – 0mg/0% DV
Total carbohydrates – 35 grams/13% DV
Total sugars – 14 grams/28% DV
Dietary fiber – 1g/5% DV
Protein – 2 grams
Vitamin D – 2mcg/10% DV
Calcium – 130mg/10% DV
Iron – 3.6mg/20% DV
Potassium – 0mg
Vitamin A – 10% DV
Vitamin C – 10% DV
Thiamin – 20% DV
Riboflavin – 10% DV
Niacin – 10% DV
Vitamin B6 – 20% DV
Folate (Folic acid) – 45mcg/20% DV
Vitamin B12 – 20% DV
Phosphorus – 4% DV
Magnesium – 4% DV
Zinc – 20% DV
The above Daily Value percentage is based on a diet of 2,000 calories per day.
One 584g box of Life contains around 15 servings.
In total, Dunkaroos cereal contains more than 14 vitamins and minerals per serving.
Ingredients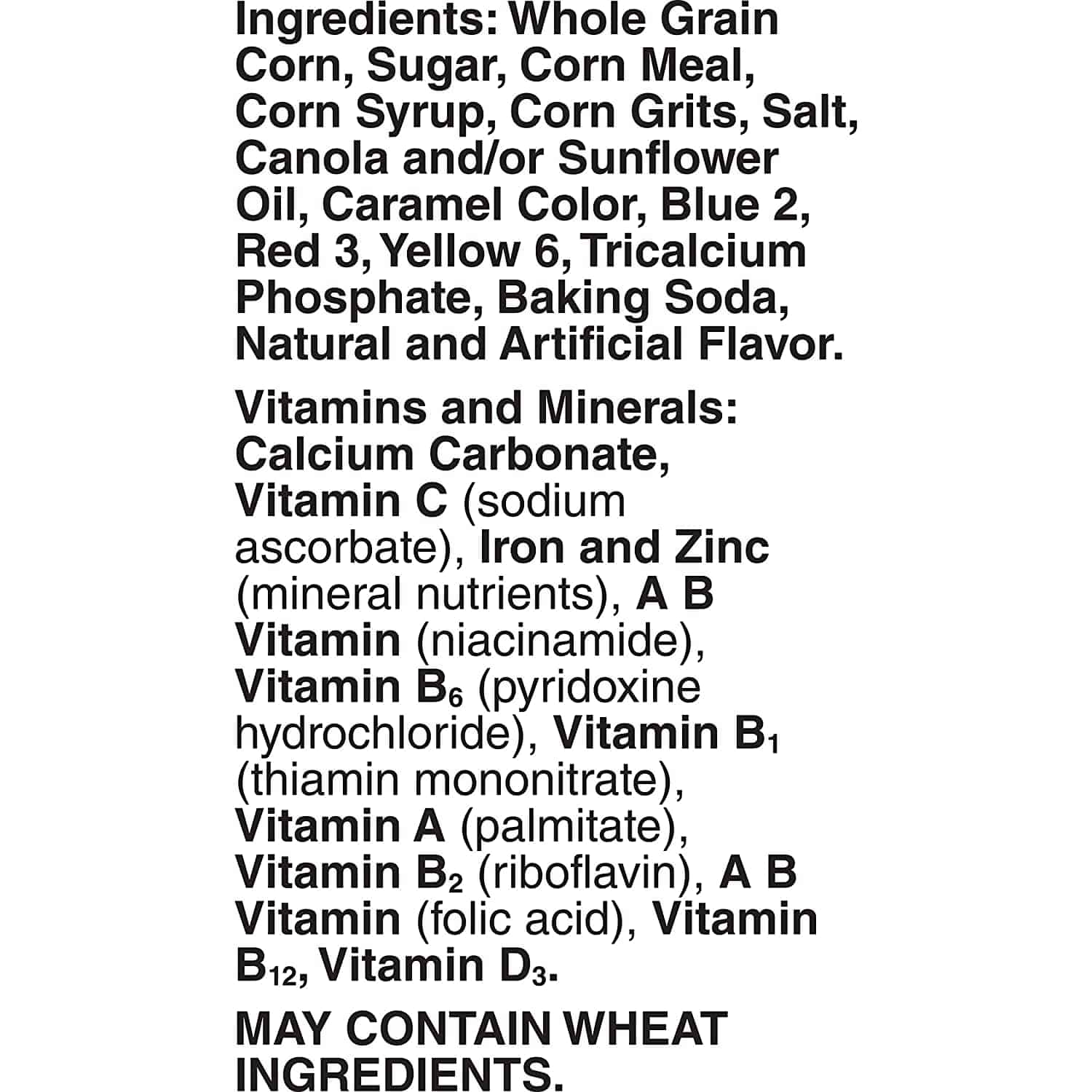 The ingredients list of Dunkaroos Cereal includes:
Whole Grain Corn
Sugar
Corn Meal
Corn Syrup
Corn Grits
Salt
Canola and/or Sunflower Oil
Caramel Color
Blue 2
Red 3
Yellow 6
Tricalcium Phosphate
Baking Soda
Natural and Artificial Flavor
Is Dunkaroos Cereal Healthy?
When it comes to flavor, Dunkaroos is unforgettably tasty – a sugary-sweet sensation! But, is it healthy?
The nutritional content of Dunkaroos isn't what you would necessarily describe as 'healthy' at the breakfast table. However, with every bite, you probably won't be thinking about how much a nutrient contributes to your health. You're probably rather thinking what an epic flavor duo cookie crisp and vanilla frosting make.
But, when you're enjoying that morning cereal bowl as part of your daily diet, it's important to give it some thought. Dunkaroos may contain more than 14 minerals and vitamins per serving, but it also contains 14g of added sugars – pretty sweet, eh?
Most cereals contain a high amount of sugar, and your next alternative, like Cinnamon Toast Crunch, might not be much better because it also contains 12g of sugar. Food contributes to your health, and sugary cereals aren't the exact epitome of health.
Secondly, there are several preservatives used. The list is quite extensive, and these are serious contributors to that magical color and flavor. But, they're not good for you.
However, Dunkaroos does contain whole grains, and it's fortified with numerous vitamins and minerals such as vitamin D, calcium, vitamin B12, iron, and zinc.
So, is it healthy? Not exactly. Can you enjoy it in moderation? Like all the good things in life, yes!
Is Dunkaroos Cereal Gluten-Free?
Dunkaroos Cereal is not a gluten-free product. It doesn't advertise itself as a gluten-free product and therefore is not suitable for gluten intolerant persons. There aren't any gluten-containing ingredients in the recipe, but it may be produced in an environment where there's a risk of cross-contamination.
Is Dunkaroos Cereal Vegan?
Dunkaroos cereal does not contain any animal products or animal derivatives. It is considered to be completely vegan!
Is Dunkaroos Cereal Keto?
It's recommended that Dunkaroos cereal can be consumed as part of a keto diet. Although, the number of carbohydrates in grams per serving is quite high. Dunkaroos cereal falls in the yellow zone on the gauge and won't kick you out of ketosis. This means you can enjoy it in moderation.
Is Dunkaroos Cereal High in Protein?
Every serving of Dunkaroos cereal contains 2g of protein. The protein count is a little lower than other brands like Cascadian Farm Purely O's Cereal which contains double the amount of protein per serving.
Is Dunkaroos Cereal High in Fiber?
Dunkaroos cereal is relatively low in fiber when compared to other healthy breakfast cereals. One serving of Dunkaroos cereal only contains 1g of dietary fiber, which equates to only 5% of your daily requirements.
Cereals that are considered 'high-fiber' typically contain 5g of fiber per serving. The FDA recommends consuming at least 28g of fiber per day.
Dunkaroos may contain whole grains, but it is certainly not a high-fiber cereal when compared to the likes of All-Bran Original Cereal which contains 10g of fiber per serving.
Dunkaroos Cereal Varieties
There is currently only one delicious flavor of Dunkaroos available. It's the original Vanilla flavor. It is packed with an intense and delectable sweet vanilla taste that will leave you yearning for the next bite!
Dunkaroos Cereal Store Brand Alternatives
If you're looking for some alternative cereal brands that are also ultra-tasty – consider this cereal review an insider's treat.
Depending on your preferred cereal form, you might like some more than others, but these two are the best alternatives to Dunkaroos.
General Mills Cinnamon Toast Crunch
Cookie Crisp
Where You Can Buy Dunkaroos Cereal
Dunkaroos cereal is available to purchase in most stores. Since hitting the shelves again in 2021, it has been a popular choice for many people.
Most stores stock Dunkaroos cereal, and if you're struggling to find it in a store near you, it's available for purchase online too.
It's typically available in Walmart and can also be bought directly from the Dunkaroos store online.
Famous Dunkaroos Cereal Commercials
The beloved Dunkaroos brand has a rich history and iconic commercials. The advertisement of this brand is exactly what has made it such a massive brand that is adored by hundreds of thousands of people worldwide.
Besides having an unforgettable taste, the brand has a memorable story which is what has also garnered immeasurable amounts of love from the snack food and cereal-loving community!
Let's take a look at some of Dunkaroos' most memorable advertisements over the years. After all, it's been more than just an iconic brand; it's been a journey.
Take a look at this epic 1994 Dunkaroos advert.
And of course, the unforgettable Cookies and Cream Sandwich Dunkaroos advert!
User Reviews
Review Summary
0 out of 5 stars (based on 0 reviews)
Recent Reviews
There are no reviews yet. Be the first one to write one.
Submit a Review