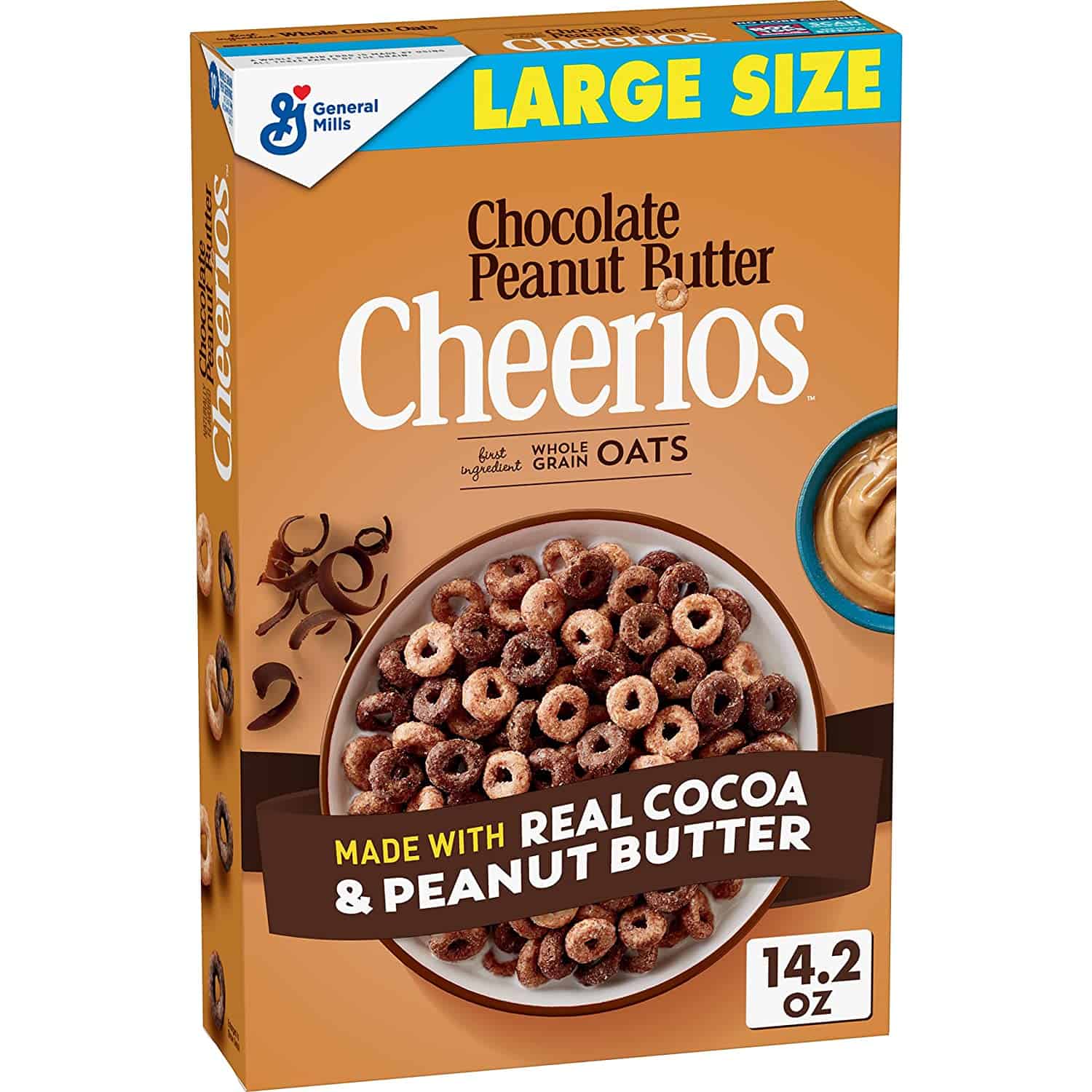 With a range of choices, Cheerios have proven that they know exactly how to make a healthy breakfast fresh and fun. But combining the whole-grain, the classic, beloved taste of Reese's takes things to a whole new level.
The classic mix of cocoa and peanut butter might be one of the USA's favorite candy combinations. With Chocolate Peanut Butter Cheerios, you can get that flavor while you chomp your morning bowl of whole-grain breakfast cereal.
Made with real peanut butter and real cocoa, Chocolate Peanut Butter Cheerios pack a bunch of authentic flavors into this take on their classic little O's.
Let's take a look inside a box and see what's going on with this tasty chocolate and peanut butter cereal.
Nutrition Facts

A serving of Chocolate Peanut Butter Cheerios breakfast cereal (36g) contains:
Calories – 150
Total fat – 4.5g/6% RDA
Saturated fat – 1g/4% RDA
Trans fat – 0g
Polyunsaturated fat – 1g
Monounsaturated fat – 2g
Cholesterol – omg
Sodium – 230mg/10% RDA
Total carbohydrate – 25g/9% RDA
Dietary fiber – 3g/11% RDA
Total sugars – 9g
Incl. added sugars – 9g/17% RDA
Protein – 4g
Vitamin D – 2mcg/10% RDA
Calcium – 130mg/10% RDA
Iron -3.6mg/20% RDA
Potassium – 160mg
Vitamin A – 10%RDA
Vitamin C – 10% RDA
Thiamin – 20% RDA
Riboflavin – 10% RDA
Niacin – 10% RDA
Vitamin B – 20% RDA
Pantothenic acid – 60%RDA
Folate (45mgc folic acid) – 20% RDA
Phosphorus – 8% RDA
Magnesium – 10% RDA
Zinc – 20%
Ingredients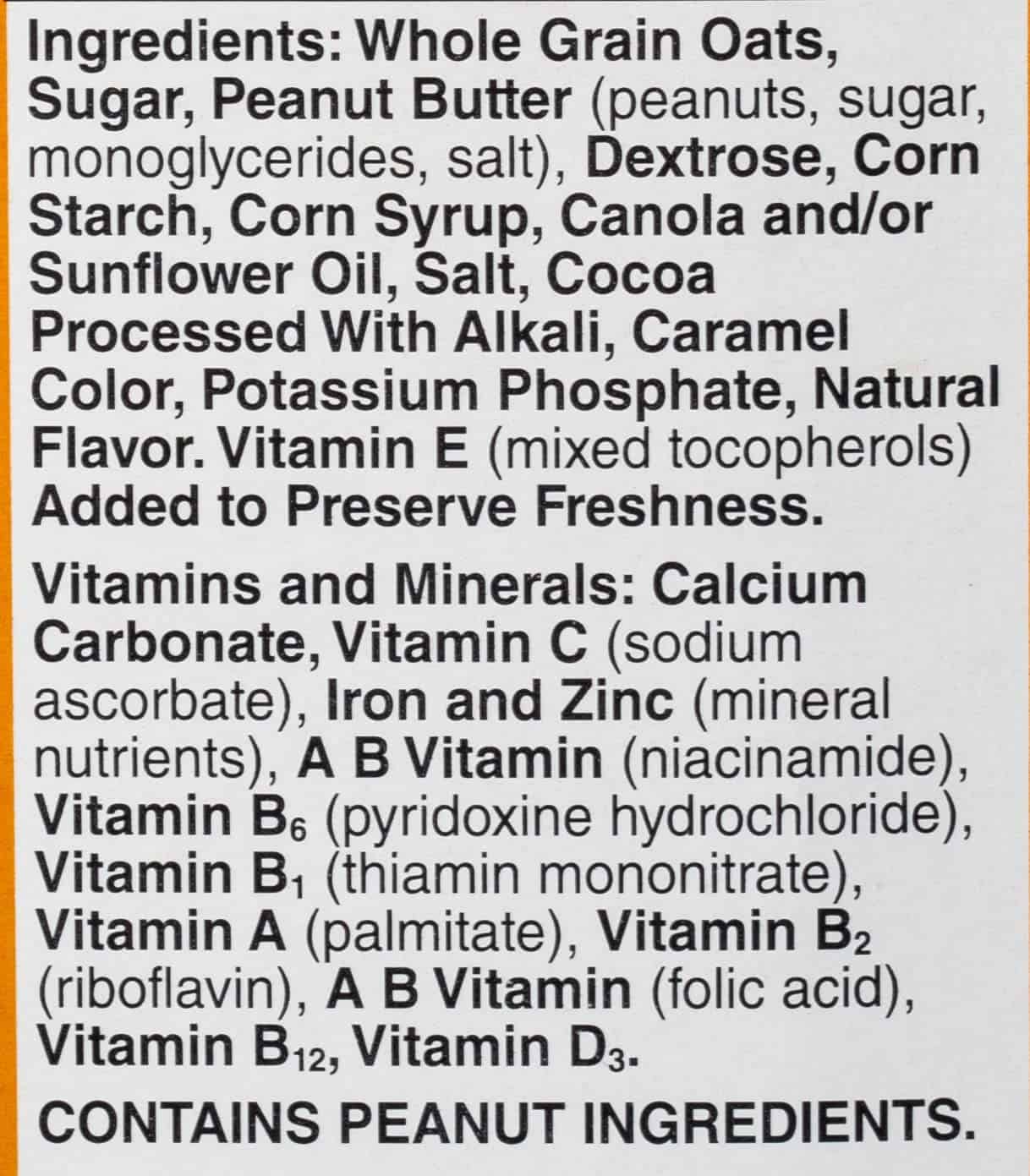 Whole Grain Oats
Sugar
Peanut Butter (peanuts, sugar, monoglycerides, peanut oil, salt, molasses, corn starch)
Dextrose
Corn Starch
Corn Syrup
Canola Oil
Salt
Cocoa Processed with Alkali
Caramel Color
Tripotassium Phosphate
Natural Flavor.
Vitamin E (mixed tocopherols) Added to Preserve Freshness.
Are Chocolate Peanut Butter Cheerios Healthy?
As usual with any Cheerios cereal, these are reinforced with solid amounts of a range of minerals and nutrients, making them a great way to top up on nutrients you may not get during the day.
They also contain no artificial flavors or colorings, unlike many other sweet treat cereals.
Interestingly, due to the naturally sweet flavor of real peanut butter and chocolate, they are relatively low in sugar, containing only 9g in each serving.
They are also low in fat, containing only 6% of your recommended daily values, and have 0 cholesterol. This, combined with the 15g or whole-grain fiber in each serving, makes them great for maintaining heart health.
Are Chocolate Peanut Butter Cheerios Gluten-Free?
Cheerios are gluten-free as a standard and always carry the gluten-free badge on their packaging. However, Chocolate Peanut Butter Oreos don't have this label.
As there are no gluten-containing ingredients in these Cheerios, it's reasonable to assume that the equipment or machinery used in the production process is shared with grains that contain gluten.
This could result in cross-contamination and a higher than 20ppm (parts per million) score of gluten, making this cereal unsuitable for Celiacs or those observing a gluten-free diet.
In this case, you should use your discretion depending on your gluten sensitivity.
Are Chocolate Peanut Butter Cheerios Vegan?
At first inspection Chocolate Peanut Butter Cheerios appear to be vegan-friendly; however, in the subsection of the peanut butter ingredients, we can see it contains monoglycerides.
Monoglycerides are used to help oil and water bond during the cooking process, and while some can come from plant sources, it is much more likely that they come from animal sources. They generally occur in meat and dairy and only rarely in nut or plant-based oils.
So this cereal is not suitable for a vegan diet.
Are Chocolate Peanut Butter Cheerios Keto?
Keto, short for ketogenic, involves restricting your carbohydrate intake to a minimum while increasing fat intake. This creates a state called ketosis, where your body uses fat as an energy source, creating ketones, a healthier, longer-lasting form of energy.
Generally, cereals are not suited to keto as they are higher in carbs and low in fat. Chocolate Peanut Butter Cheerios contain 25g of carbohydrates; it's recommended that anything more than 20g will kick your body out of ketosis. This is enough to make them unsuited to keto but combined with the low-fat values; this cereal is not appropriate for maintaining ketosis.
Are Chocolate Peanut Butter Cheerios High In Protein?
At only 4g of protein in a serving, this cereal contains relatively low protein levels. Other specialized sweet cereals contain higher protein values that would be more suited to a high protein diet.
Are Chocolate Peanut Butter Cheerios High In Fiber?
The FDA states that foods must contain 5g of fiber or more to be considered high fiber. This cereal only contains 3g, so it misses that label. However, it is a good way to top up your daily diet with an extra 10% of your daily requirements of healthy whole grain.
Chocolate Peanut Butter Cheerios Varieties
If regular Cheerios aren't for you and you've got to have that sweet hit with your breakfast, here are some Chocolate Peanut Butter alternatives –
Chocolate Cheerios – If you aren't a fan of peanut butter, this tasty alternative is big on chocolate with only 8 grams of sugar, 100 calories in a serving, and 13g of whole grain.
Maple Cheerios – Made with real maple syrup and other natural flavors, it may not have that chocolate hit, but this gluten-free cereal is big on sweetness and high in whole grain fiber.
Chocolate Peanut Butter Cheerios Store Brand Alternatives
An obvious alternative to this cereal is Reese's Puffs cereal, the classic chocolate and the peanut butter cereal combo.
It's virtually identical in terms of nutritional values. Also, it lists a wider selection of vitamins and minerals, making a great alternative to get that yummy chocolatey peanut butter flavor at the top of your day.
Where You Can Buy Chocolate Peanut Butter Cheerios?
Chocolate Peanut Butter Cheerios may not be as easily found in your local supermarket as the classic Cheerio varieties, but they can easily be bought online through Amazon and Walmart.
Famous Chocolate Peanut Butter Cheerios Commercials
First aired in 2017, this mouthwatering Chocolate Peanut Butter Cheerios TV Spot announced the arrival of this tasty new cereal.
User Reviews
Review Summary
0 out of 5 stars (based on 0 reviews)
Recent Reviews
There are no reviews yet. Be the first one to write one.
Submit a Review