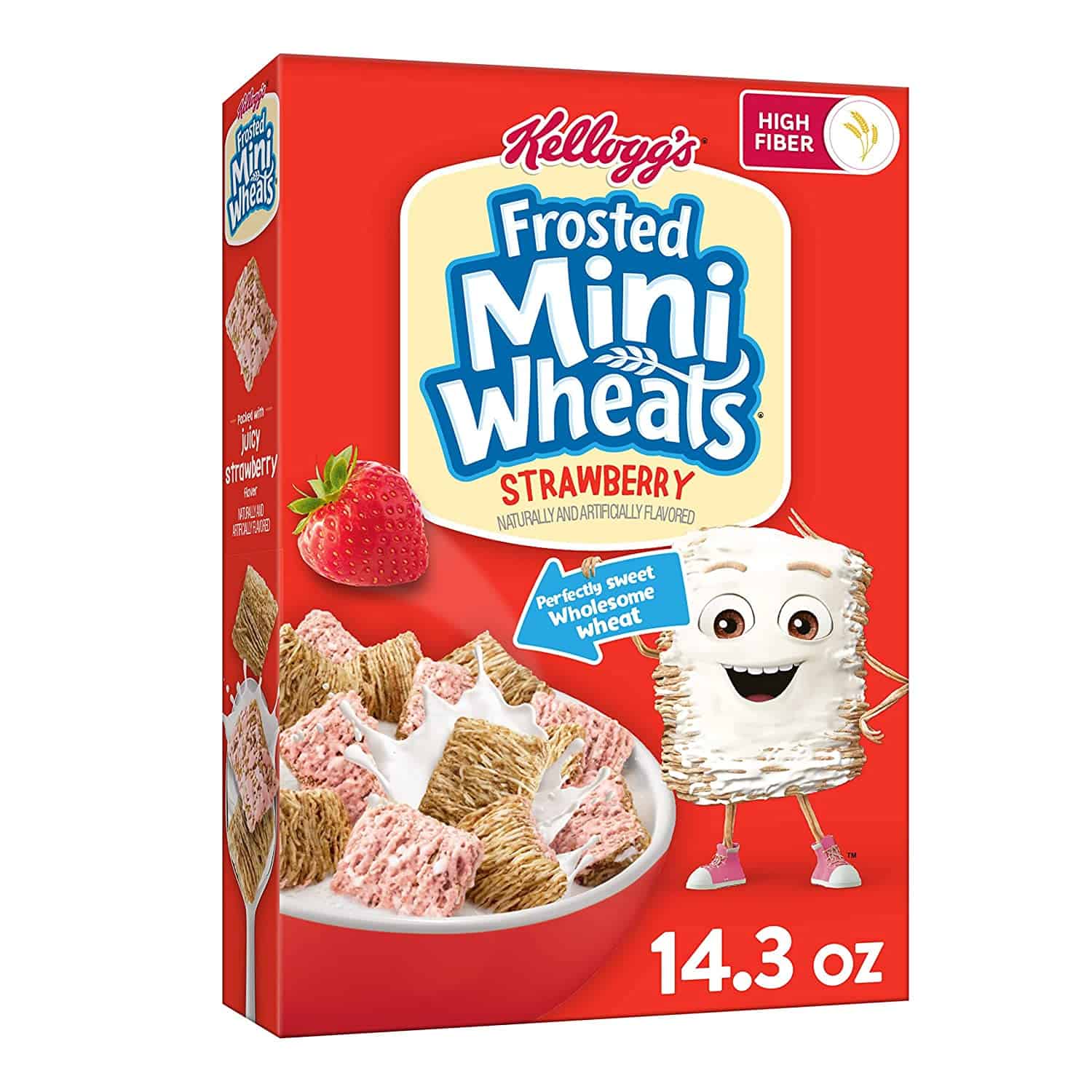 Fruit flavor cereal is a popular choice in the world of breakfast cereals. Fruit flavors tend to be naturally sweet and can even leak into your milk offering a fruity milk alternative. One of the most popular fruity cereals on the market is Frosted Mini-Wheats Strawberry!
This delicious sweet frosting-coated cereal is sure to offer a great way to start your day. Take a look below to find out more about this fruity cereal and whether or not it is a healthy breakfast choice!
Nutrition Facts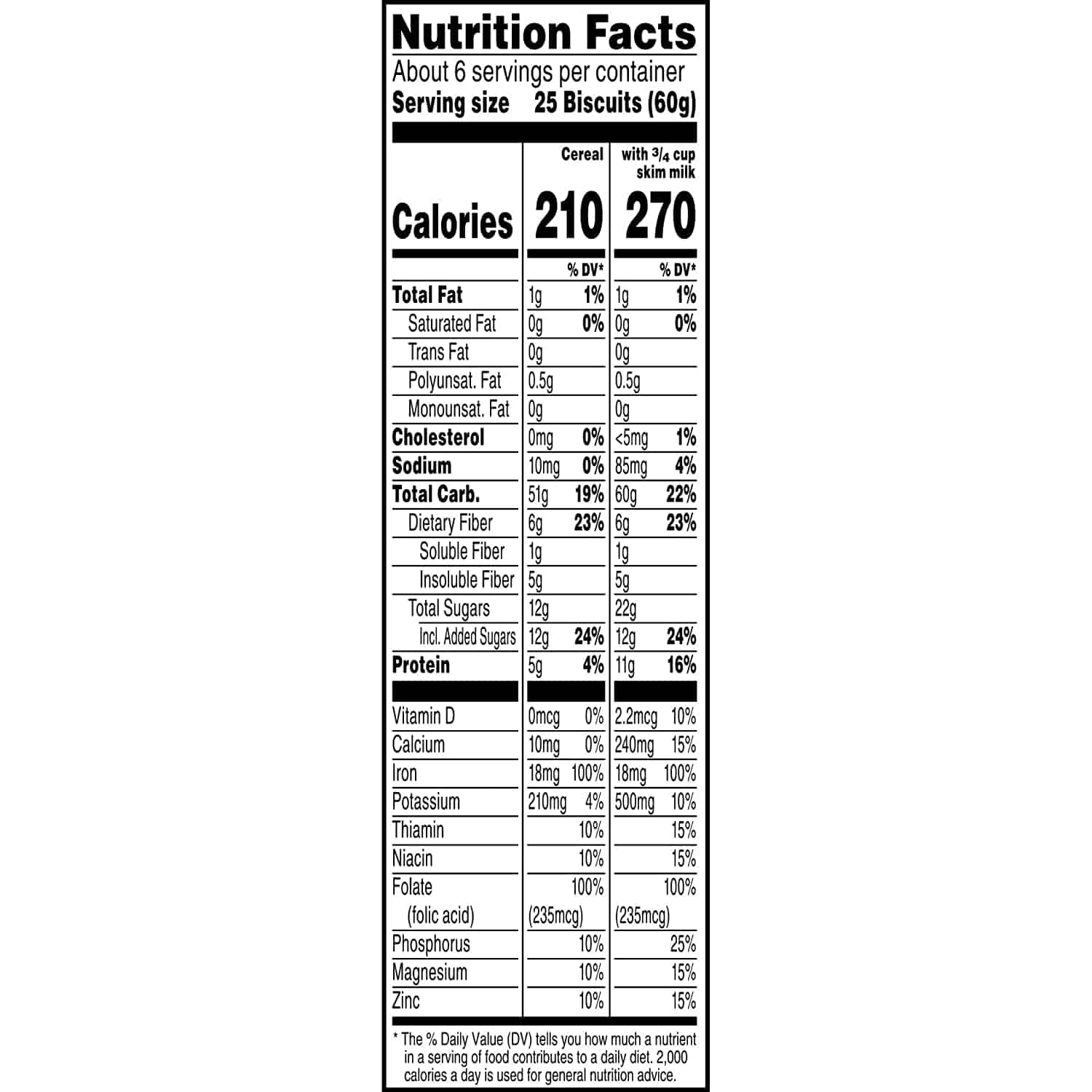 The nutritional content of your chosen cereal is incredibly important, as ideally, you want it to offer you a healthy start to the day. On this note, here is the nutritional content for an average serving (60 grams) of Strawberry Frosted Mini-Wheats:
Calories – 210Kcal
Total Fat – 1g
Saturated Fat – 0g
Trans Fat – 0g
Polyunsaturated Fat – 0.5g
Cholesterol – 0 mg
Sodium – 10 mg
Total Carbohydrate – 51g
Dietary Fiber – 6g
Soluble Fiber – 1g
Insoluble Fiber – 5g
Total Sugars – 12g
Added Sugars – 12g
Protein – 5g
Vitamin D – 0mcg
Calcium – 10mg
Iron – 18mg
Potassium – 210mg
Ingredients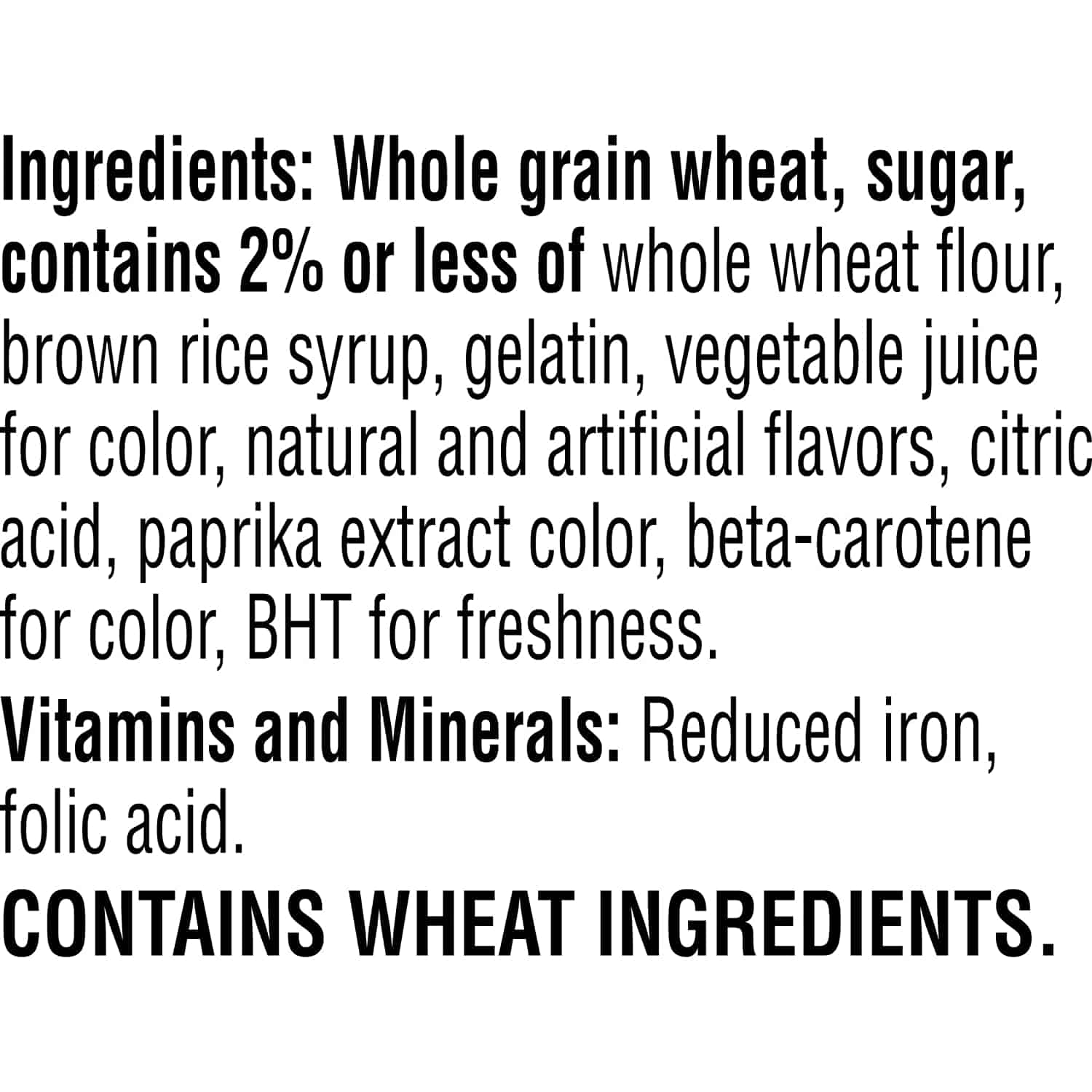 In most cases, the ingredients of your chosen breakfast cereal can be found on the side or the back of the box. The ingredients found in Strawberry Frosted Mini-Wheats are:
Whole grain wheat
sugar
whole wheat flour
brown rice syrup
gelatin
vegetable juice for color
natural and artificial flavors
citric acid
paprika extract color
beta-carotene for color
BHT for freshness
Vitamins and Minerals: Reduced iron and folic acid.
Before you splash out on a new box of cereal, always check the ingredients. This way you will know exactly what you are adding to your cereal bowl!
Is Frosted Mini-Wheats Strawberry Cereal Healthy?
Kellogg's frosted mini-wheats are a low-fat breakfast cereal choice, but they do contain a fairly high amount of sugar per serving. The grains are used to add a range of essential nutrients, such as fiber and protein.
Overall, it's hard to call Strawberry mini wheat cereal a healthy breakfast choice due to the copious amounts of sugar. If you are on a strict keto diet or you are wanting more control over your blood sugar levels, then it may not be the healthiest option for you.
Is Frosted Mini-Wheats Strawberry Cereal Gluten-Free?
All wheat-based products will contain gluten as it is a naturally occurring protein found in wheat. Kellogg's frosted mini-wheats consist of whole wheat and wheat flour, which means that it's not a gluten-free cereal option.
If you are celiac or you just want to cut down on gluten, always check the ingredients list to check for grains such as wheat.
Is Frosted Mini-Wheats Strawberry Cereal Vegan?
Any cereal that contains animal products cannot be classed as a vegan product. As this cereal uses gluten in its strawberry-flavored frosting, it cannot be classed as a vegan product.
A great way to spot vegan cereals in your local store is to keep your eyes peeled for a green V on the side of the cereal box. Most vegan products will feature a clear sign that they are vegan-friendly, however, we also recommend double-checking the ingredients list just to be sure!
Is Frosted Mini-Wheats Strawberry Cereal Keto?
A ketogenic diet requires consuming as few carbohydrates a day as possible. Most keto diets recommend less than 50 grams of carbs a day, with some even suggesting less.
This means that frosted wheat cereal may not be the best option for anyone on a ketogenic diet or looking to reduce their sugar intake. As an average 60 grams serving offers 51 grams of carbs, with 12 grams being sugars, this is a fairly carby breakfast cereal.
Is Frosted Mini-Wheats Strawberry Cereal High in Protein?
Protein is an incredibly important nutrient for anyone, especially young kids and teenagers who are still growing. This is why most cereals aim to offer a decent amount of protein to help offer that morning boost your body craves.
Kellogg's frosted mini-wheats offer a decent amount of protein for a bowl of cereal, with 5 grams of protein per serving. Ideally, you will want to ensure your body is getting roughly 0.75 grams of protein per kilogram of your body weight.
Is Frosted Mini-Wheats Strawberry Cereal High in Fiber?
Protecting your gut from potential health issues is incredibly important, especially as you get older and gastrointestinal problems become more likely.
Out of the total 51 grams of carbs found in these bite-sized wheat biscuits, around 6 grams are dietary fiber. Whilst not the most fiber-packed breakfast cereal, this is still enough to help support the health of your gut.
Frosted Mini-Wheats Strawberry Cereal Store Brand Alternatives
A cereal with strawberry flavor tastes just like summer, which is why there are a few competitors out there similar to Strawberry Frosted Mini-Wheats. One of the most popular options is Strawberry Cheerios.
If you prefer a sugary tasty snack, then you should consider checking out Strawberry toast crunch. These mini toast-shaped bites contain real fruit which just adds to the sweet strawberry taste.
Where You Can Buy Frosted Mini-Wheats Strawberry Cereal
Kellogg's Frosted Mini-Wheats is a fairly popular brand of cereal so it can be found in most local stores. If you are particularly looking for the strawberry flavor then you should be able to find it in stores such as Walmart and Target.
You can also purchase Kellogg's Frosted Mini-Wheats online through sites such as Amazon and H.E.B!
Famous Frosted Mini-Wheats Strawberry Cereal Commercials
Frosted Mini-Wheat cereal has been around for years, so it's only natural to expect a range of commercials. One of the most famous strawberry-centric commercials was first aired on American television in 2007.
It shows a classroom of kids studying for an exam, with small but talkative wheat squares sitting on their shoulders. The original-flavor wheat notices a pink variety across the classroom and proceeds to flirt – only to find out it's not a girl as first thought!
User Reviews
Review Summary
0.0 out of 5 stars (based on 0 reviews)
Recent Reviews
There are no reviews yet. Be the first one to write one.
Submit a Review