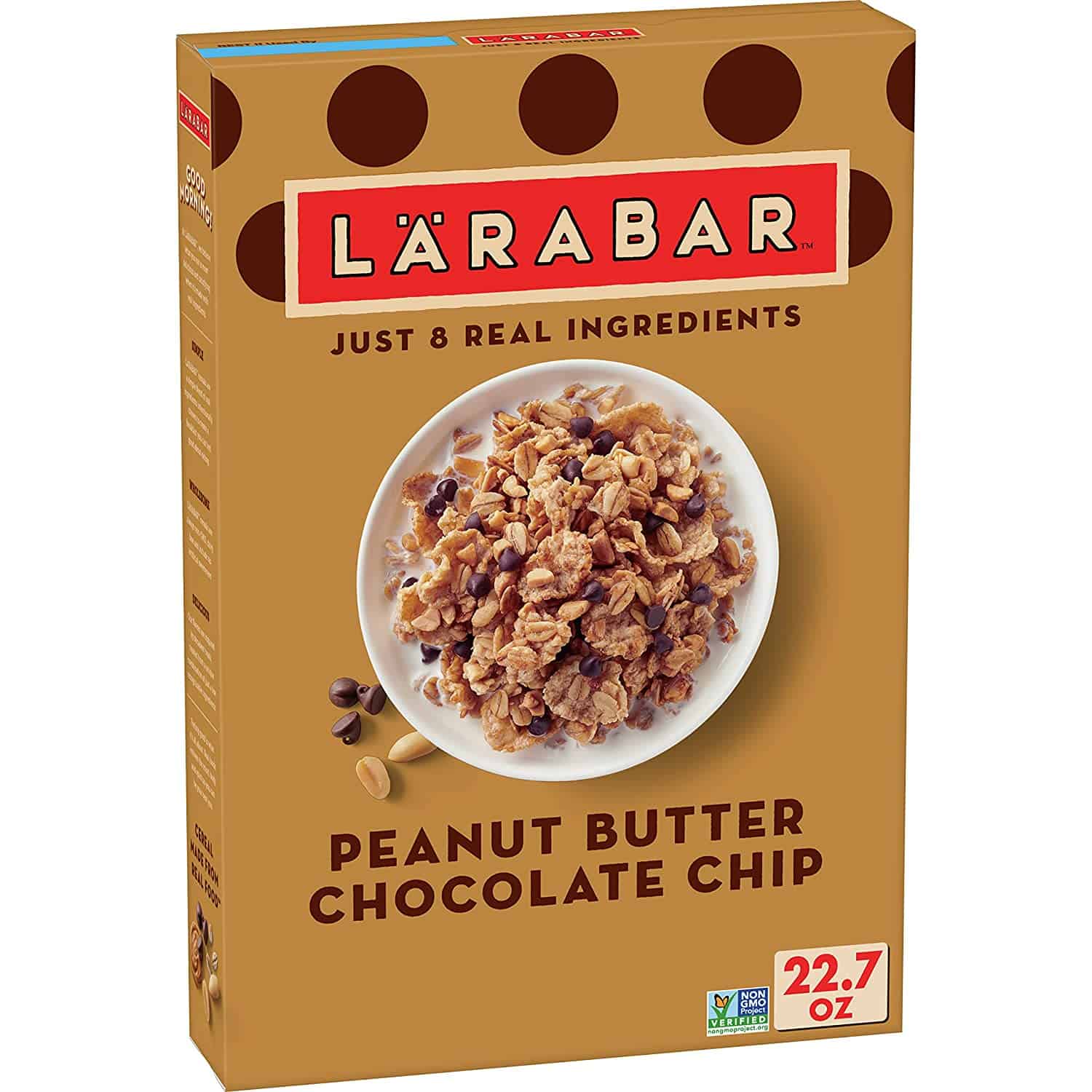 Larabar cereal is an excellent option if you are looking for a delicious breakfast that suits a vegan lifestyle. Coming in various flavors, they are a simple blend of real food ingredients, including fruit, nuts, and spices, that everyone can enjoy.
If you want to learn more about Larabar snack bars, you are in luck. This article will tell you all about the nutritional value of their real ingredients, how suitable their cereals are for people with dietary requirements, and where you can find them.
Nutrition Facts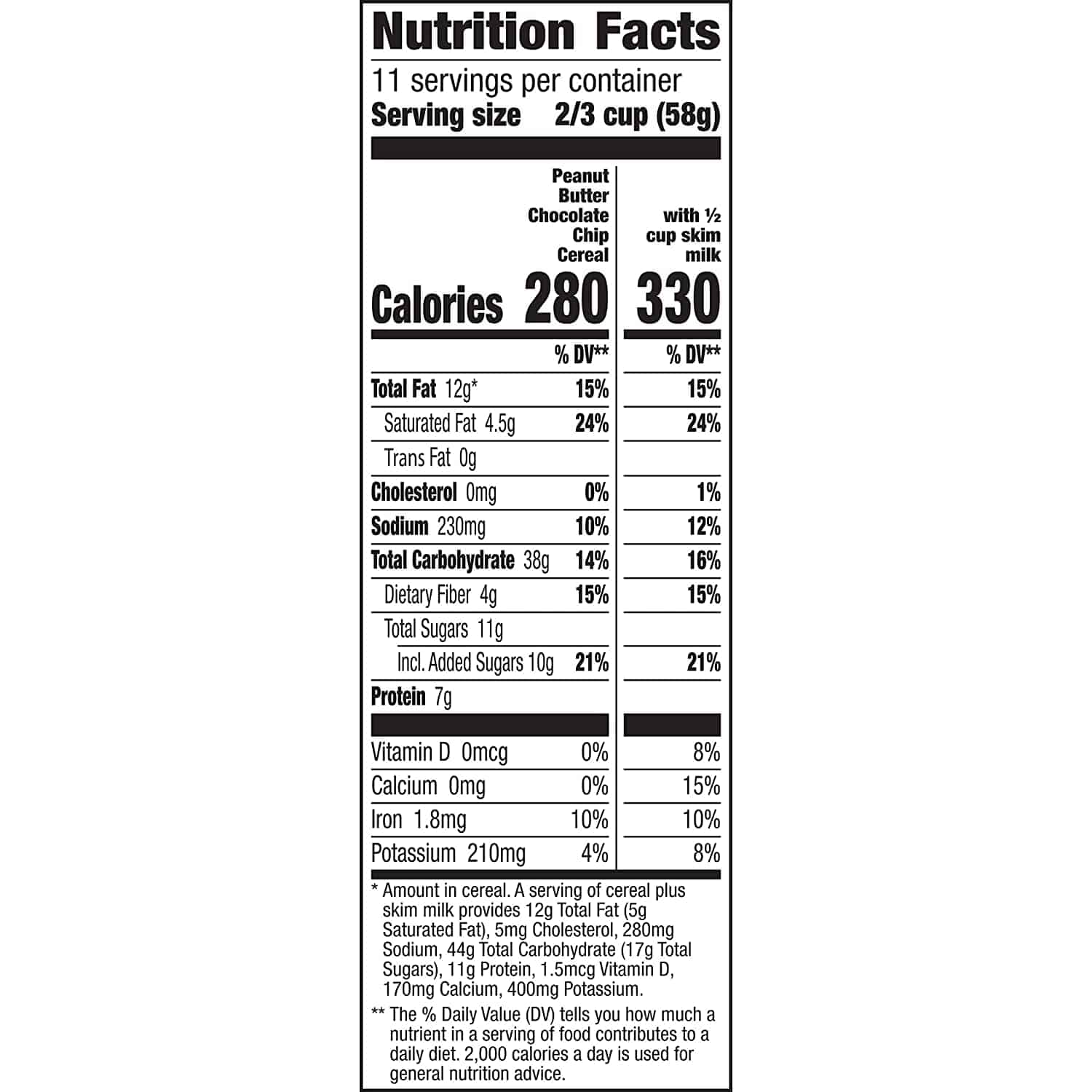 A standard box of Larabar Peanut Butter Chocolate Chip Cereal weighing 22.7 oz offers the consumer 11 58g servings providing:
Calories: 280
Fat: 12g 15% DV
Saturated fat: 4.5g 24% DV
Trans fat: 0g
Cholesterol: 0mg
Sodium: 230mg 10% DV
Total carbohydrates: 38g 14% DV
Dietary Fiber: 4g 15% DV
Sugars: 11g
Protein: 7g
Calcium: 0mg
Iron: 1.8mg 10% DV
Potassium: 210mg 4% DV
Vitamin D 0% mcg
The Daily Value (DV) represents the percentage of how much you should have of the nutrient, based on a daily calorie intake of 2000.
Ingredients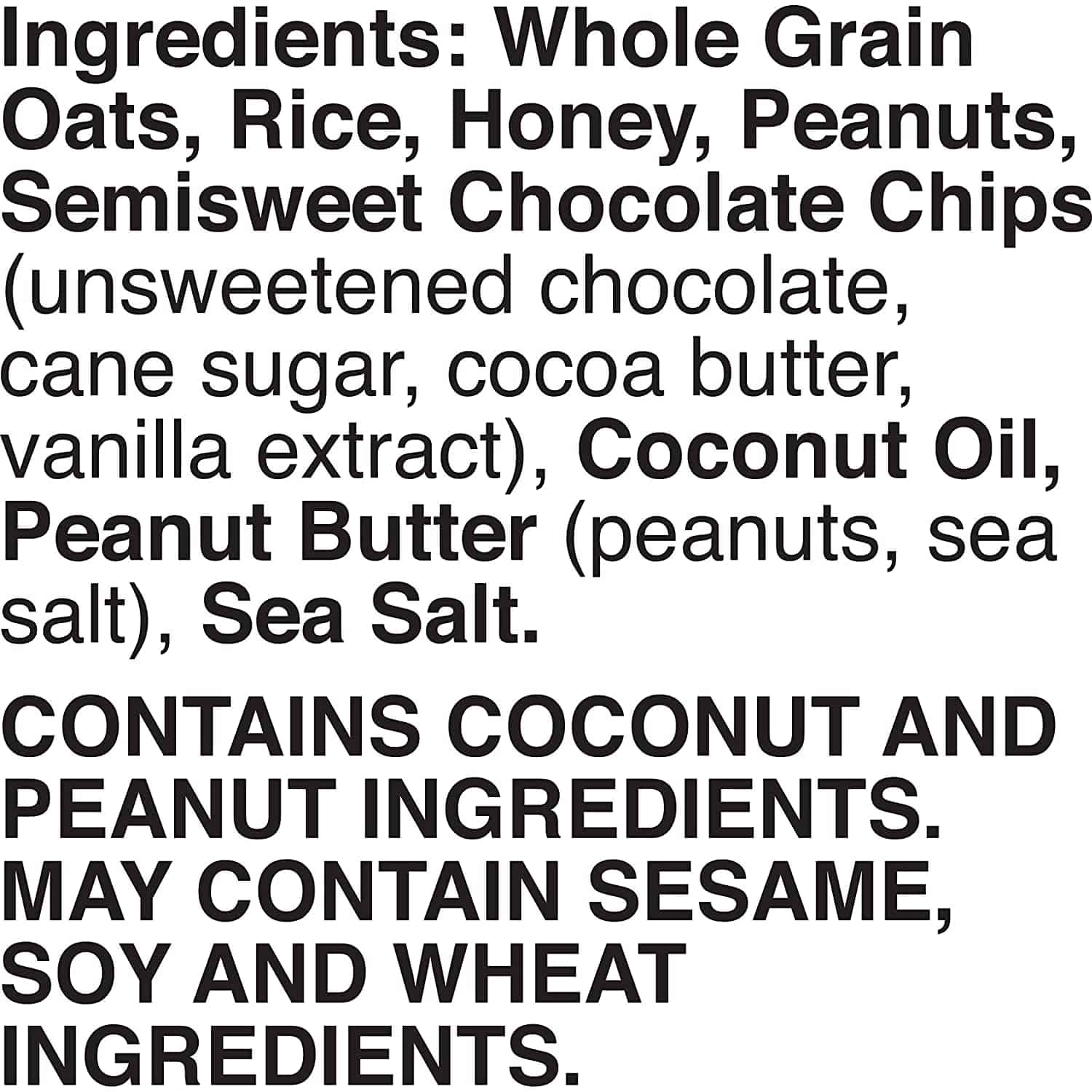 The ingredients used in Larabar Peanut Butter Chocolate Chip Cereal include:
Whole Grain Oats
Coconut Oil
Peanut Butter (peanuts, sea salt)
Sea Salt
Semisweet Chocolate Chips (unsweetened chocolate, cane sugar, cocoa butter, vanilla extract)
Rice
Honey
Peanuts
Is Larabar Cereal Healthy?
Larabar Peanut Butter Chocolate Chip Cereal is an average cereal in terms of how healthy it is. Though it is 100% whole grain, a great source of iron, and offers almost a fifth of your recommended daily fiber, it is high in sugar and saturated fat content.
Larabar cereal can be integrated into a healthy diet plan as long as you take into consideration the high saturated fat and sugar content and adjust other meals throughout the day.
Is Larabar Cereal Gluten-Free?
Larabar cereal is not gluten-free, but they offer a range of gluten-free products, including its snack bars and nut bars.
The cereal itself is not labeled as containing gluten-containing products, but additional allergen info advises that they may contain wheat and its derivatives.
Is Larabar Cereal Vegan?
Larabar Peanut Butter Chocolate Chip Cereal is not vegan as it contains honey. All the other ingredients used are vegan, and Larabar offers a great selection of vegan products across different ranges, including the delicious Apple Pie Fruit & Nut Bar.
Larabar cereal uses honey as a natural sweetener across all flavors, including Peanut Butter, Chocolate Chip, Cashew Cookie, and Apple Pie. These cereals tend to use nut butter, meaning honey's only non-vegan ingredient.
Is Larabar Cereal Keto?
People on a keto diet will try to limit their carbs to between 20g and 30g per day, each serving of Larabar Peanut Butter Chocolate Chip Cereal provides around 38g making it unsuitable choice.
As well as having too high a carb content, Larabar Peanut Butter Chocolate Chip Cereal contains sugar and honey that are both high-glycemic sweeteners. This can cause your blood sugar level, stopping you from reaching ketosis.
Is Larabar Cereal High In Protein?
On average, men will need around 55g of protein per day, and women will need about 45g. Larabar Peanut Butter Chocolate Chip Cereal contains approximately 7g of protein per serving.
This works out at just below 13% of a man's suggested daily protein intake and around 15.5% of a woman's.
This is well below the suggested 25 to 30g suggested. However, adding milk to the cereal will increase your protein intake.
Is Larabar Cereal High In Fiber?
A Larabar Peanut Butter Chocolate Chip Cereal bowl contains around 4g of dietary fiber. This is 15% of your daily value intake based on a 2000-calorie diet.
According to Healthline, women's recommended daily fiber intake is 25 grams, while men's is 35 grams, which means that a bowl of Larabar Peanut Butter Chocolate Chip Cereal provides women with around 16% of their recommended daily intake and men with approximately 10.5%.
Larabar Varieties
Larabar has three breakfast cereal varieties: Peanut Butter Chocolate Chip, Cashew Cookie, and Apple Pie. Their cereals are all dairy-free and don't use any artificial sweeteners.
Nutritional value and ingredients differ between the varieties with Larabar Cashew Cookie containing whole grain oats, honey, rice, cashews, sunflower seeds, cashew butter, and seas salt and providing 270 calories per serving.
Larabar Apple Pie cereal contains whole grain oats, honey, rice, sunflower seeds, dried apples, almonds, coconut oil, sea salt, and cinnamon, providing 250 calories per bowl.
Larabar Store Brand Alternatives
There aren't many similar bowls of cereal to Larabar's unique flavors. Though there are plenty of cashews, apple pie, or peanut butter flavored cereals on the market, only Larabar offers its customers the opportunity to eat 100% natural food with great fruit, nuts, and spices.
Where You Can Buy Larabar Products
You can buy Larabar cereal directly from Larabar, in many supermarkets and online stores like Amazon and Walmart.
If you want to pick up a box the next time you're out shopping, Harris Teeter, Giant, and Albertsons carry the Larabar cereals and snack bars. Albertsons has the different varieties, such as Larabar Peanut Butter Cereal and Larabar Apple Pie Cereal.
Famous Larabar Cereal Commercials
Despite being purchased by General Mills in 2008, it wasn't until 2016 that the brand got its first commercial. This was for its famous Larabar snack bars and featured a cover of the 1963 song 'Little Boxes,' performed by Lucius, an indie-pop band.
The advert focused on the brand's unique selling point of using natural foods rather than food dye, sugar, and preservatives. The advert had a length of one minute to let its audience know its message, and there were also shorter 15-second commercials.
As Larabar cereal was only launched in 2021, it remains to be seen whether they will launch an advertising campaign to promote this side of the brand.
User Reviews
Review Summary
0 out of 5 stars (based on 0 reviews)
Recent Reviews
There are no reviews yet. Be the first one to write one.
Submit a Review