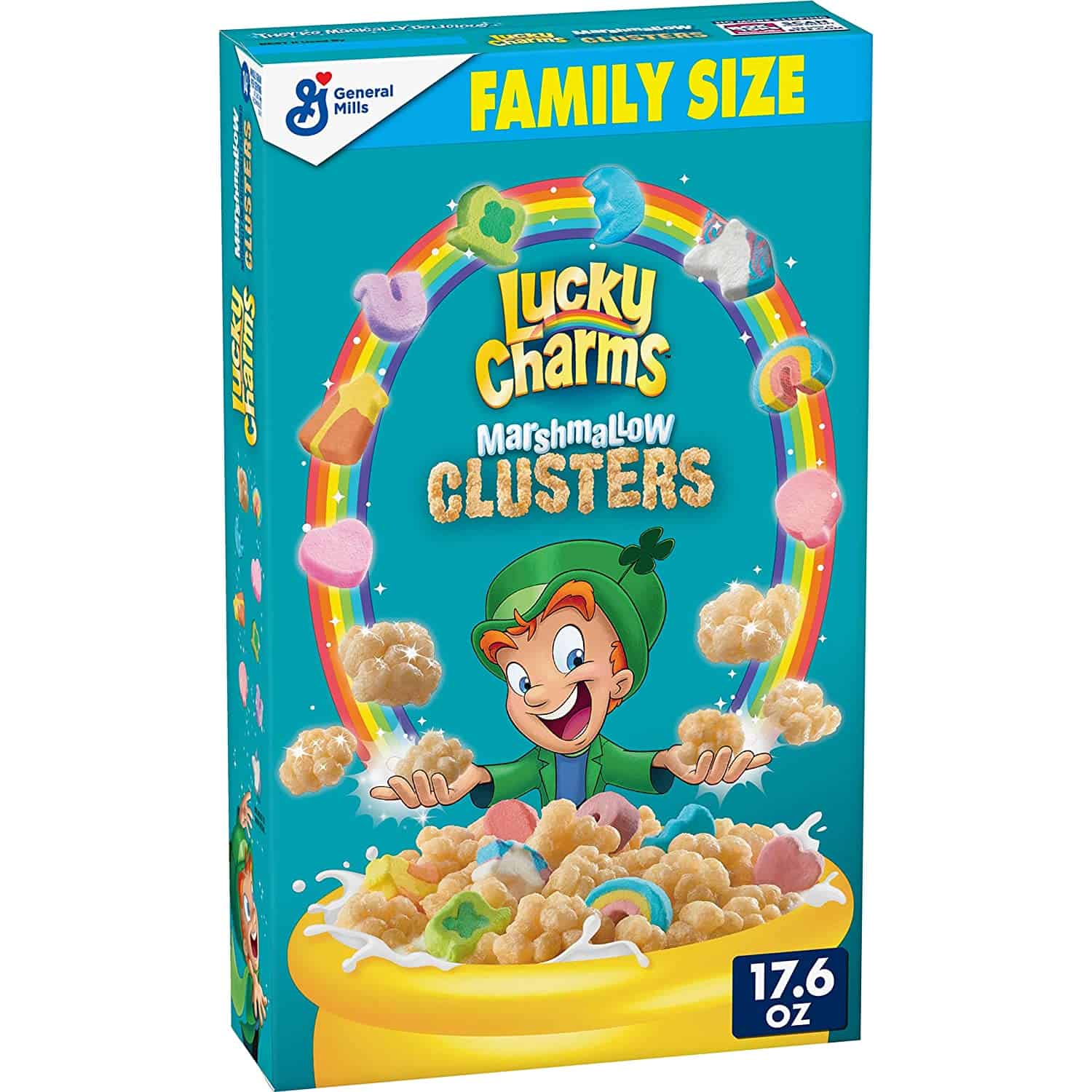 Lucky Charms, a favorite cereal of many, are also available with cloud-like, crispy clusters, all brimming with a delicious marshmallowy taste!
This oat-based cereal comes in the shape of a series of marshmallow pieces, which are described as being magically delicious. It is their mascot, the leprechaun, who claims this in their famous commercials. Yet on top of being delicious, they're also nutritious.
The brand behind this cereal, which was introduced in the 1960's, is General Mills. They are proud to showcase a product that offers a great source of vitamins and minerals.
Nutrition Facts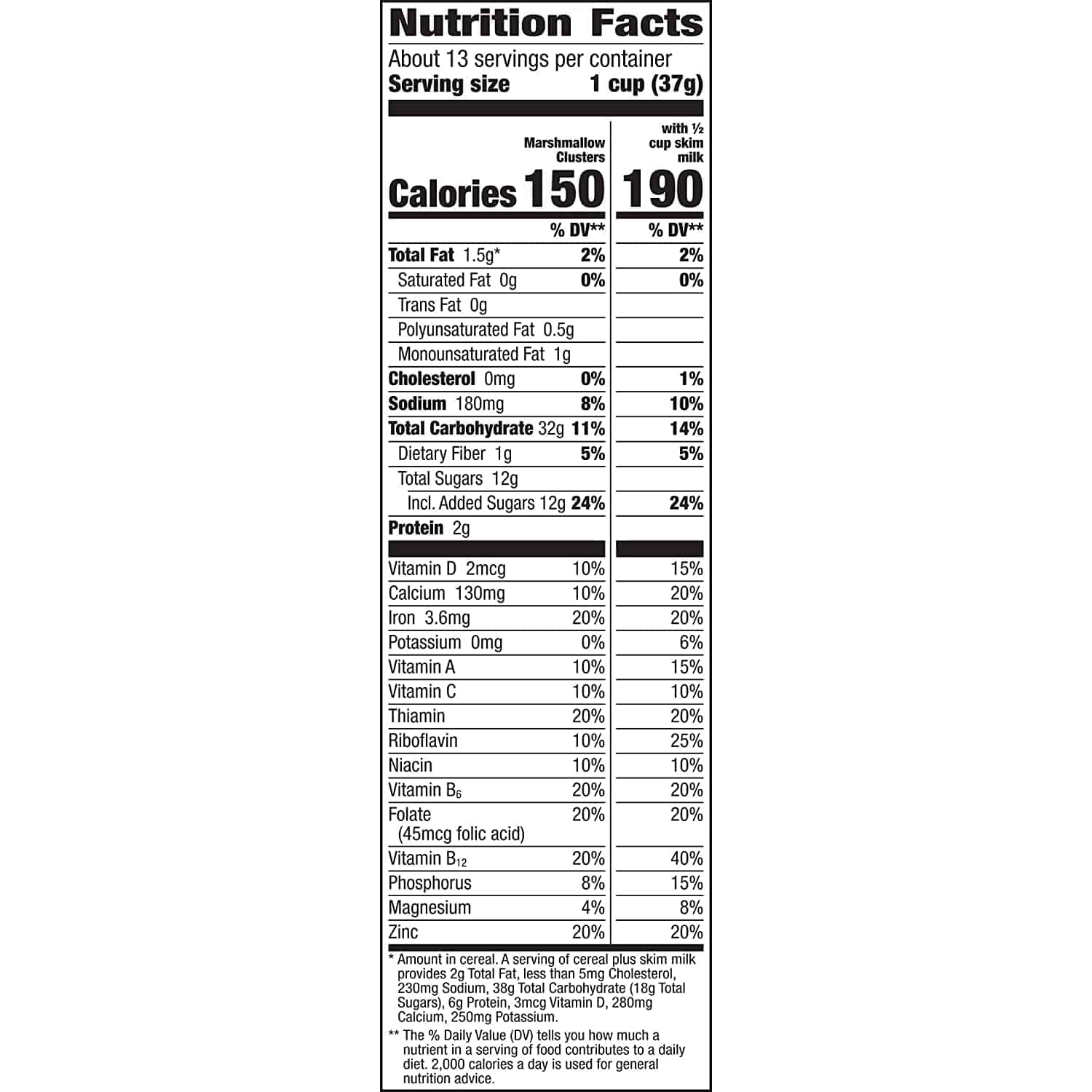 According to the box, the nutrition facts are as follows:
Calories: 150 grams
Total fat: 1.5 grams
Saturated fat: 0 grams
Trans fat: 0 grams
Polyunsaturated fat: 0.5 grams
Monounsaturated fat: 1 gram
Cholesterol: 0 mg
Sodium: 180 mg
Total Carbohydrates: 32 grams
Dietary Fiber: 1 gram
Total Sugars: 12 grams
Protein: 2 grams
Vitamin D: 2 mcg
Calcium: 130 mg
Iron: 3.6 mg
Potassium: 0 mg
Ingredients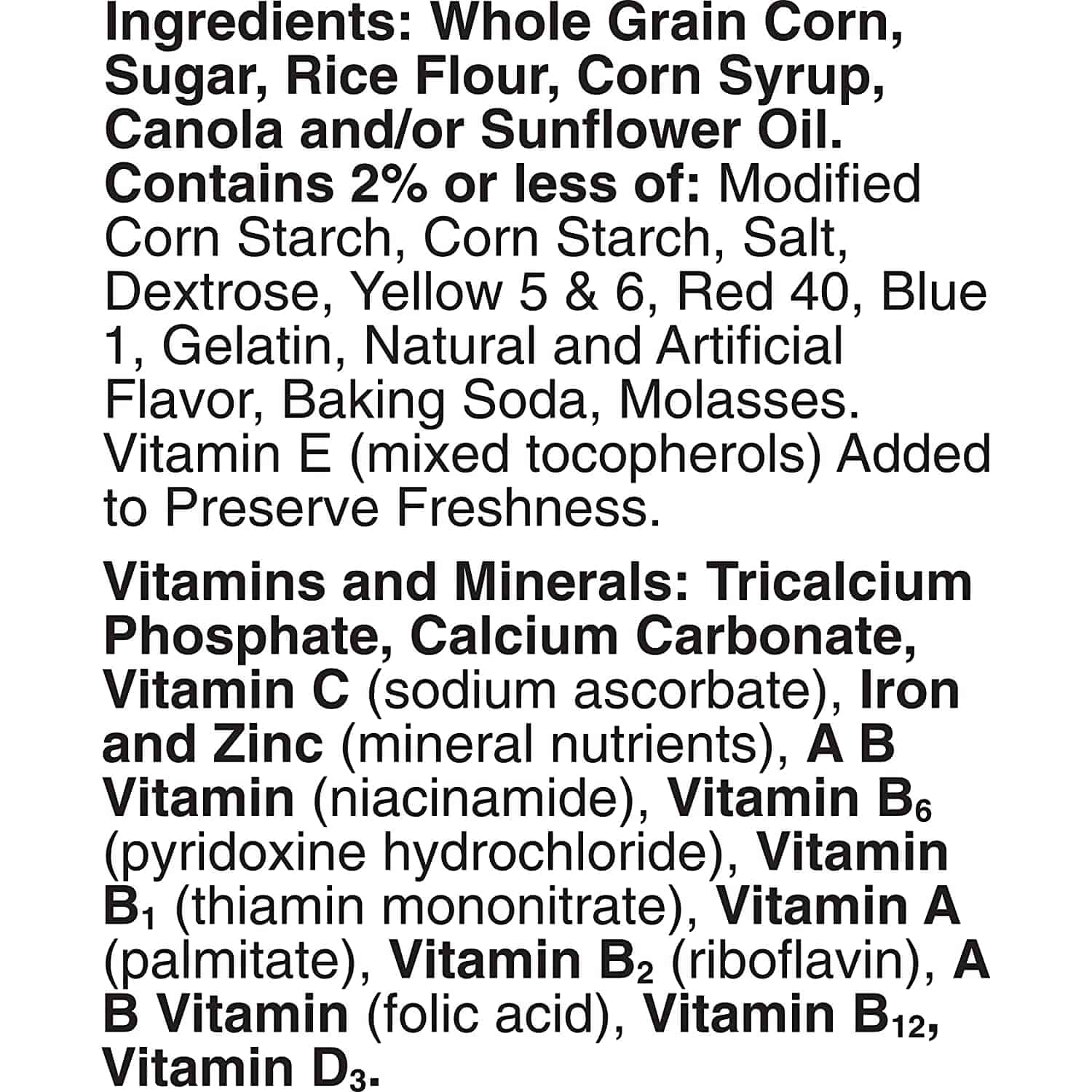 The ingredients contained in a box of Lucky Charms Marshmallows include the following:
Whole Grain Corn
Sugar
Rice Flour
Corn Syrup
Canola and Sunflower Oil
Contains 2% or less of Modified Corn Starch
Corn Starch
Salt
Dextrose
Yellow 5 & 6
Red 40
Blue 1
Gelatin
Natural and Artificial Flavor
Baking Soda
Molasses
Vitamin E (mixed tocopherols – added to preserve freshness).
Vitamins and Minerals
Tricalcium Phosphate
Calcium Carbonate
Vitamin C (sodium ascorbate)
Iron and Zinc (mineral nutrients)
A B Vitamin (niacinamide)
Vitamin B6 (pyridoxine hydrochloride)
Vitamin B1 (thiamin mononitrate)
Vitamin A (palmitate)
Vitamin B2 (riboflavin)
A B Vitamin (folic acid)
Vitamin B12
Vitamin D3
Are Lucky Charms Marshmallow Clusters Healthy?
This rice crispy treat cereal boasts 110 calories per serving and 22 grams of sugar. In terms of healthy cereal, this isn't the best out there. In fact, this Marshmallow Clusters Cereal contains more sugar than your average cookie or candy bar.
That being said, these satisfying crunchy clusters are extremely tasty, and it's their marshmallowy flavor makes them amazingly delicious and a favorite cereal amongst many.
Are Lucky Charms Marshmallow Clusters Gluten-Free?
Those who absolutely love Lucky Charms Clusters will be pleases to know they are gluten-free! This makes them a great option for both adults and children wishing to stick to a gluten-free diet plan.
As well as being gluten-free, this cereal boasts both magical marshmallows with a more marshmallowy flavor and crunchy yummy marshmallow clusters, which offer a delicious taste!
Team this with the 14 grams of whole grain per bowl, and you have a great on-the-go snack or well-rounded breakfast cereal for the entire family.
Are Lucky Charms Marshmallow Clusters Vegan?
All in all, Lucky Charms generally aren't classed as a vegan. They contain numerous animal products such as pork gelatin, which derives from boiled bones, pigskin and joints.
This breakfast cereal, although magically delicious, also contains artificial colors, natural flavors, sugar, and vitamin D3. These tend to be ingredients vegans will avoid.
Are Lucky Charms Marshmallow Clusters Keto?
The Lucky Charms Marshmallow clusters cereal is not classed as keto-friendly. This breakfast cereal comes in the shape of processed high-carb food that boasts unhealthy ingredients such as canola oil, sugar, and modified starch.
Are Lucky Charms Marshmallow Clusters High In Protein?
According to general nutrition advice, this General Mills whole-grain breakfast cereal only contains 2 grams of protein within the entire box.
If using this as part of your daily intake, you should top your breakfast cereal with the likes of nut milk, full-fat Greek yogurt, or almonds. All are additional sources of protein and beneficial to those who enjoy an active lifestyle, and those who do, shouldn't rely solely on this cereal alone.
To learn more about the protein in every box, for reference purposes always check the label.
Are Lucky Charms Marshmallow Clusters High In Fiber?
This delicious cereal brand is more so renowned for its hot-colored marshmallows, although tasty, these don't add to your fiber intake. With only two grams of fiber per bowlful, there are better breakfast options. Most will therefore opt for this cereal as a delightful treat now and again, as opposed to a breakfast staple.
Lucky Charms Marshmallow Clusters Varieties
All in all, there are an impressive eight varieties of this cereal, many of which feature an assortment of shapes including marshmallow pieces, red balloons, hearts, stars, clovers, horseshoes, moons, rainbows, and unicorns.
All are enjoyed as breakfast cereals in the morning or as a snack throughout the day and can be eaten straight from the box. Some will also use them as ice cream and cake toppings as well as in s'mores.
Lucky Charms Marshmallow Clusters Store Brand Alternatives
As well as regular Lucky Charms, there are other breakfast offerings to choose from, including the likes of Waffle Crisp and other stuff. In terms of average customer ratings, both get a high score with many of the boxes boasting coupons that support schools.
Where You Can Buy Lucky Charms Marshmallow Clusters
You can purchase these clusters of crunch breakfast cereal, which is high in Vitamin D and other vitamins and minerals, online or from your local grocery store.
If you are buying for the entire family, you may wish to buy in bulk and order several boxes at one time online, to be delivered directly to your door. This is often a great way to score a discount, especially if buying family-sized boxes.
Famous Lucky Charms Marshmallow Clusters Cereal Commercials
This throwback cereal boasts numerous celebrated commercials, many of which focus on the brand's famous mascot – the leprechaun and his many lucky charms, which span from hearts and stars to unicorns and clover leaves.
In 2006, Lucky Charms released their most celebrated commercial featuring the leprechaun.
User Reviews
Review Summary
0.0 out of 5 stars (based on 0 reviews)
Recent Reviews
There are no reviews yet. Be the first one to write one.
Submit a Review