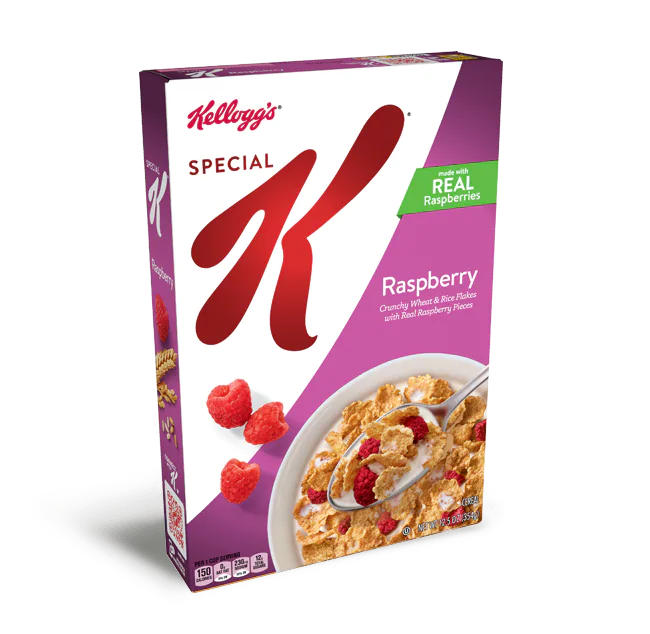 Kellogg's Special K Raspberry is a family favorite cereal that is promoted for its health benefits and for helping people to lose weight.
It's a satisfying mix of real raspberries, whole grains, and rice flakes that people love for its irresistible taste.
But just what does this cereal contain in each delicious bite? And, is it as healthy as the hype would have you believe?
Nutrition Facts
One serving (42g) of this cereal contains:
Calories – 150
Fat – 0.5g
Saturated fat – 0.0g
Sodium (salt) – 0.23g/10%
Carbohydrate – 37g/13%
Fiber – 3g/11%
Sugar – 12g/24%
Protein 3g
Vitamins and minerals:
Vitamin C – 10%
Vitamin A – 10%
Potassium – 2%
Iron – 60%
Vitamin D2 – 10%
Vitamin E – 10%
Thiamin – 20%
Riboflavin – 20%
Niacin – 25%
Vitamin B6 20%
Folic acid – 50%
Vitamin B12 – 20%
For full nutritional information always read the product label.
% = daily recommended intake
Ingredients
The ingredients in this cereal include:
Wheat bran
Freeze-dried raspberries
Whole grain wheat
Rice
Sugar
Brown sugar syrup
Malt flavor
Natural flavors
For any allergens please see the items highlighted in bold.
Is Special K Raspberry Cereal Healthy?
Kellogg's Special K Breakfast Cereal Raspberry is marketed as a highly nutritious and healthy choice for breakfast. It's portrayed by Kellogg's as a wholesome cereal that can also be enjoyed as a post-workout treat or an afternoon pick-me-up.
As far as its health credentials go, a serving doesn't contain any saturated fat, which is a big plus. However, although it is deliciously crafted, this is partly because it has a very high sugar content. Each serving contains a massive 12 grams of sugar, which is 24% of the recommended daily amount.
On the other hand, each serving does also contain a lot of vitamins and minerals. Just one serving will give you 60% of your daily iron and 10% of your Vitamin A.
Is Special K Raspberry Cereal Gluten-Free?
This Special K Breakfast Cereal is made using wheat ingredients and is therefore not gluten-free.
Unfortunately, most cereals that contain grains and wheat are off the menu for people who need to avoid gluten, and this breakfast cereal shouldn't be eaten by those who suffer from celiac disease or have gluten intolerance.
Is Special K Raspberry Cereal Vegan?
This Kellogg's Special K breakfast cereal contains two types of Vitamin D: D2, and D3. Vitamin D2 does not come from animal products and so can be eaten by those on a vegan diet.
But, Vitamin D3 is often sourced from sheep's lanolin meaning it is an animal product and is therefore not vegan. Some D3 is sourced from a natural organism called lichen, and so would be vegan-friendly.
So, always be sure to fully read the product label on any foods that you purchase to check if they are vegan or not.
Is Special K Raspberry Cereal Keto?
When on a keto diet it's best to avoid most cereals as a rule. That's because foods containing wheat and grains tend to be high in carbohydrates, and this crunchy wheat cereal is no different.
Each serving of Kellogg's Special K Breakfast Cereal Raspberry gives you a whopping 37 grams of carbs. To keep your body in ketosis you need to eat no more than 30 grams of carbs a day. So, just one bowlful of this Special K cereal would put you way over that.
This breakfast cereal is also very high in sugar which will take your body out of ketosis too. Then, this great-tasting cereal is not keto-friendly.
Is Special K Raspberry Cereal High in Protein?
In one serving of this cereal, you get 3 grams of protein. This is pretty low, especially when compared to other whole-grain cereals on the market. The average adult needs to costume between 46 to 56 grams of protein daily to stay healthy.
This is because we get a lot of our energy from protein, and it's also used to build and repair our bodies.
You could try combining this crunchy cereal with a high-protein yogurt to give it a boost. Because of its texture, it can also make a tasty addition to homemade trail mix.
Try adding high-protein nuts such as cashews and peanuts into the mix, so that you know you're not skimping on that all-important daily protein.
Is Special K Raspberry Cereal High in Fiber?
One of the main selling points of all the varieties of Special K breakfast cereal is that they're supposed to be high in fiber and therefore promote good gut health. Fiber is very important for maintaining a healthy digestive system and for regular bowel function. It also helps to keep you feeling full for longer.
Although its fiber content is lower than some of the other varieties of Kellogg's Special K breakfast cereal available, it does contain 3 grams in each serving. This works out at 11% of your recommended daily intake, which is pretty good when compared to other whole grain cereals.
Special K Raspberry Cereal Store Brand Alternatives
When it comes to cheaper, store-brand alternatives the options are currently pretty slim. The closest alternative you can find to Kellogg's Special K Breakfast Cereal Raspberry at the moment is Trader Joe's Organic Bran Flakes.
Where You Can Buy Special K Raspberry Cereal
You can find Kellogg's Special K Breakfast Cereal Raspberry in most grocery store chains. Online, it's a little harder to find, but you can purchase other varieties of this crunchy breakfast cereal from online retailers such as Amazon, and the raspberry variety from Walmart.
Famous Special K Raspberry Cereal Commercials
Commercials for Special K varieties tend to focus on its purported health benefits, specifically, how it can help people to lose weight.
In this commercial, people are shown throwing their scales out of the window because they've already managed to lose weight by eating Special K cereal for breakfast. At the end of the commercial, the voiceover recites the advertising slogan 'drop a jean size in two weeks with the Special K challenge.'
User Reviews
Review Summary
0 out of 5 stars (based on 0 reviews)
Recent Reviews
There are no reviews yet. Be the first one to write one.
Submit a Review