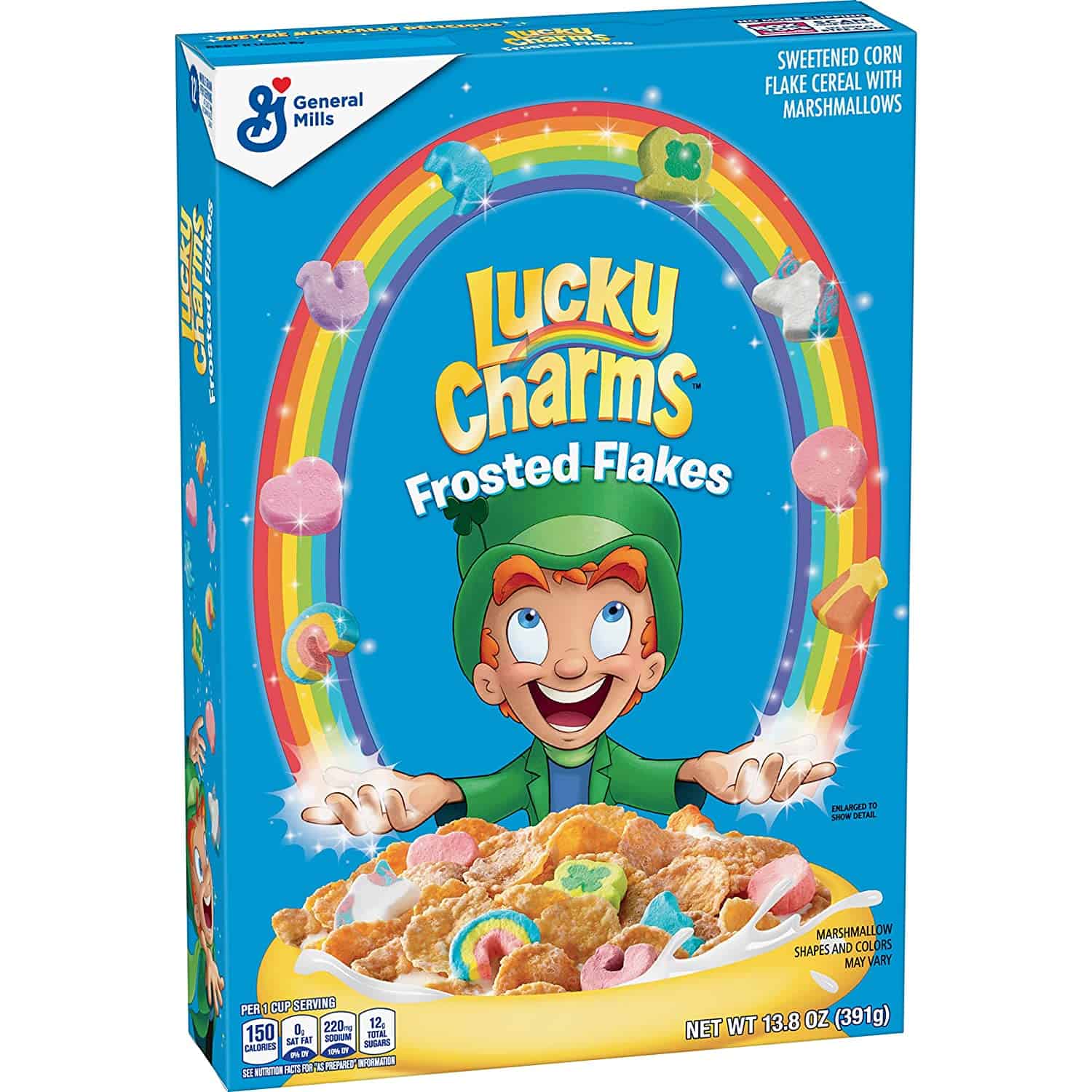 The combination of crunchy cereal pieces with little marshmallow chunks with just the right amount of bite is a strange blend when you think about it, but it's one that just works.
So what we've got is a classic blend, but instead of the toasted whole-grain oat cereal of Lucky Charms, we have Kellogg's Frosted Flakes. That's really the only major difference, so if you love Lucky Charms or any other marshmallow cereal, then chances are you'll love these.
The change of texture, the extra crunch; you'd be surprised how much a simple change to your favorite cereal can make you feel like you're trying it for the first time!
This one-time pairing of two breakfast favorites has finished now, but let's take a closer look at this one-off marshmallow cereal treat for the whole family.
Nutrition Facts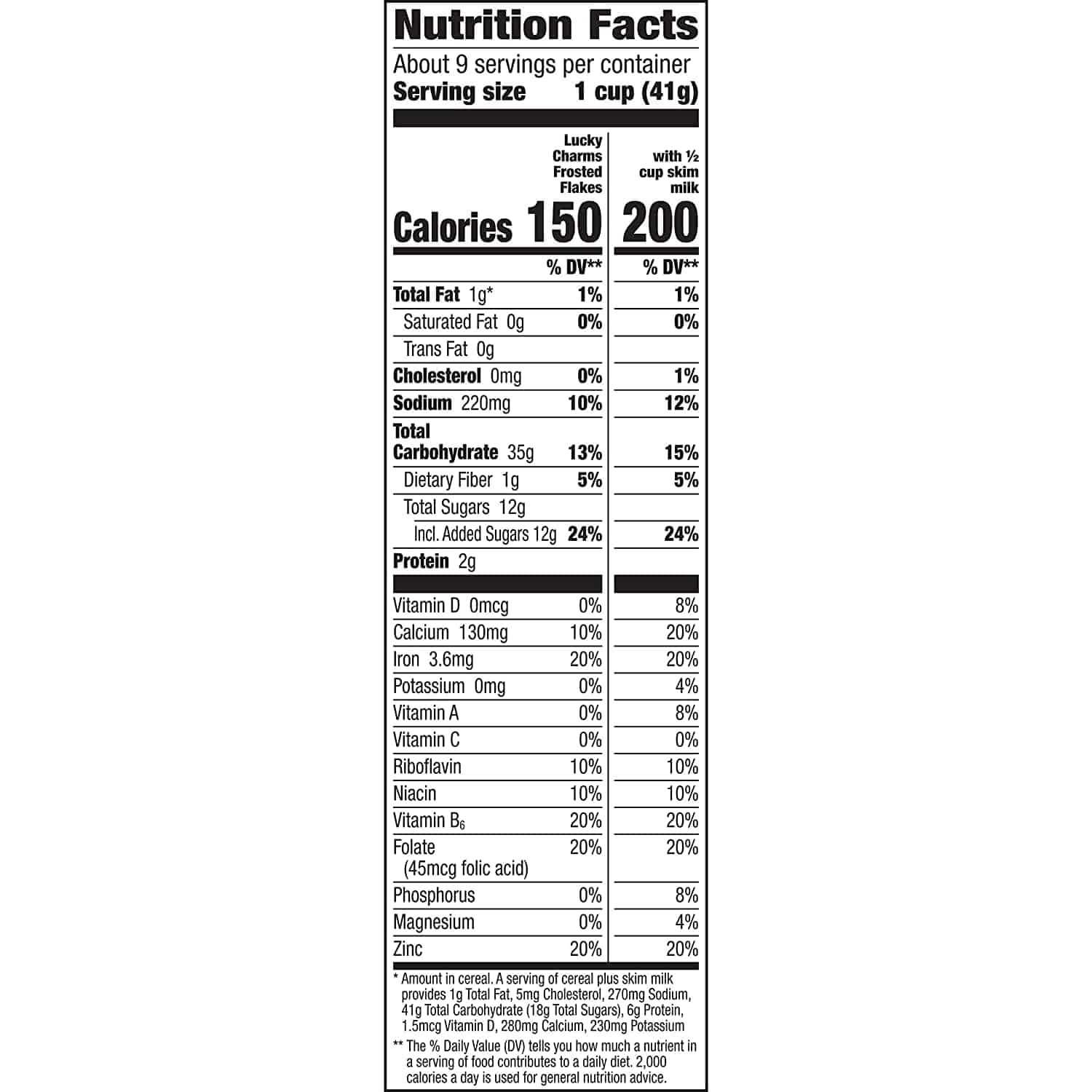 A 31g serving of Frosted Flakes Lucky Charms contains:
Calories 120
Calories from Fat 4.5 (3.7%)
Total Fat 0.5g
Sodium 170mg/8% DV
Potassium 55mg/2% DV
Carbohydrates 27g
Net carbs 26g
Sugar 10g
Fiber 1g/4% DV
Protein 1g
Vitamins and minerals
Vitamin A 150μg/17% DV
Vitamin C 6mg/10% DV
Calcium 100mg/10% DV
Iron 4.5mg/57% DV
Fatty acids
Amino acids
Ingredients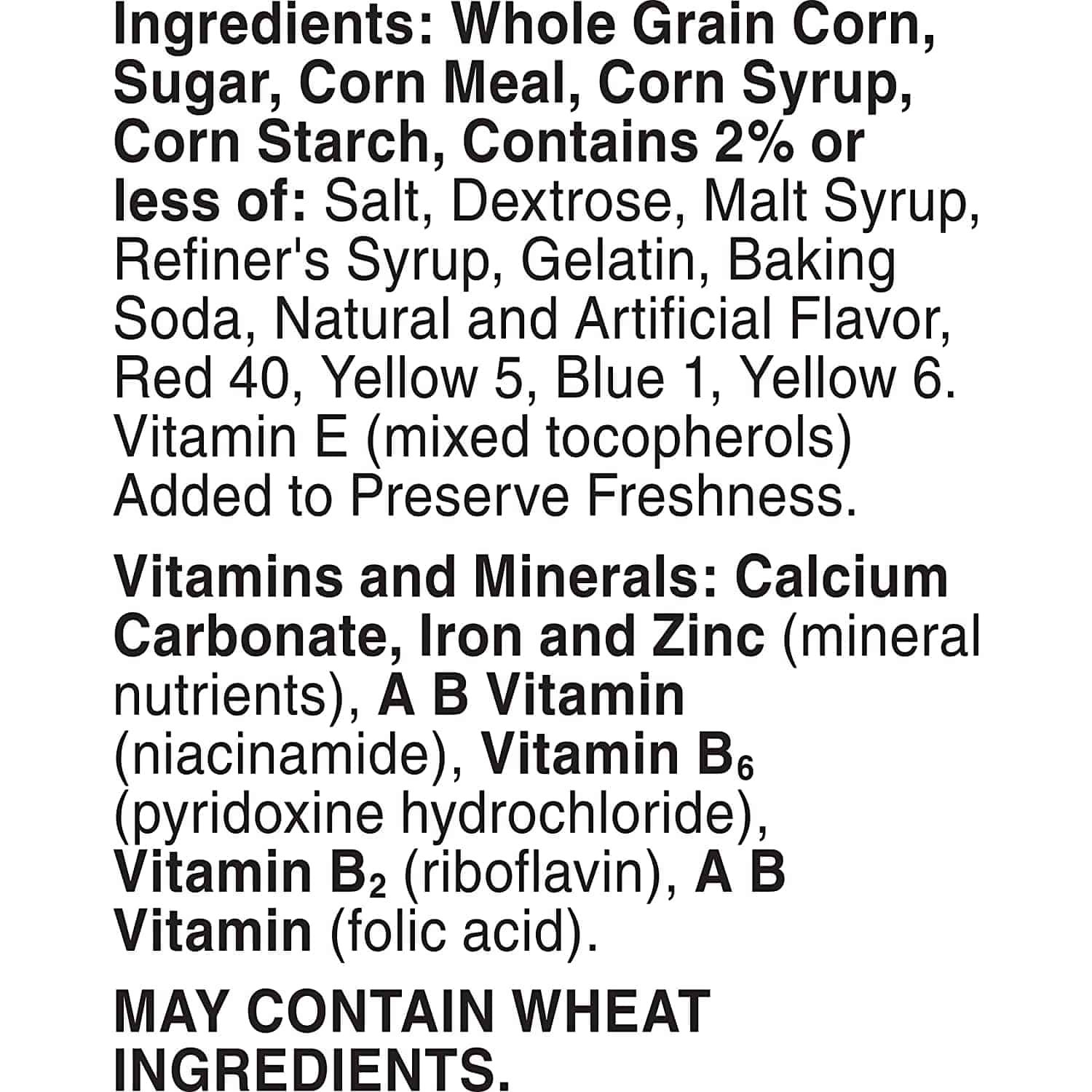 Whole grain Corn
Sugar
Corn meal
Corn Syrup
Corn Starch
Modified Corn Starch
Salt
Dextrose
Golden Syrup
Barley Malt Syrup
Gelatine
Canola Oil
Raising Agent (E500)
Natural and Artificial Flavor
Colors (E102, E110, E133, E129)
Mixed tocopherols
Antioxidant (E306)
Colour (E170)
Iron
Zinc
Vitamin B3
Vitamin B6
Vitamin B2
Folic Acid
Are Lucky Charms Frosted Flakes Healthy?
Frosted Flakes with Marshmallows isn't a cereal we would buy for the health benefits but let's have a look at the nutrition label anyway.
So like most cereals, this is very low fat, as most of the sweetness is derived from sugar. So if you're looking for a delicious low-fat snack, then this fits that bill.
That is really the only thing we can highlight if we're talking about the healthiness of this cereal. In a 31g serving, 26g is carbohydrates, and those are derived either from corn or the sugar in the magical unicorn marshmallows, meaning they are not complex and will be broken down quickly by the body.
Essentially, this means this cereal will not provide you with lasting energy throughout the day and may leave you with sugar cravings shortly after eating it. For this reason, it may be better as a late-night treat than a well-rounded breakfast.
The artificial colors and flavors have also been proven to sometimes cause hyperactivity in children. It's always best to think of this variety of cereal as candy than a wholesome breakfast, and then the label won't seem so bad.
Are Lucky Charms Frosted Flakes Gluten-Free?
The malt flavor used in the frosting of Lucky Charms Frosted Flakes cereal is made using barley, a gluten-containing grain, so this cereal is not compatible with a Celiac or gluten-restrictive diet.
Are Lucky Charms Frosted Flakes Vegan?
Regular Frosted Flakes are compatible with a vegan diet; however, they're not with the addition of Lucky Charms marshmallows. The marshmallows are made with gelatin, a binding agent derived from the bones of cattle.
Are Lucky Charms Frosted Flakes Keto?
When following a keto diet, the aim is to restrict carbohydrate intake to as close to zero carbs as possible while increasing fat intake. This forces your body into a state called ketosis, where it uses fat as the primary energy source to create ketones, a long-lasting form of energy.
It's advised that no more than 20g of carbs should be consumed every day to allow ketosis to take place. With 27g of carbs in every serving, this cereal would stop your body from being able to reach ketosis until the carbohydrates had been used.
Further to this, fat is crucial for producing ketones, and you will need to consume a lot to give your body the fuel it needs for ketosis. Lucky Charms Frosted Flakes cereal contains almost no fat and will not help encourage this process.
Are Lucky Charms Frosted Flakes High In Protein?
This is not a good source of protein as there is only 1g of protein in a serving.
Cereals are generally very low in protein due to their ingredients being very similar; if you want a high protein cereal, however, there are specialty health brands with higher levels.
Are Lucky Charms Frosted Flakes High In Fiber?
The FDA states that food needs to give at least 5g of soluble fiber in each serving to qualify as high fiber. With only 1g per 31g portion, this cereal is not a high-fiber food.
Lucky Charms Frosted Flakes Varieties
There were no alternatives to this cereal made; this combo is exciting enough without spicing it up even more!
But if you do need something similar, here are some suggestions:
Kellogg's Frosted Flakes with Vanilla Marshmallows – This is exactly the same cereal; only the magical marshmallows are tiger paw-shaped treats. Other than that, you're getting the same perfect combination of sweet, crunchy flakes and powdery marshmallows
Lucky Charms – It's not even like we need to signpost this one, but if you want to try the original and best combo, then this mix of toasted oat pieces and marshmallows should be your go-to.
Lucky Charms Frosted Flakes Store Brand Alternatives
Because of the popularity of this classic cereal blend with the entire family, you should be able to find a cheaper store-brand alternative.
Where You Can Buy Lucky Charms Frosted Flakes?
This team-up between two cereal favorites was only a timed release and is sadly no longer available online or in stores.
Famous Lucky Charms Frosted Flakes Commercials
This one-off classic cereal pairing never received a TV commercial and relied instead on word of mouth to do the trick.
User Reviews
Review Summary
0 out of 5 stars (based on 0 reviews)
Recent Reviews
There are no reviews yet. Be the first one to write one.
Submit a Review