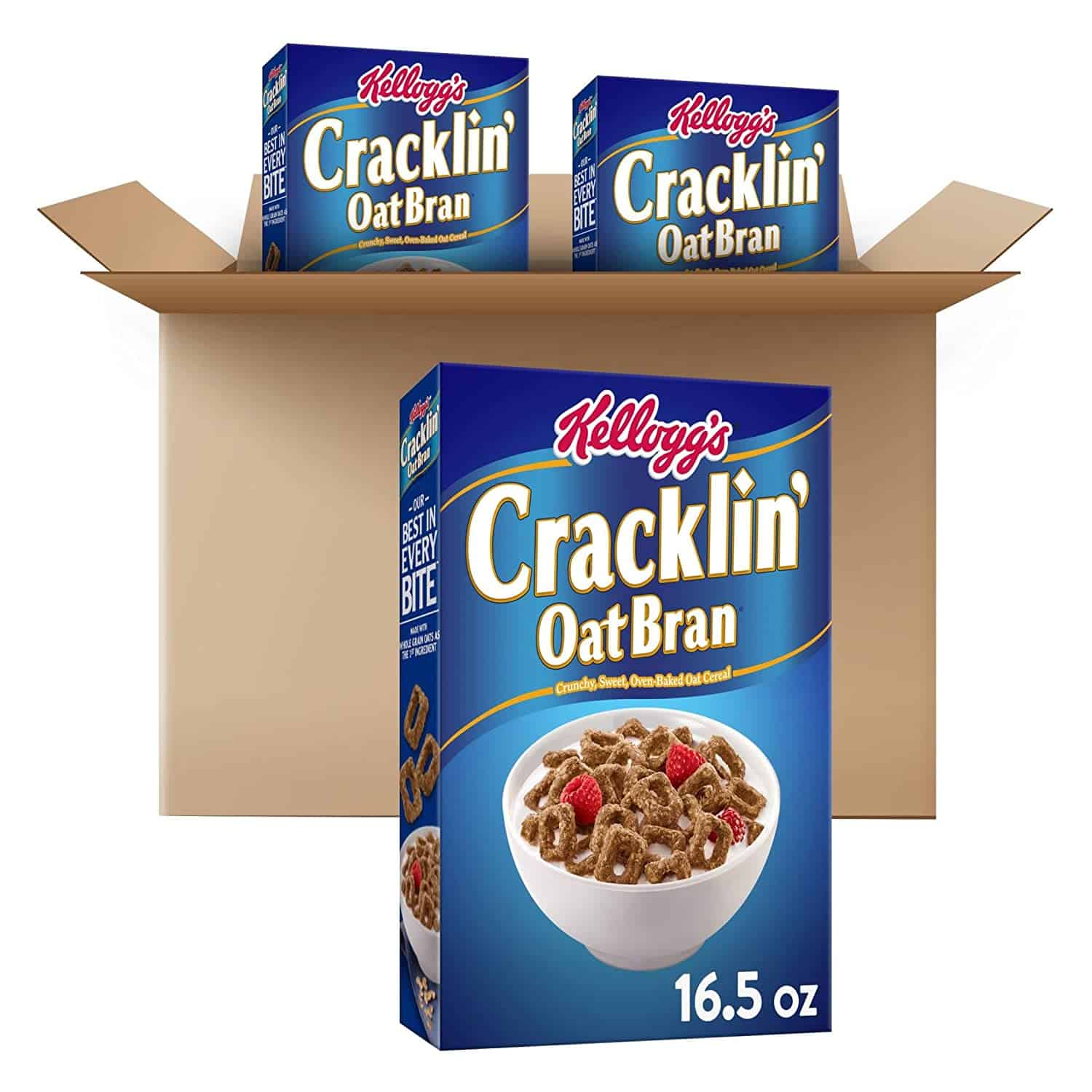 Cracklin' Oat Bran is a Kellogg's breakfast cereal that debuted in 1977. The grain is prepared from oat bran and is flavored with cinnamon and nutmeg, and it is kept together in a rectangle formed by brown sugar.
The formula for Cracklin' Oat Bran underwent a significant alteration in 1989 when consumer health activists lobbied Kellogg's to eliminate the cereal's coconut oil, which contains 92 percent saturated fat. Today, the oven-baked oat cereal is either loved for its delicious sweet flavor or not favored at the breakfast table.
Nutrition Facts
A 3/4 cup (56g) of Cracklin Oat Bran cereal contains the following nutritional values per serving:
Calories – 126
Total fat – 8g / 12%
Saturated Fat – 3.5g / 18%
Cholesterol – 0mg
Sodium – 65mg / 3%
Total Carbohydrates – 7g / 25%
Dietary Fiber – 7g / 25%
Total Sugars – 16g, includes 15g of Added Sugar
Protein 4g
Vitamin D – 3mcg / 15%
Iron – 4.5mg / 25%
Potassium – 210mg / 4%
Vitamin A – 20mcg / 2%
Vitamin C – 15mg / 17%
Ingredients
The following ingredients are included in Kellogg's Cracklin' Oat Bran Breakfast Cereal:
Whole Grain Oats
Sugar, Wheat Bran
Palm Oil
Oat Bran
Corn Syrup
Wheat Starch
Coconut flakes
It contains 2% Molasses
Cinnamon
Malt Extract
Natural Flavor
Salt, Soy Lecithin
Nutmeg
Vitamins and Minerals: 
Reduced Iron
Niacinamide
Vitamin B1 (Thiamin Hydrochloride)
Vitamin B6 (Pyridoxine Hydrochloride)
Vitamin B2 (Riboflavin)
Folic Acid
Vitamin D3
Vitamin B12.
Is Cracklin Oat Bran Cereal Healthy?
While Kellog's Cracklin' Oat Bran may be a nostalgic favorite for many due to its sweetness and tastiness, it is a cereal that you should avoid if you are on a strict diet. Additionally, it is high in unhealthy fats and has more sugar than most candy bars.
While this whole-grain breakfast cereal is high in fiber and contains a decent source of eight vitamins and minerals, it falls short of being healthy.
Additionally, Cracklin' Oat Bran includes a large amount of palm and soybean oil, loading this package with inflammatory omega-6 and saturated fats. While there is nothing wrong with eating a bowl, consider Cracklin' Oat Bran Cereal a treat rather than a diet staple.
That's why most kids are given these sweet and tasty golden oats once in a while rather than every morning for breakfast.
Is Cracklin Oat Bran Cereal Gluten-Free?
Cracklin Oat Bran Cereal is not gluten-free and should be avoided if you have celiac disease or gluten sensitivity. The cereal box has Wheat-gluten listed as one of its allergens.
Is Cracklin Oat Bran Cereal Vegan?
This breakfast cereal is not suitable for vegans as it contains animal byproducts. Vitamin D is collected from lanolin, a waxy compound produced from sheep's wool, and is presently used in the bulk of Kellogg's products.
Kellogg's Cracklin' Oat Bran includes Vitamin D3, often derived from sheep. While Kellogg's and other manufacturers are adhering to present laws, it is evident that these restrictions do not go far enough since it is almost difficult for someone to know what they are consuming.
Numerous vegan-friendly high fiber cereal options are available that do not contain any animal byproducts.
Is Cracklin Oat Bran Cereal Keto?
Kellogg's Cracklin Oat Bran is not for anyone following the ketogenic diet due to its very high carbohydrate content and undesirable ingredients such as sugar, palm oil, and fructose corn syrup in the product. You should skip Kellogg's Cracklin Oat Bran and limit your net carbohydrate to under 30g per day to stay in ketosis.
Kellogg's Cracklin Oat Bran has been branded a "lightly sweetened cereal" but includes sugar, high fructose corn syrup, and molasses, all of which have a high glycemic index. These sugar substitutes might boost your blood sugar and prevent you from entering ketosis.
Palm oil is a refined oil that may oxidize and produce inflammation in the body. Typically, highly refined oils are extracted using high temperatures and chemicals, and this procedure depletes the oil of its nutrients and substitutes them with toxic compounds. It is critical to get healthy fats so that your body can burn clean fuel when in ketosis.
Is Cracklin Oat Bran Cereal High in Protein?
To maintain overall health and well-being, an average adult requires 0.8 g of protein per kilogram of body weight or an average of 50 grams of protein per day. Kellogg's Cracklin Oat Bran contains 4 grams of protein, equating to 16% of your daily need.
Is Cracklin Oat Bran Cereal High in Fiber?
Fiber is essential for your digestive health and cholesterol reduction. The recommended daily consumption of dietary fiber should be between 25 and 30 grams from food, not supplements. Cracklin Oat Bran Cereal has 7 grams of fiber, over a fourth of the daily fiber recommendation.
Cracklin Oat Bran Cereal Store Brand Alternatives
If you're searching for a healthy cereal with less sugar, Kellogg's Corn Flakes has 2.7 grams per serving, much less than Cracklin Oat Bran. If you're searching for a high fiber cereal alternative, consider the following:
General Mills- Fiber One (18 grams per serving)
Kellogg's All-Bran Flakes (17 grams per serving)
Grape Nuts (14 grams per serving)
Where You Can Buy Cracklin Oat Bran Cereal
This breakfast cereal is sold in most major retail supermarkets and can also be purchased at Instacart, Amazon, Walmart, and other online retailers.
Famous Cracklin Oat Bran Cereal Commercials
In the late 1980s, Kellogg's Cracklin' Oat Bran commercials were a success, with the famous phrase "Did you finish the last of the Cracklin Oat Bran?" followed by some amusing scenarios and responses.
Another notable and hilarious commercial featured grandmothers not baking their grandkids' favorite oatmeal cookies thanks to the satisfying taste of Kellogg's Cracklin Oat Bran.
No matter the consensus, Cracklin Oat Bran cereal is a favorite cereal for many. They are often used in a homemade trail mix recipe to enjoy as a delicious any time snack on the go.
User Reviews
Review Summary
0 out of 5 stars (based on 0 reviews)
Recent Reviews
There are no reviews yet. Be the first one to write one.
Submit a Review