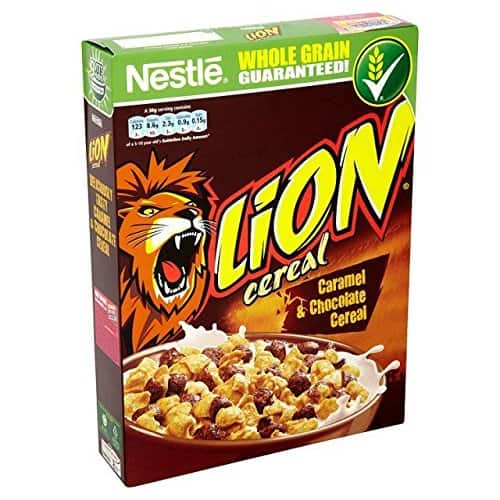 If you're a fan of the Lion candy bar, you'll be pleased to know that there's also Lion cereal! With a chocolate and caramel taste, this cereal is described as "the king of cereals" designed to feed your "wild hunger."
But just how healthy is Nestle lion cereal? What does it contain? Is it suitable for various diets such as vegan and keto? Where can you buy it in the United States? For answers to these questions and more, read along as we break down the ingredients and nutritional information of this cereal.
Nutrition Facts
With a scrumptious caramel and chocolate taste and chocolate cereal pieces, you'll feel like you're eating a Lion candy bar for breakfast! Although whole grains are the primary ingredient, it's important to note that this cereal is high in sugar and features some very unhealthy ingredients.
For this reason, it should ideally be eaten in moderation as part of a varied and balanced diet. Let's look at what each serving provides:
Calories: 123
Fat: 2.3g
Carbohydrates: 22.2g
Sugar: 7.5g
Fiber: 1.8g
Protein: 2.4g
Salt: 0.15g
Vitamin D: 0.75mg 15% DV
Vitamin B1: 0.28mg 25% DV
Vitamin B2: 0.37mg 27% DV
Vitamin B3: 4.1mg 26% DV
Vitamin B6: 0.34mg 24% DV
Folic acid: 52.2mg 265 DV
Calcium: 150mg 19% DV
Iron: 2.5mg 18% DV
Ingredients
Nestle Lion cereal contains:
Whole grain wheat
Sugar
Wheat flour
Sunflower oil
Glucose syrup
Sweetened condensed milk
Calcium carbonate
Fat reduced cocoa powder
Cocoa mass
Salt
Natural flavor
Sunflower lecithin
Caramelized sugar syrup
Iron
Is Lion Cereal Healthy?
Unfortunately, no. One look at the ingredients label of Nestle Lion cereal will show just how unhealthy it is. If you're looking for a nutritious breakfast, Lion cereal is not what you're looking for. Instead, it's more like a dessert.
It has 7.5 grams of glucose in each serving which is equal to two teaspoons! Many breakfast cereals are marketed as being a healthy option because they tend to contain whole grains.
Although whole grains are very good for you, Lion cereal is highly processed, so the nutritional benefits are stripped away. The label also includes glucose as the second ingredient, meaning it contains high amounts.
As well as glucose, it also contains other unhealthy ingredients such as glucose syrup and sweetened condensed milk. This syrup is a sweetener frequently used in commercial foods.
Unfortunately, consuming too much of this sweetener may increase the risk of obesity, bad dental health, heart disease, and high blood pressure. Because of that, this cereal should preferably be treated as an occasional treat, not a daily option for breakfast.
Is Lion Cereal Gluten-Free?
No, Lion cereal is not a gluten-free product as its main ingredient is whole grain wheat, making it unsuitable for Celiac disease sufferers or those with gluten intolerance. Nestle also doesn't claim that this cereal is gluten-free, and wheat is listed as the first ingredient on the box.
Is Lion Cereal Vegan?
Although Nestle Lion cereal is suitable for vegetarians, unfortunately, it's not suitable for those following a vegan diet. A quick look at the ingredients label will show that condensed milk and glucose are present in this whole-grain cereal.
Although condensed milk is an obvious non-vegan ingredient because it's dairy, glucose may come as a surprise. Glucose itself is vegan; however, the way it's processed isn't. Quite often, it gets its white color from being filtered with animal bone char. This is also used to get rid of any impurities that may be present.
Is Lion Cereal Keto?
If you're on a keto diet, most cereals won't be a suitable option for you. This is because they typically contain whole grains as their main ingredient. While this isn't an unhealthy ingredient, it's not the best thing to eat on a ketogenic diet – which requires a low carb intake.
This Nestle whole-grain cereal is no exception. It's a highly processed and high-carb cereal, with a huge 73.8 grams of carbohydrates per 100 grams. Keep in mind that to stay in or even reach a state of ketosis, 30 grams of carbs is the maximum you should be eating per day.
Is Lion Cereal High in Protein?
We all know that protein is a very important macronutrient that offers many benefits, so it's easy to see why many people want to increase their daily intake. In each serving, Nestle Lion only provides 2.4g, which isn't a high source.
However, breakfast cereals aren't known for being rich in protein, so if you want to include more in your diet, this cereal isn't the best choice for you. If you're still craving cereal, though, there are some brands that offer at least 10 grams per serving.
Is Lion Cereal High in Fiber?
A fiber-rich diet provides many health benefits, such as maintaining stable blood glucose levels, helping to reduce cholesterol, and slowing down fat absorption. Lion cereal only contains 1.8 grams of fiber, which isn't surprising since it's a sugary caramel and chocolate cereal.
The average adult should have a daily fiber intake of between 25-38 grams, so if you're looking to increase how much roughage you eat, look for another cereal that offers a high fiber content.
Lion Cereal Store Brand Alternatives
Nestle Lion can be hard to find in the US, but luckily, there are plenty of alternatives that you can find in your local store. In Kroger, you'll find yummy Post Coco Pebbles and Reece's Giant Size Puffs. In Walmart, you can pick up General Mills Cookie Crisp and Cocoa Puffs for a chocolatey treat!
Where You Can Buy Lion Cereal
This Nestle cereal is hard to find in the United States. It may be available in some stores, but the best way to buy it is online. It can be bought from various sites such as Amazon and online stores like the British Corner Shop.
Famous Lion Cereal Commercials
Originally launched in the early 2000s, this Nestle cereal has rapidly become popular as a breakfast cereal, and in 2003, a different version was released.
This commercial was aired in 2002 in Europe, featuring Lion cereal being eaten by an office worker who 'roars" like a lion after eating it!
User Reviews
Review Summary
0 out of 5 stars (based on 0 reviews)
Recent Reviews
There are no reviews yet. Be the first one to write one.
Submit a Review