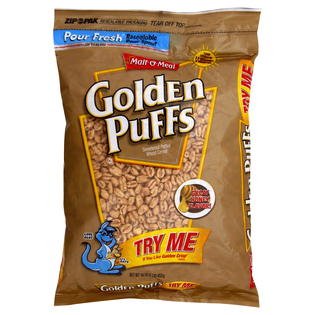 Malt of Meal is famous for giving America more affordable options of more expensive and renowned breakfast cereal varieties. Golden Puffs cereal was such an option for Post Golden Crisp cereal.
Golden Puffs are delicious puffs full of sweet caramel flavor. The crispy wheat puffs had a sweet flavor due to their sugar, honey, and corn syrup ingredients. The cereal was sold based on its taste, not its nutrition profile, but nevertheless was considered a good alternative at a better price point.
These crispy wheat puffs are loved by children and adults, thanks to their sweet caramel flavor, iconic crunch, and the morning motivation it brings. These delicious puffs, gold and crunchy, have hit the jackpot.
Nutrition Facts
One serving of Malt o Meal Golden Puffs cereal (38 grams) contains:
Calories – 150
Calories from fat – 0
Fat – 0.5 grams / 1% DV

Saturated fat – 0 mg
Trans fat – 0mg
Polyunsaturated fat – 0mg
Monounsaturated fat – 0mg

Cholesterol – 0mg
Sodium – 85mg / 4% DV
Total carbohydrates – 34 grams / 12% DV

Total sugars – 21 grams (added sugars) / 42% DV
Other carbohydrates – 9 grams
Dietary fiber – 0 grams / 0% DV

Protein – 2 grams / 0% DV
Vitamin A – 10% DV
Vitamin B1 (thiamin) – 60% DV
Vitamin B2 (riboflavin) – 25% DV
Vitamin B3 (niacin) – 6% DV
Vitamin C – 10% DV
Vitamin D – 0% DV
Folate – 30mcg DFE / 8% DV
Vitamin B9 (folic acid) – 20 mcg
Vitamin B12 – 25% DV
Calcium – 0mg / 0% DV
Potassium – 70mg / 2% DV
Phosphorus – 6% DV
Pantothenic Acid (calcium pantothenate) – 10% DV
Iron – .5mg / 2% DV
Zinc – 4% DV
Vitamin B6 (pyridoxin) – 25% DV
Copper – 8% DV
Magnesium – 4% DV
The above Daily Value (DV) percentage is based on a diet of 2,000 calories per day.
One 411 grams box of Golden Puffs cereal contains around 15 servings.
All in all, Malt o Meal Golden Puffs cereal is not a good source of whole grains.
Ingredients
The ingredients list for Malt o Meal Golden Puffs cereal includes:
Sugar
Wheat
Corn syrup
Salt
Honey
Caramel color
Soy lecithin
Vitamin C (ascorbic acid)
Citric acid
Niacin (niacinamide)
Vitamin A Palmitate
Zinc (zinc oxide)
Ferric Orthophosphate (iron)
Sodium Acetate
Vitamin B6 (pyridoxine hydrochloride)
Vitamin B2 (riboflavin)
Vitamin B1 (thiamin Mononitrate)
Vitamin D
Vitamin B12
Pantothenic acid (calcium pantothenate)
Folate (folic acid)
Is Golden Puffs Cereal Healthy?
No, while this cereal has long been a popular breakfast cereal for kids to start their days with, it is fortified with many necessary vitamins and minerals, but it is not a healthy cereal choice.
Firstly, the cereal is primarily nothing but sugar, which would largely explain why it's children's favorite. In fact, sugar is the number one ingredient, and corn syrup is the number three ingredient in Golden Puffs cereal.
Each serving of Golden Puffs is more than 50% sugar per bowl and nearly 50% of an individual's total daily sugar intake. One serving contains 21 grams of sugar, equaling around five teaspoons per bowl.
Secondly, while there are numerous added vitamins and minerals, essentially fat-free, no trans fats, and cholesterol-free, any health benefit that would provide is vastly offset by the number of sugars and the sodium content.
Is Golden Puffs Cereal Gluten-Free?
No, this cereal is not a gluten-free food. Though it is primarily sugar, the second most prolific ingredient is wheat. In fact, the name Golden Puffs describes that the cereal is puffed wheat.
Is Golden Puffs Cereal Vegan?
No, Golden Puffs cereal is not vegan food. Among the cereal's ingredients is honey. Honey is an animal by-product and is not accepted for consumption by those who strictly adhere to a vegan diet.
Is Golden Puffs Cereal Keto?
No, it is not a Keto-friendly food. The sugar content alone gives a very high carbohydrate level. Keto diets typically only permit a total intake of 20 -30 grams of carbohydrates a day. One serving of Golden Puffs is more than 30 grams of carbohydrates.
Is Golden Puffs Cereal High in Protein?
No, this is not a high-protein cereal. There are only 2 grams of protein per serving. Most cereals considered high in protein typically have around 10 grams per serving. So, with 2 grams of protein per serving, this cereal is about the average for a sweet sugar-based cereal but not enough to be high in protein.
Is Golden Puffs Cereal High in Fiber?
Even though wheat is the second most abundant ingredient in this cereal, Golden Puffs contains no dietary fiber. Thus, this cereal does not contribute toward any of the required dietary fiber intakes that a 2000-calorie-a-day diet requires.
According to the FDA, the recommended dietary fiber intake should be around 25 grams. To qualify as a ' high fiber ' food, a cereal must contain at least 5 grams of fiber per service.
Golden Puffs Cereal Store Brand Alternatives
There are actually several alternative varieties, including brand name, store brand, and generic brands, of Golden Puffs.
Brand name cereals would include Kellogg's Honey Smacks and Post Golden Crisps.
Generic brand cereal alternatives include Chestnut Hill Golden Honey Puffs and Millville Honey Wheat Puffs.
There are also plenty of store brand alternatives. The labels typically stated puffed wheat cereal.
Where You Can Buy Golden Puffs Cereal
Malt o Meal Golden Puffs cereal is available at virtually any grocery store or food market online or brick and mortar. Such as Amazon, Walmart, and Instacart.
Famous Golden Puffs Cereal Commercials
Malt o Meal doesn't usually get too much into marketing their products. They tend to rely solely on product placement in the cereal aisle, as most of their products are more affordable options to wider cereal brand varieties.
As Golden Puffs was meant to be a more affordable alternative to Post Golden Crisp cereal, the company used the visible price comparison at the store as their biggest marketing asset to consumers.
User Reviews
Review Summary
0.0 out of 5 stars (based on 0 reviews)
Recent Reviews
There are no reviews yet. Be the first one to write one.
Submit a Review