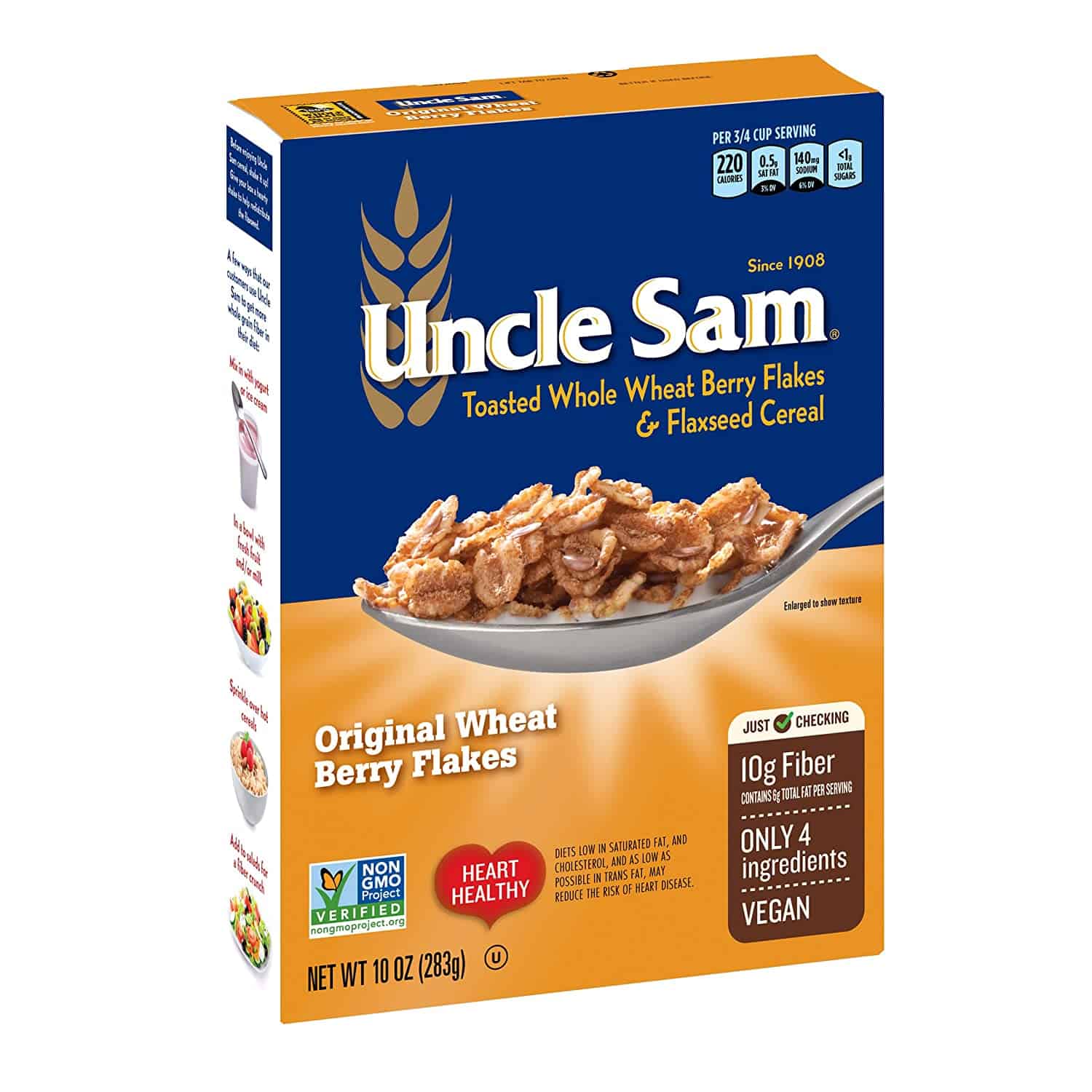 Uncle Sam cereal has been keeping families full until lunch since 1908. Amazingly, this ready-to-eat cereal has remained the same throughout its 110+ year history, consisting of whole wheat berries, whole grains, and flaxseed.
Although ready-to-eat, consumers of Uncle Sam like to get creative with the cereal and mix it alongside fruit, hot cereals, and even ice cream!
But how nutritious is the cereal as a standalone product? This grain cereal is advertised to be high in fiber, low in sugar, and non-GMO (genetically modified ingredients), but how truthful are these claims? Let's find out more about this American breakfast classic.
Nutrition Facts

A 60 gram serving of Uncle Sam Original Wheat Flakes mixed cereal contains the following nutritional value:
Calories – 220
Total fat – 6 grams (9% Daily Value)
Trans fat – 0 grams
Saturated fat – 0.5 grams (3% DV)
Cholesterol – 0mg
Sodium – 140mg (6% DV)
Total carbohydrates – 43 grams (14% DV)
Sugars – 0.5 grams (o added sugars)
Dietry fiber – 10 grams (40% DV)
Protein – 8 grams
Calcium – 40mg (3% DV)
Vitamin D – 0mcg
Potassium – 443mg (9% DV)
Iron – 3mg (19% DV)
The Daily Value (DV) percentage is calculated based on a diet of 2000 calories per day.
Ingredients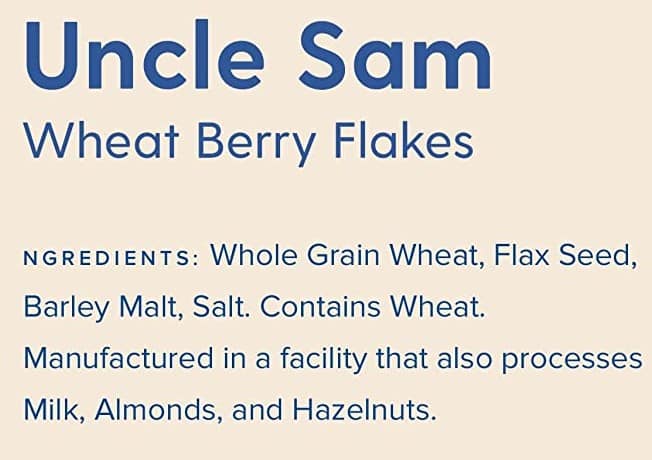 Each box of Uncle Sam wheat berry flakes contains the following ingredients:
Whole grain wheat
Barley malt
Whole Flaxseeds
Salt
Is Uncle Sam Cereal Healthy?
Uncle Sam Original Wheat Berry Flakes is more than just a delicious breakfast staple; it holds many nutritional values and is often ranked amongst the healthiest breakfast cereals in America.
This is mainly due to its high fiber and protein content, provided by its key ingredient: whole grain wheat. This renders the cereal great for digestive health, weight loss, and muscle and bone health.
Uncle Sam is completely free from GMOs, colorings, and preservatives. Its simple, four-ingredient list features nothing unfamiliar – consisting exclusively of healthy and natural additions.
The barley malt cereal is also great for cardiovascular health, being rich in ALA Omega 3. A steady consumption of Omega 3 not only helps reduce the risk of you developing cardiovascular disease, but it also helps to prevent strokes and heart disease.
A single serving of Uncle Sam Original can provide 93% of your recommended ALA omega-three daily intakes, thanks to the flaxseed.
The nutritional drawbacks of this cereal are only slight – it contains a small amount of sugar (less than 1 gram) and is quite high in calories. Unless you are avoiding sugar completely or are trying to cut down on your calorie intake, Uncle Sam is a highly nutritious breakfast cereal.
Is Uncle Sam Cereal Gluten-Free?
Uncle Sam Original Wheat Berry Flakes are not gluten-free cereal, as it contains gluten-containing ingredients. Not only is whole grain wheat rich in gluten, but barley malt also tends to contain gluten. Unfortunately, there is no way for those with gluten allergies to enjoy Uncle Sam Original, as there is no gluten-free alternative currently offered.
Is Uncle Sam Cereal Vegan?
Uncle Sam itself is vegan, as it contains no animal-derived products in its ingredients list.
However, Uncle Sam's boxes come with a warning that the product may have been prepared on a machine that has previously prepared dairy products. This was not always the case, but since the current owners of the product, Post Consumer Brands, took over, this warning has appeared on the box.
So, although technically vegan, there is a risk that the cereal could be contaminated with dairy.
Is Uncle Sam Cereal Keto?
Uncle Sam Original Wheat Berry Flakes is not a keto-friendly cereal, as it comes particularly high in net carbs. Even in a small, half-cup portion, a bowl of Uncle Sam will provide you with 28.7 grams of carbohydrates – this equates to 10% of your recommended daily value!
Considering that keto-dieters should avoid carbohydrates as much as possible and only consume around 20 grams of carbs per day, Uncle Sam Original cannot be consumed as part of a keto diet.
Is Uncle Sam Cereal High In Protein?
Uncle Sam Original Wheat Berry Flakes supply you with enough protein also to be considered a 'high protein' cereal, with an impressive 10.7 grams in one serving. This high protein count creates a filling breakfast cereal. This helps with weight loss, as you don't feel the urge to snack after a bowl of these whole wheat flakes.
Is Uncle Sam Cereal High In Fiber?
In a standard, 1-cup serving of Uncle Sam, you'll get an amazing 13.3 grams of fiber – much higher than some other high fiber cereal brands. Starting your day off with high fiber and a whole flaxseed-packed bowl of Uncle Sam is a great way to improve bowel health and reduce the risk of regularly experiencing constipation and the health concerns that come with that.
Uncle Sam Cereal Varieties
Uncle Sam Raisin Bran
This variety combines two classic American cereals: Uncle Sam and Skinner's Raisin Bran. With the addition of sun-ripened raisins, Uncle Sam becomes all the more nutritious and creates a more appetizing breakfast.
Cereal Store Brand Alternatives
You'll easily be able to find a store-brand, whole wheat flakes-based alternative to Uncle Sam Original cereal at your local grocery store. Alternatively, if you're looking for a whole wheat cereal alternative to Uncle Sam, consider Weetabix or Shredded Wheat, both of which provide you with a good source of whole grain.
Where You Can Buy Uncle Sam Cereal
Being one of the oldest cereal brands still sold in the U.S., you'll easily be able to find Uncle Sam cereal at most grocery stores. Notably, you can find this whole-grain cereal at such grocery stores as Walmart and Kroger.
Famous Uncle Sam Cereal Commercials
Despite how long Uncle Sam Wheat Flakes mixed cereal has been part of the American breakfast table, there have been surprisingly few TV commercials linked to the cereal. However, it's easy to find plenty of newspaper advertisements, such as this one from 1969.
User Reviews
Review Summary
5.0 out of 5 stars (based on 1 review)
Recent Reviews
Uncle Sam Cereal, An Original Healthy Breakfast.
I am 65 years old, I have been eating Uncle Sam cereal for at least 30 years. It is one of only a few dry breakfast cereals that is actually healthy for you. My wife and I eat it with add berries for breakfast or we'll add it to Greek yogurt for an added crunch.
Due to the fact that is minimally processed it is low glycemic. My wife realized to get the same affect out of oatmeal. She hast to eat steel cut oats that are very time consuming to make. I do have a little Stevia in the Raw sometimes, we do enjoy it immensely.
Submit a Review