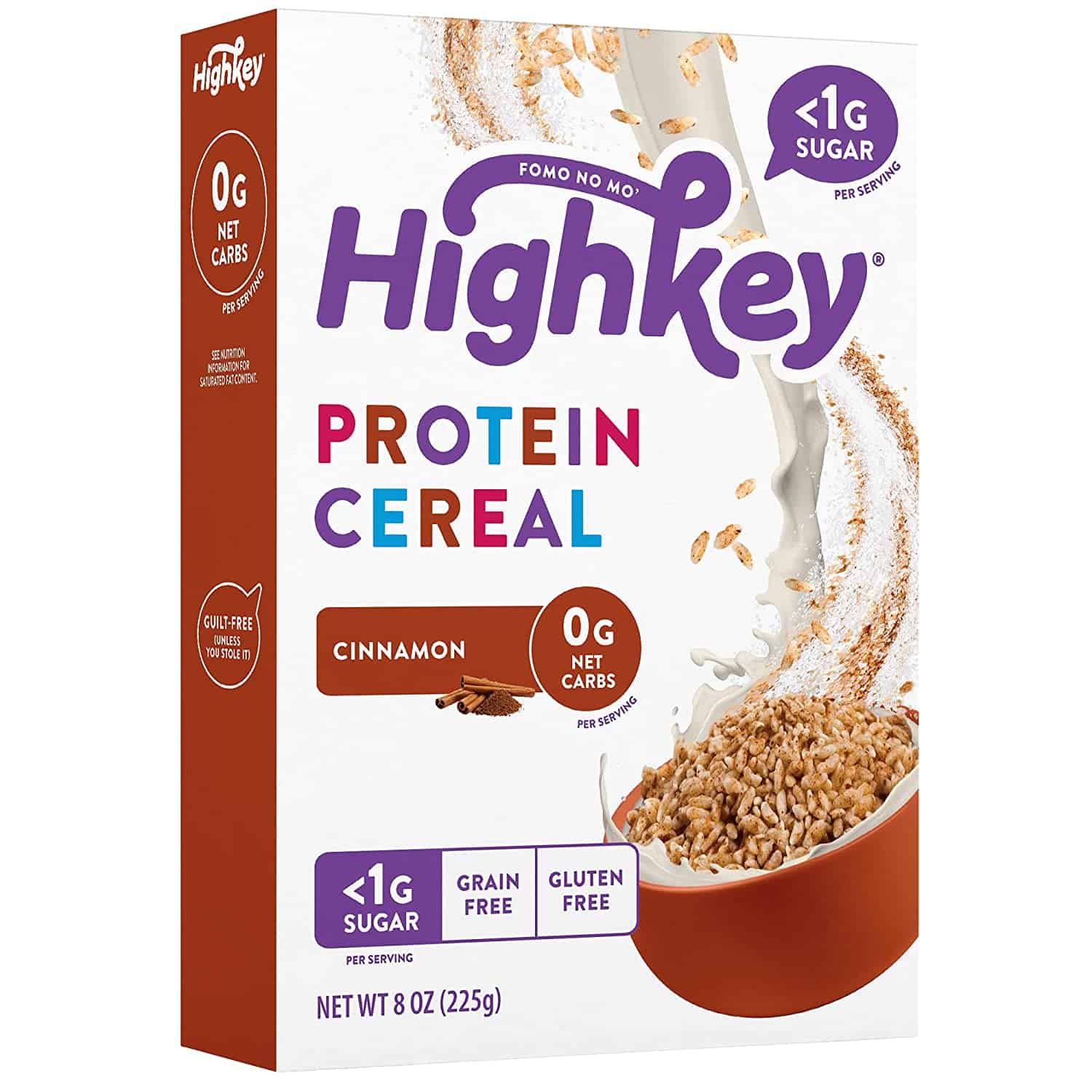 Anyone who loves cereal will likely hate the thought of giving it up, as a lot of cereals that taste good aren't as healthy as we wish they were. Anyone on a Keto diet is going to struggle to find unprocessed cereals that are a healthy alternative to the highly processed alternatives.
That's where Highkey Cereal comes in because it offers the delicious taste of frosted puffs that look almost identical to rice Krispies.
However, it offers all of the low-carb, grain-free benefits that would otherwise be found in the processed cereals in today's cereal market. It's so good that you'll forget this is a keto cereal!
Nutrition Facts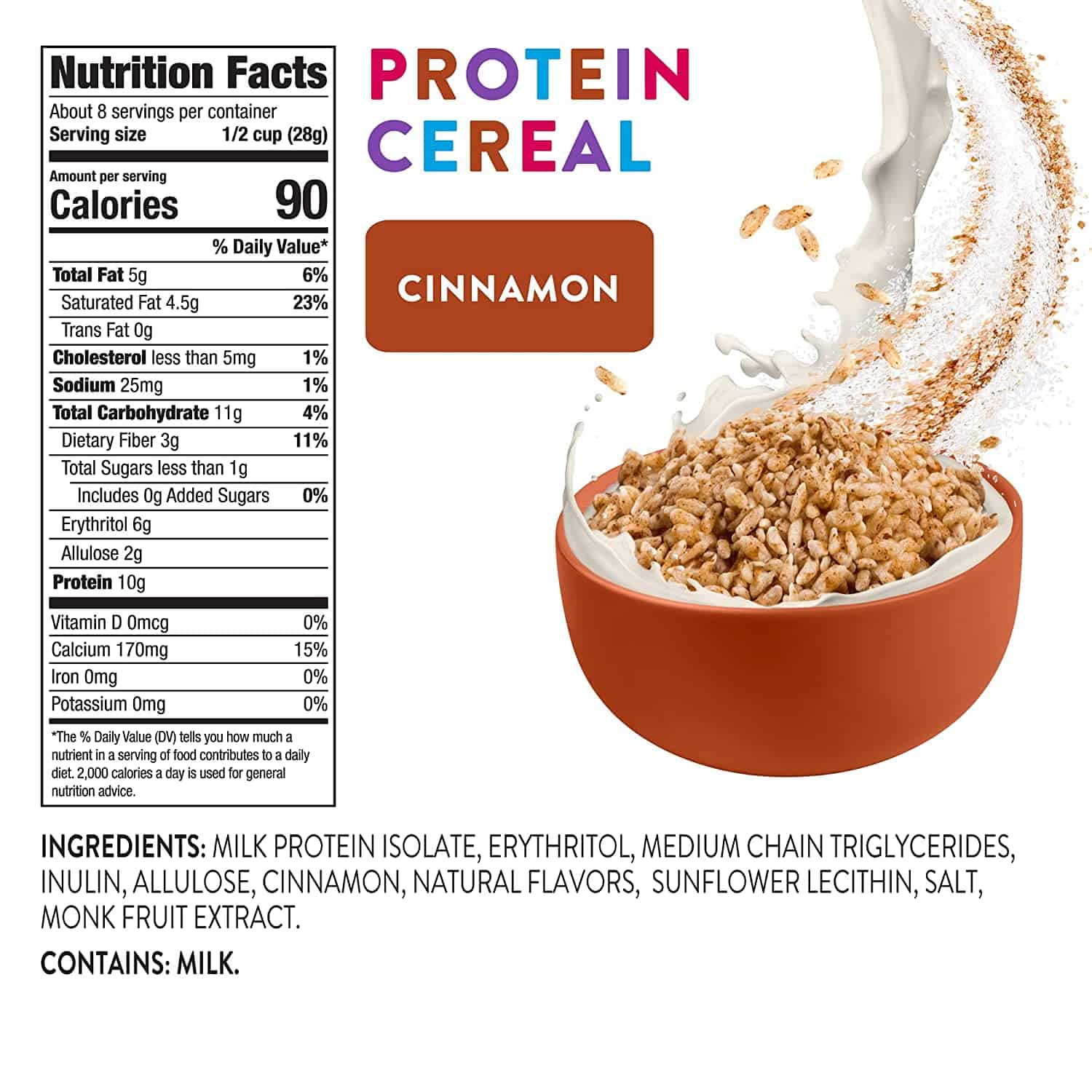 Nutritional facts are important when it comes to finding the right balance of nutrition in your bowl. Here's everything that a bowl of Highkey will offer.
Calories: 150
Saturated Fat: 5.000g
Trans Fat: 0.000g
Cholesterol: 0mg
Sodium: 220mg
Total Carbohydrate: 11.00g
Dietary Fiber: 3.0g
Sugars: 0
Protein: 16.00g
Vitamin D: 0
Calcium: 200mg
Iron: 2.70mg
Potassium: 30mg
Ingredients
You'll notice when comparing these ingredients to other regular cereals, that there are a lot fewer ingredients and the absence of some core grains. Here are all the ingredients found in this type of keto cereal.
Milk protein isolate
Erythritol
Medium chain triglycerides
Inulin
Allulose syrup
Cocoa powder with potassium carbonate
Natural flavors
Natural caramel color
Sunflower lecithin
Salt
Monk fruit extract
Is High Key Cereal Healthy?
High Key cereal is bound to be one of the many healthy bowls of cereal out there due to its low carb nutritional value. The cereal itself packs a lot of flavor and, unlike some of the other keto cereals, offers a sweetened or 'frosted' coating on the cereal.
Whilst processed food will be jam-packed with sugar, this cereal offers very little sugar. As a trusted keto company, you'll find this cereal to be very beneficial for those looking for a healthier lifestyle.
Is High Key Cereal Gluten-Free?
One of the major benefits of this cereal is that not only is it a suitable option for those who need a low-carb solution for their breakfast, but it's also gluten and grain-free.
It's surprising just how many cereals contain both these ingredients, which puts many of those with an intolerance, like celiac disease, at a disadvantage.
It means that many can enjoy the great flavors that Highkey cereal has to offer, regardless of which flavor you choose.
Is High Key Cereal Vegan?
For vegans, they'll be happy to know that the Highkey cereal is a plant-based protein breakfast cereal. It's therefore vegan-friendly and a great option for those who need a cereal that doesn't contain any animal products or byproducts, for that matter.
A lot of the processed cereal options can end up having artificial flavorings that are questionable for vegans. You can rest assured that this bowl of cereal is perfect for anyone who has a preference for eating vegan.
Is High Key Cereal Keto?
Highkey cereal is made with keto dieters in mind. There are lots of great keto cereals out there, and Highkey is classed as one of the new options on the list. With three different options; chocolate, frosted, and cinnamon, it means keto cereal doesn't need to be plain and boring.
The cereal offers zero grams of net carbs, making it a great one for keto dieters, regardless of the serving size. It's one of the great keto products for breakfast or for snacks where needed.
Is High Key Cereal High in Protein?
There's a whopping 16 grams of protein, which is a healthy amount of protein to have in your morning bowl of cereal. The difference between this one and processed cereal is that processed options have very little protein.
If you're trying to tone up, having a high protein diet is important, and keto products are usually great for trying to create more muscle with regular exercise.
Is High Key Cereal High in Fiber?
There's 3g worth of dietary fiber. It's not a considerable amount when it comes to a serving size, but it's still a reasonable allocation that is useful for those needing a bit more fiber in their diet.
Alternatively, if you're looking for a high in fiber option similar to this one, then it's worth trying something like frosted shreddies or Weetabix. These contain higher amounts of fiber to help the digestive system.
High Key Cereal Varieties
There are three different types of cereal varieties when it comes to the Magic Spoon cereal. These are chocolate, cinnamon, and the classic frosted option. Each one is just as good for keto dieters as the next, and the cinnamon is a great savory but sweet option for those looking for something a little different.
High Key Cereal Store Brand Alternatives
There are some alternative store brand options that offer low carbs and the same quality taste if you're after another keto cereal choice.
Surreal Keto Cereal – Available in Cocoa, Cinnamon, Peanut Butter, and Frosted
Schoolyard Fruity Keto Cereal
Catalina Crunch – Available in various flavors
As the keto industry grows, so does the need for lower carb, low sugar options. There are lots of store brand alternatives out there, and it's worth taking a look at your local grocery store to see what's on offer there!
Where You Can Buy High Key Cereal?
There are a number of spots where you can buy this cereal and contribute to your keto diet in a positive way. Magic Spoon High Key cereal stocks in the following places:
It's a good idea to explore what other sites online can offer this option, especially with so many online stores existing nowadays. You may have more luck online than you would try to find them in-store.
Famous High Key Cereal Commercials
The HighKey cereal doesn't seem to have any commercials available to view online, but there are a few reviews on the cereal that are worth checking out.
Hopefully, these reviews will give you an insight into the cereal and how well it's received.
User Reviews
Review Summary
0 out of 5 stars (based on 0 reviews)
Recent Reviews
There are no reviews yet. Be the first one to write one.
Submit a Review