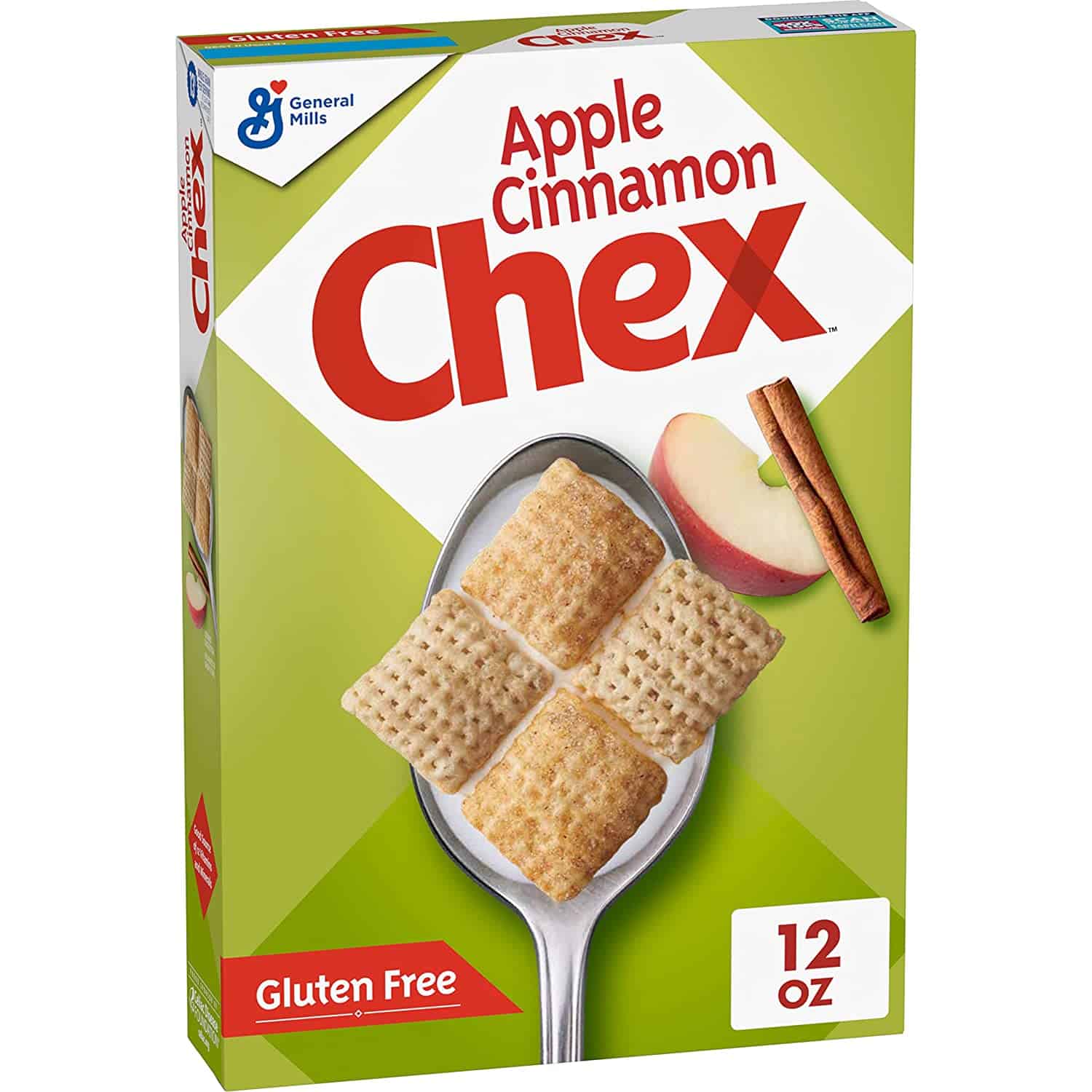 The apple cinnamon cereal is the newest addition to the Chex cereal family and combines two classic flavors into one crunchy bowl. For more information about the nutritional value of the breakfast cereal, as well as where you can purchase it, keep reading!
Nutrition Facts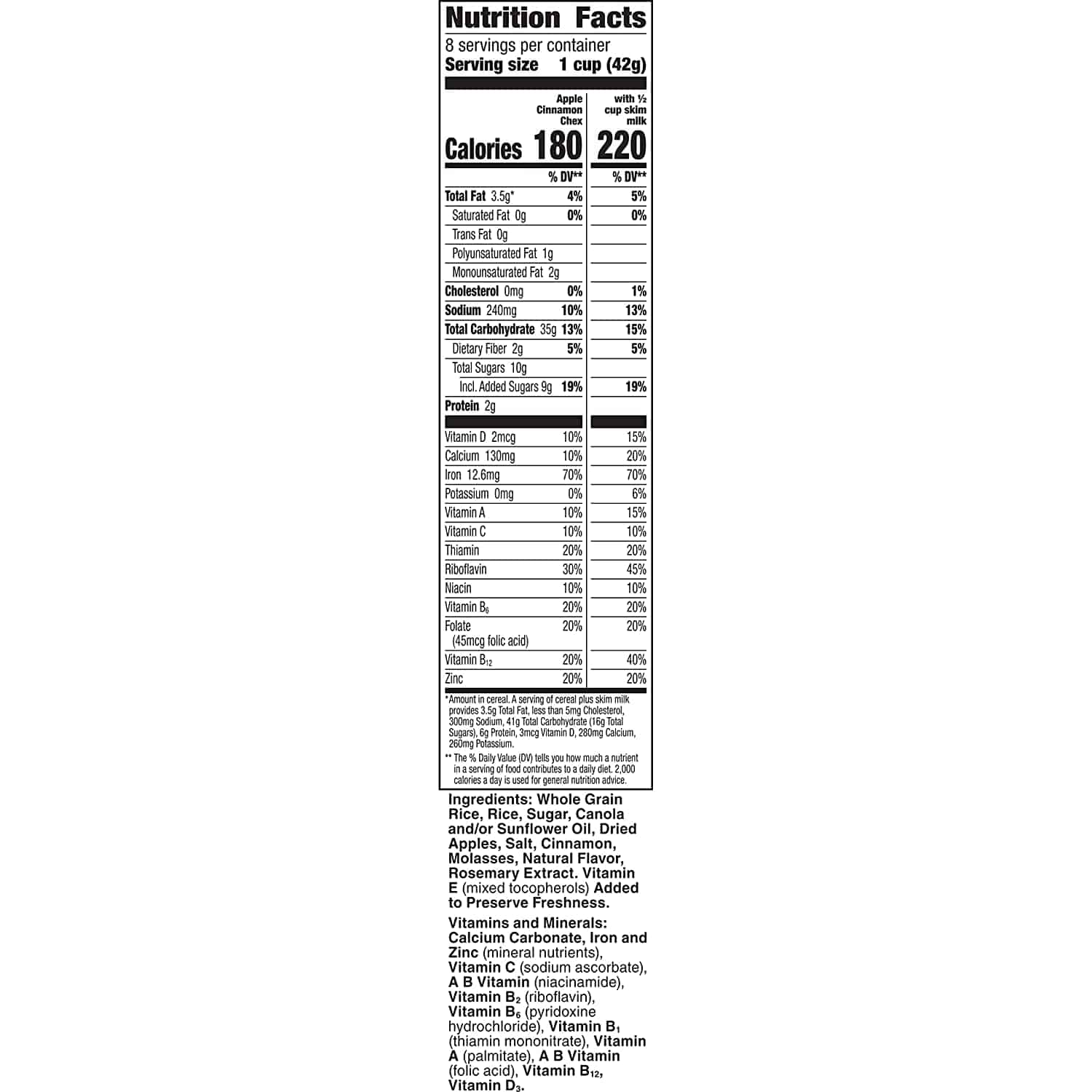 According to the official Chex website, one serving of the apple and cinnamon flavor cereal (1 cup) without milk is 180 calories.
The other nutritional values that the apple cinnamon Chex cereal delivers are as follows:
Total Fat – 3.5g
Polyunsaturated Fat – 0.5g
Monounsaturated Fat – 2g
Sodium – 250mg
Total Carbohydrate – 35g
Dietary Fiber – <1g
Total Sugars – 10g
Incl. Added Sugars – 10g
Protein – 2g
Ingredients
This gluten-free cereal contains:
Whole Grain Rice
Rice, Sugar
Canola and/or Sunflower Oil
Dried Apples
Salt
Cinnamon
Molasses
Natural Flavor
Vitamin E (mixed tocopherols)
Is Apple Cinnamon Chex Cereal Healthy?
There are indeed reasons why these crunchy squares could be considered healthy. Each portion contains 13g of whole grain and has no artificial flavors or colors. In addition, the cereal does not contain high fructose corn syrup.
The apple cinnamon cereal delivers a well-balanced blend of minerals and nutrients, including calcium carbonate, vitamin C sodium ascorbate, and vitamin b6 pyridoxine hydrochloride, to name a few.
However, the staple cereal does contain a high number of calories (220 kcal per serving with 1/2 cup of skim milk). It also contains a high quantity of sugar and refined oils such as canola and sunflower oil. If you are particularly health-conscious, then it may be best to only consume the cereal in small quantities, such as an afternoon snack.
Is the cereal Gluten-Free?
Yes, the breakfast cereal is proud to be gluten-free and advertises as such quite obviously on the box. The brand is overall very friendly to those that follow a gluten-free diet, as all of their cereals except one (Wheat Chex) are completely gluten-free.
Is the cereal Vegan?
Chex does not label their cereals as vegetarian or vegan, so you will not be able to tell from the actual product packaging. Looking at the ingredients list, however, the breakfast cereal does contain Vitamin D3, which is usually sourced from sheep's wool, and therefore the cereal would not be considered vegan friendly.
Is the cereal Keto?
Unfortunately, this gluten-free breakfast cereal is not keto-friendly. Not only is it carb-heavy, but it also contains high-glycemic sweeteners such as molasses. This raises the blood sugar level and would stop somebody from reaching ketosis.
In addition, the highly refined oils found in the apple cinnamon cereal are full of chemicals and not ideal when the body needs to burn clean fuel when on ketosis.
Is the cereal High in Protein?
No, the apple cinnamon cereal is not high in protein, as it only contains 2g of protein per portion. This means it is not the best choice of breakfast cereal for those who take part in intense exercise or those who are trying to bulk up.
Is the Cereal High in Fiber?
While the Chex cereal does contain fiber, it is not considered to be a high amount at less than 1g of fiber per bowl. If you are looking to consume more fiber, it could be a good idea to add fresh apples or other sliced fruit to your portion of cereal to increase the percentage.
You could also add nuts and seeds to the breakfast cereal to make the fiber count higher, such as chia seeds or flax seeds. These are barely noticeable but will provide you with a lot more fiber.
Apple Cinnamon Chex Cereal Alternatives
If you like the idea of apple cinnamon cereal but are not too convinced with the offering from Chex, then you are in luck, as there are alternatives out there that might just be perfect for you.
Apple Cinnamon Cheerios
Lower in calories, this breakfast cereal from Cheerios delivers on taste while providing slightly more whole grains than the Chex option at 14g per serving. It contains 12 vitamins and mineral nutrients, including B vitamin folic acid and B1 thiamin mononitrate vitamin.
This brand of Cheerios is also lower in fat, coming in at 2.5g per bowl. However, the breakfast cereal does contain a lot of sugar. In addition, it does contain mixed tocopherols, which are used to preserve freshness and is also a hidden GMO ingredient that many people choose to avoid.
Kellogg's Apple Jacks
Kellogg's are serious about the flavors of cinnamon and apple with their Apple Jacks breakfast cereal. Not only does the cereal look great with its combination of green and plain rings, but it also comes in at 15g of whole grain and only 1.5g of fat per serving.
Compared to the Chex and Cheerios products, however, this cereal does not have as many vitamins and nutrients, so it is best consumed now and again at snack time and always in moderation.
Where You Can Buy Apple Cinnamon Chex
2/3 of Americans say that apple cinnamon is a flavor combination that the whole family can get behind, so it's no wonder that the cereal is widely available to buy in the country.
You can find this gluten-free cereal at leading supermarkets such as Walmart, Target, and Kroger, as well as online at Amazon.
Famous Apple Cinnamon Chex Commercials
One of the most famous television commercials for Chex cereal was their 2004 advert which depicts a scene where government officials from around the world are congregated. A little girl interrupts to say that the world needs to be "given a better shape," and a group of other children goes on to list the benefits of the cereal.
The main focus of the commercial is to show that the cereal comes in 3D shapes with holes to allow the milk to flow through. This results in cereal that stays crunchy and notes Chex as the place "where great taste takes shape."
In more recent years, Chex has opted to advertise on its social media channels, including sites such as Pinterest. Here, they regularly post short and snappy videos to update their customers and to bring attention to new product lines and crowd-pleasing dessert recipes.
The video above shows their 2021 campaign, '12 Days of Chexmas,' where they have got Chrissy Teigen and John Legend involved to provide their customers with 12 days of surprises. These treats include helpful holiday hacks and new recipes, too (apple crumble Chex mix, anyone?).
User Reviews
Review Summary
0.0 out of 5 stars (based on 0 reviews)
Recent Reviews
There are no reviews yet. Be the first one to write one.
Submit a Review