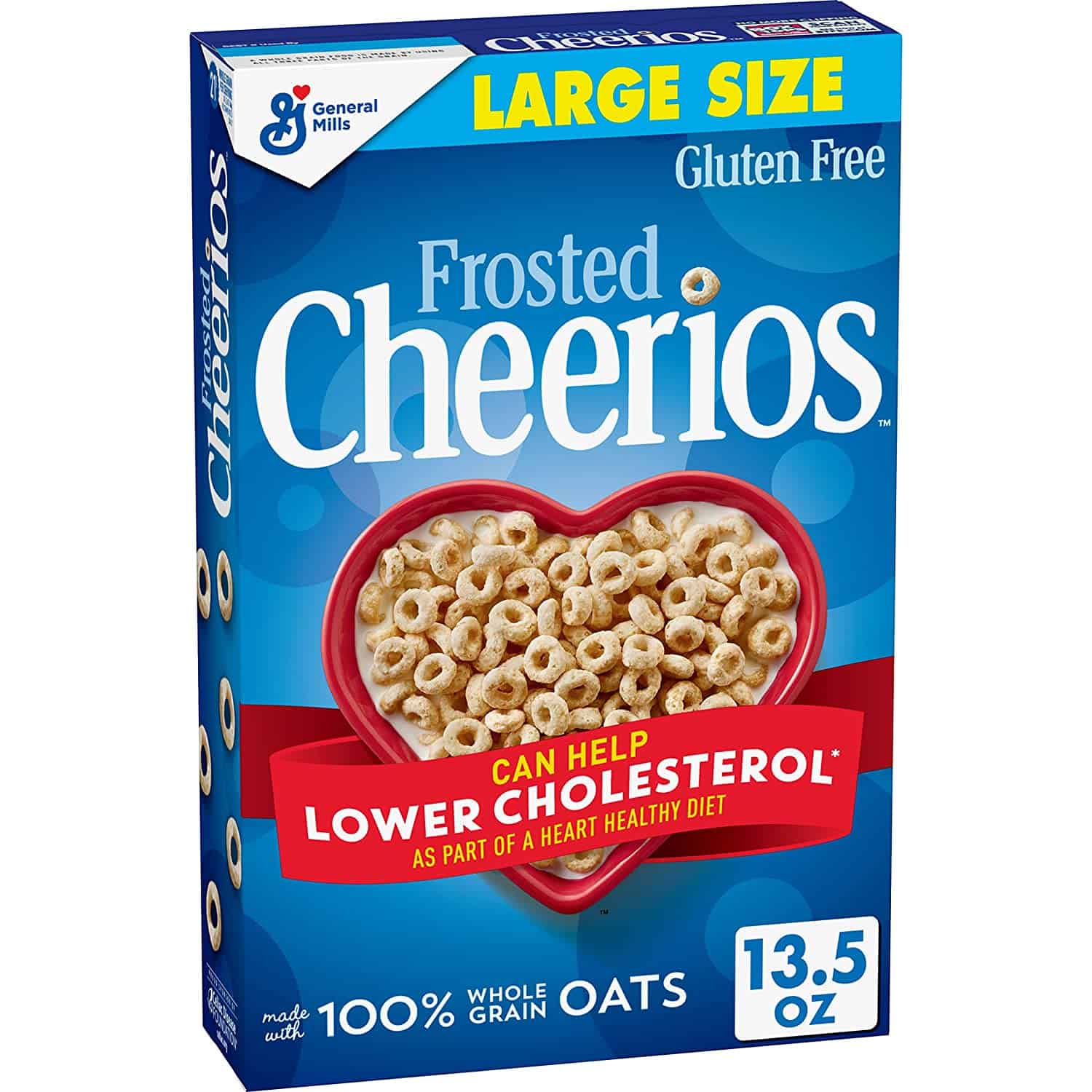 For many years following the release of classic whole-grain oat cereal Cheerios in 1941, there were only a handful of varieties available, including Honey Nut Cheerios. Recently, however, there's been a great range of new varieties of Cheerios breakfast cereals, one of which is Frosted Cheerios.
Frosted Cheerios combination of healthy wholegrain oats covered in frosty goodness is a nutritious and tasty way to start your day.
With 21 grams of whole grain in every serving and 12 essential vitamins and minerals, it's no wonder why Frosted Cheerios are such a hit with the nation's breakfast table.
Let's take a look inside the box and see what goes into a bowl of Frosted Cheerios breakfast cereal.
Nutrition Facts

A serving of Frosted Cheerios breakfast cereal (36g) contains –
Calories – 140
Total fat – 1.5g/2% RDA
Saturated fat – 0G
Trans fat – 0g
Polyunsaturated fat – 0.5g
Monounsaturated fat – 0.5g
Cholesterol – omg
Sodium – 200mg/9% RDA
Total carbohydrate – 29g?11% RDA
Dietary fiber – 3g/9% RDA
Soluble fiber – 0.75mg
Total sugars – 12g
Incl. added sugars – 12g/23% RDA
Protein – 3g
Vitamin D – 2mcg/10% RDA
Calcium – 130mg/10% RDA
Iron -3.6mg/20% RDA
Potassium – 0mg
Vitamin A – 10%RDA
Vitamin C – 10%
Thiamin Mononitrate- 20% RDA
Riboflavin – 10% RDA
Niacin – 10% RDA
Vitamin B6 – 20% RDA
Folate (45mgc folic acid) – 20% RDA
Phosphorus – 8% RDA
Magnesium – 8% RDA
Zinc – 20%
Ingredients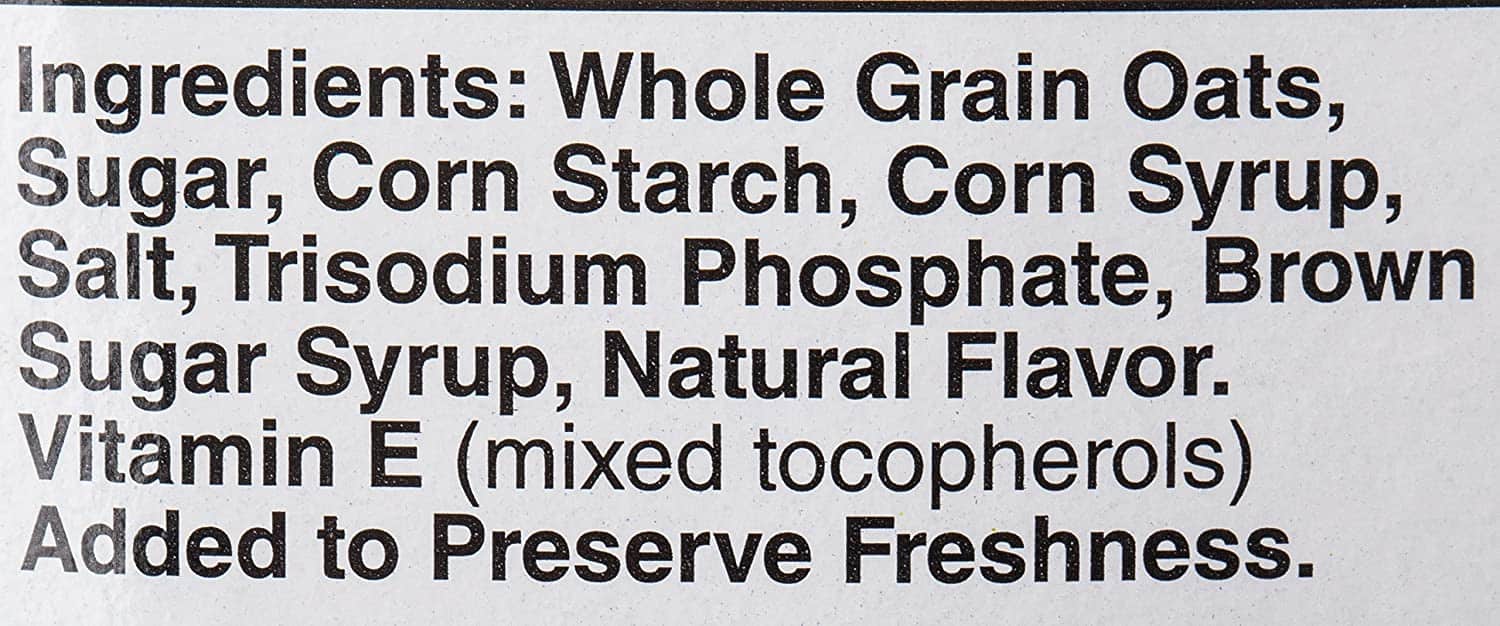 Frosted Cheerios contains:
Whole Grain Oats
Sugar
Oat Bran
Corn Starch
Corn Syrup
Salt
Trisodium Phosphate
Brown Sugar Syrup
Natural Flavor
Vitamin E (mixed tocopherols) Added to Preserve Freshness
Are Frosted Cheerios Healthy?
Frosted Cheerios provide a hearty, healthy cereal without skimping on flavor.
A good sign of healthy breakfast cereal is a short ingredients list low on chemicals and artificial flavors, and as we can see above, Frosted Cheerios ticks that box.
The 12 essential vitamins and minerals in every serving to ensure you're reinforcing your body's bones and defenses every morning. They're also perfect for low cholesterol or low-fat diet as they contain negligible amounts of both.
3g of soluble fiber from whole grain oat foods coupled with low cholesterol and fat has been shown to reduce the risk of heart disease. One serving of Frosted Cheerios covers just under one-third of your recommended daily intake of healthy whole grains.
However, it's important to remember that despite this, one serving contains 23% of your daily intake of sugar and that Frosted Cheerios are still a tasty cereal known for its deliciously sweet taste and not its health benefits.
Are Frosted Cheerios Gluten-Free?
The whole grain oats in Frosted Cheerios are gluten-free and are a suitable cereal for Celiacs or anyone following a gluten-restricted diet. Always lookout for the gluten-free label on the box.
It is important to bear in mind that while the oats in Cheerios are naturally gluten-free, during the handling and production process, they may mingle with grains that contain gluten, such as wheat, rye, and barley.
Are Frosted Cheerios Vegan?
At face value, Frosted Cheerios contains no animal products. However, the white sugar used in cereals is often not friendly to a vegan diet.
An unfortunate part of the sugar whitening process is the use of calcium carbonate, which is an animal product used by charring the bones of cattle. While it is no guarantee that Frosted Cheerios uses this process, it is common practice, and some more careful vegans might want to avoid this cereal.
Are Frosted Cheerios Keto?
A ketogenic diet follows the principle of cutting out carbohydrates to a minimum and increasing fat intake, which encourages your body to produce ketones, an alternative, healthy energy source.
Frosted Cheerios contain virtually no fat, making them unsuitable for keto as fat intake must be very high to get into ketosis.
Daily carb intake should be below 20g to allow ketosis, and while Cheerios only contains 12g, allowing a little space to achieve ketosis, they are not suited to this diet, and you could find other more suitable high-fat, low-carb snacks.
Are Frosted Cheerios High In Protein?
Frosted Cheerios breakfast cereal contains only 3g of protein in each serving and is not designed as a high protein breakfast.
Are Frosted Cheerios High In Fiber?
For sweet breakfast cereal, Frosted Cheerios contain a high amount of fiber. The 0.75g of soluble fiber in every serving contributes just under one-third of your daily recommended intake.
While other more health-conscious cereals may contain higher levels of fiber, this one is a good way to get it without sacrificing sweetness.
Frosted Cheerios Varieties
If you're a Frosted Cheerios fan, then General Mills has created a range of tasty frosted Cheerio alternatives to keep you going
Chocolate Cheerios – made with natural cocoa and only 8 grams of sugar, this deliciously sweet cereal contains only 100 calories and 13 grams of fiber per serving.
Honey Nut Cheerios – This naturally flavored cereal combines the taste of almond and sweet honey with the fortified recipe and naturally high whole grain that Cheerios are known for.
Blueberry Cheerios – made for cereal and fruit lovers alike, this naturally flavored cereal is perfect for the breakfast table, as a high fiber finger food, or added to trail mix.
Frosted Cheerios Store Brand Alternatives
Cheerios are such a timeless and popular cereal that any grocery store will have their own cheaper, store-brand alternative.
Where You Can Buy Frosted Cheerios?
Frosted Cheerios can be found in-store at Walmart, Kroger, and Harris Teeter. If you prefer to do your grocery shopping online, Amazon and Target sell many of the Cheerios cereal varieties, including Frosted Cheerios.
Famous Frosted Cheerios Cereal Commercials
Cereals don't usually advertise, especially with products that have been around for years, but that isn't true for Frosted Cheerios.
This 2009 commercial gives us a little bit of nostalgia for the late noughties as a teen wrestles past a luchador so he can start his day with the sweet taste of Frosted Cheerios cereal.
User Reviews
Review Summary
0.0 out of 5 stars (based on 0 reviews)
Recent Reviews
There are no reviews yet. Be the first one to write one.
Submit a Review