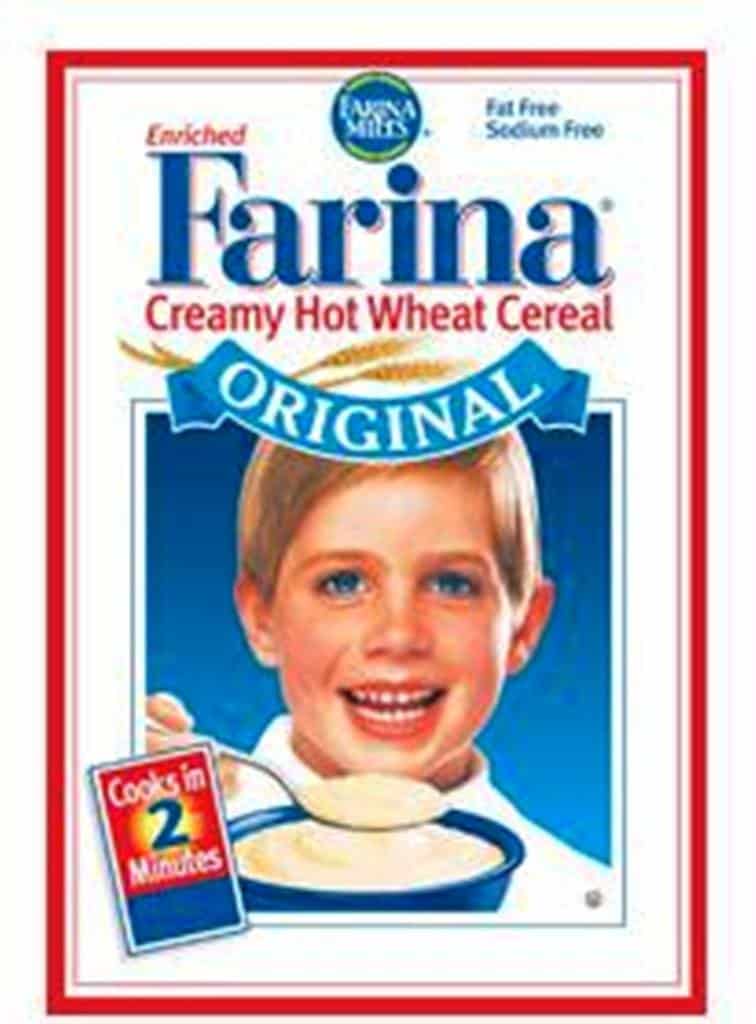 Post's Hot Wheat Farina Mills cereal has been around for nearly a century. As it is both a popular baby food option and a favorite creamy hot cereal for breakfast, generations of families have grown up with Farina Mills.
Definitely, one of Post's favorite creamy hot wheat cereal options, Farina Mills is still the best-selling cereal and a staple of American breakfasts everywhere.
Nutrition Facts
One serving (3 dry tablespoons or 35 grams) of Farina Mills cereal contains:
Calories – 130
Calories from fat – 0
Fat – 0 grams / 0%
Saturated fat – 0 mg
Trans fat – 0mg
Cholesterol – 0mg
Sodium – 0mg / 0%
Carbohydrates – 27 grams / 10%
Total sugars – 0 grams / 0%
Dietay fiber – less than 1 gram / 2%
Protein – 4 gram / 0%
Vitamin A – 0%
Vitamin B1 (Thiamin) – 10%
Vitamin B2 (riboflavin) – 8%
Vitamin B3 (Niacin) – 6%
Vitamin C – 0%
Vitamin D – 0%
Folate – 80 mcg DFE / 20%
Vitamin B9 (Folic acid) – 50 mcg
Potassium – 35 mg / 0%
Calcium – 100 mg / 8%
Phosphorus – 4%
Iron – 10.8 mg / 60%
Zinc – 15%
Vitamin B6 (Pyridoxin) – 0%
 *The above Daily Value percentage is based on a diet of 2,000 calories per day.
One 793 grams box of Farina Mills cereal contains around 23 servings.
In total, Farina Mills cereal contains 0 grams of whole grains.
Ingredients
The ingredients list of Farina Mills cereal includes:
Wheat farina
Calcium carbonate
Ferric orthophosphate (Source of Iron)
Folic acid
Thiamin mononitrate (Vitamin B1)
Riboflavin (Vitamin B2)
Niacinamide (Vitamin B3)
Pyridoxine hydrochloride (Vitamin B6)
Is Farina Mills Cereal Healthy?
Yes, Farina creamy hot wheat cereal can be considered one of the more healthy options for a breakfast cereal.
The leading wheat ingredients, the milled farina, and its wheat germ by-product are high in iron, B vitamins, and calcium. In addition, the primary ingredient is wheat germ, which is inherently a great source of Vitamin E and powerful antioxidants.
Unfortunately, to make Farina Mills a fast cooking cereal, the farina is heavily milled, resulting in a very low dietary fiber content. However, there are numerous healthy ways to add fiber to give Farina Mills creamy hot wheat cereal an extra boost. Also, it is worth noting that farina is not a whole grain.
Another healthy dimension of the cereal is that it is sodium-free and sugar-free. Also, while not necessarily high in protein, there is a much higher protein content than many other kinds of cereal.
Is Farina Mills Cereal Gluten-Free?
Many websites report that Farina Mills brand cereal is gluten-free. However, the primary ingredient in Farina Mills cereal is farina. Though it is milled extensively, farina is a wheat, farina is a wheat, and thus this is a wheat-based cereal.
The issue seems to be how strictly the term gluten-free is being defined. Regardless of how you prefer to define it, Post Farina mills brand cereal is a wheat-based cereal and should not be considered gluten-free.
Is Farina Mills Cereal Vegan?
Whether or not Farina Mills can be considered vegan friendly depends upon how strictly you regulate your food as a vegan. This is because several of the ingredients used in Farina Mills may or may not be considered vegan friendly by strict practitioners of a vegan lifestyle.
Obviously, the primary ingredient of farina flour is fine, but the cereal is fortified with vitamins and minerals, and that is where the issue may lie. Specifically, the list of B vitamins and calcium carbonate could be an issue for some people. These ingredients would be the only considerations from a vegan diet perspective.
Is Farina Mills Cereal Keto?
Post Farina Mills can generally be considered a healthy cereal, and the fact that it is sugar-free would typically make you think that it is also keto-friendly. However, it cannot be considered a keto-friendly food. A keto diet typically only permits a total daily intake of 20 -30 grams of carbohydrates a day.
Even though one serving of Farina Mills cereal is high in carbs, it still would appear to satisfy the daily intake of carbs on keto. However, the overall nutritional profile of the cereal is backward for the keto diet. Specifically, Farina Mills is very high in carbohydrates and very low in protein.
Is Farina Mills Cereal High In Protein?
Though Farina Mills could not be considered high in protein, it is higher than many other breakfast cereal options. Most breakfast cereals contain 3 grams or less of protein per serving. Cereals typically contain five or more grams per serving to be considered high in protein products. Thus, Farina Mills is not high in protein but higher than many other options.
Is Farina Mills Cereal High In Fiber?
No, Farina creamy hot wheat cereal cannot be considered high in dietary fiber. Even though the cereal conveys the idea that it is all wheat and grain, farina is not a whole grain, and it is milled extensively to make it cook faster, resulting in very diminished fiber content.
As a result, one serving of Farina Mills contains less than 1 gram of dietary fiber. The recommended dietary fiber intake should be around 25 grams, according to the FDA; the recommended dietary fiber intake should be around 25 grams.
Farina Mills Store Brand Alternatives
There are primarily three alternatives to Malt o Meal Farina Mills' creamy hot wheat cereal.
The most well-known is the regular Cream of Wheat, a hot cereal that has been around since 1893.
Other popular hot cereal alternatives are Maltex Hot Wheat cereal and Bob's Red Mill Whole Wheat Farina Hot Cereal.
Where Can You Buy Farina Mills Cereal?
Farina Mills is one of Post Cereals' most popular hot cream cereal products, and you can purchase it in top departments that stock Post cereals.
Famous Farina Mills Cereal Commercials
Unlike other Malt o Meal hot cream cereal options, there wasn't a very big advertising campaign surrounding Farina Mills. The cereal did double duty as a hot cereal for breakfast that the entire family could enjoy and considered a great baby food cereal.
User Reviews
Review Summary
0.0 out of 5 stars (based on 0 reviews)
Recent Reviews
There are no reviews yet. Be the first one to write one.
Submit a Review