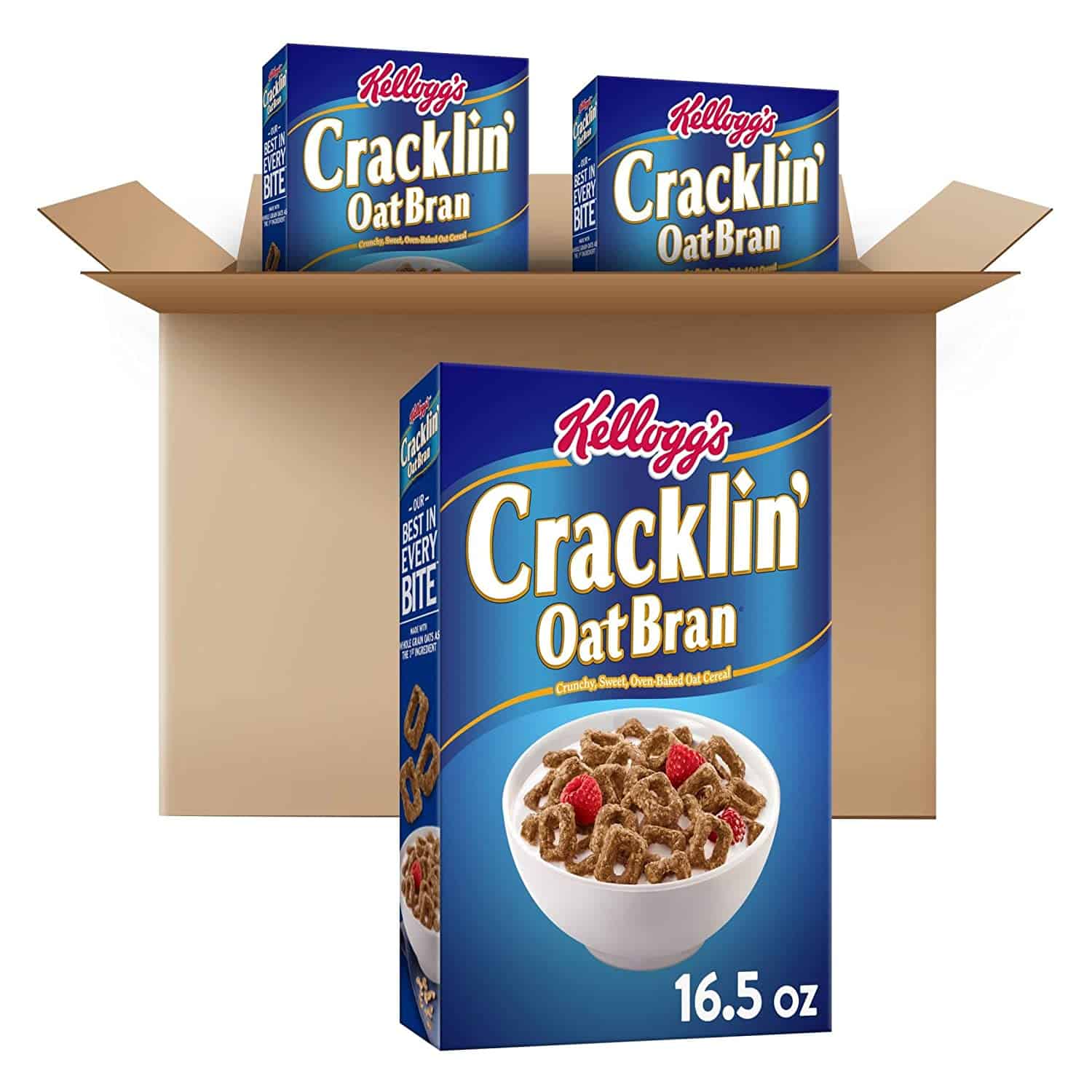 Oat Bran cereal is a delicious, popular choice of breakfast meal that promotes healthy digestion and general good health. But what exactly is it?
Whole grains have different layers that, on their own, serve a purpose. While some are not great tasting, nor particularly good for you, there are bits that are. Oat bran is the outer layer of the oat groat, with the bran being removed when oatmeal is further processed. It is nutritious, full of fiber, and can make a great start to the day.
Some people find adding their own favorite recipes beneficial. Foods such as cinnamon, maple syrup, brown sugar, honey, fruit such as mashed banana as well as nuts can make this type of bran all the more delicious and healthy – often minus the sugar.
Nutrition Facts
While each brand of Oat Bran will come with different nutritional values, below, Kellogg's Crackin' Oat Bran is listed to give you an idea of what's included.
A serving size of 3/4 cups (56 g) with 3/4 cup of semi-skimmed milk contains:
Calories 230
Total Fat 8g
Saturated Fat 3.5g
Trans Fat 0g
Polyunsaturated Fat 1.5g
Monounsaturated Fat 3g
Cholesterol 0mg
Sodium 65mg
Total Carbohydrate 41g
Dietary Fiber 7g
Total Sugars 16g
Protein 4g
Ingredients
While Oat Bran ingredients will vary depending on which brand you decide on, due to different recipes, there are some staple ingredients that are found in many different oat bran cereals, such as:
Golden oats
Sugar
Flakes of coconut
Ground cinnamon
Vanilla flavoring
Nutmeg
Honey or Maple Syrup
Is Oat Bran Cereal Healthy?
Oat Bran is considered to be one of the most healthy cereals around. Many of these types of cereal are not only an excellent source of fiber, but they also have naturally-occurring vitamins and minerals.
They are also commonly high in antioxidants, help control blood sugar levels, ease constipation, and much more.
While it's always best to read the label before you commit to a purchase, as exact amounts of these may vary from brand to brand, there's no reason why you can't enjoy a bowl of Oat Bran as part of a delicious, healthy, balanced diet.
Is Oat Bran Cereal Gluten-Free?
Oat Bran is naturally gluten-free, but it's important to check the cereal label or contact the producer if you have any doubts – particularly if you are celiac. This is to ensure that the cereal has been processed in a 100% gluten-free facility.
Is Oat Bran Cereal Vegan?
While Oat Bran is considered vegan, some vegans prefer not to eat Oat Bran, owing to the added sugars and Vitamin D3 that are often found in these cereals.
Bone char is used widely throughout the food industry when refining sugar, ensuring it becomes the clean, white color we are used to. And Vitamin D3 is usually sourced through sheep wool.
Is Oat Bran Cereal Keto?
No, as Oat Bran is very high in carbohydrates, it is not suited for those following a keto diet. If you are on a keto-type diet, you should not exceed 50g of net grams per day, and Oat Bran far surpasses these measurements.
Is Oat Bran Cereal High in Protein?
Some Oat Brans contain more protein than others, but around 6g per serving is roughly the average amount. This is considered a high amount of protein, particularly for a cereal.
Is Oat Bran Cereal High in Fiber?
The good news is that generally speaking, yes, Oat Bran is a cereal that has a lot of fiber in it, sometimes having as much as 7g per bowl. This makes it great for extra roughage that can even help keep your heart healthy and prevent heart disease.
Oat Bran Cereal Varieties
Many cereal companies offer up their own variety of Oat Bran cereal. Below are two of the most popular and delicious that are widely available; Quaker Oat Bran and Hodgson Mill Oat Bran.
Quaker Oat Bran Cereal
Quaker Oat Bran cereal is made from 100% oat bran, providing a lot of fiber within this hot breakfast, which can protect against heart disease.
Each box contains on average 11 x 40g portion sizes and has 140 calories.
Below, its nutritional value is outlined:
Total Fat 3g
Sat. Fat 0.5g
Trans Fat 0g
Polyunsaturated Fat 1g
Monounsaturated Fat 1g
Cholesterol 0mg
Sodium 0mg
Total Carbohydrate 26g
Dietary Fiber 5g
Soluble Fiber 3g
Total Sugars <1g
Protein 6g
Hodgson Mill Oat Bran
Hodgson Mill's variety of oat bran is egg-free, peanut-free, tree nut-free, kosher, and vegetarian.
Per serving size of 1/4 cup dry (40 g), it has:
Calories 150
Total Fat 3g
Sat. Fat 0.5g
Trans Fat 0g
Polyunsaturated Fat 0g
Monounsaturated Fat 0g
Cholesterol 0mg
Sodium 0mg
Total Carbohydrate 27g
Dietary Fiber 5g
Sugars 0g
Added Sugars 0%
Protein 7g
Oat Bran Cereal Store Brand Alternatives
There are many different varieties of oat bran out there, with many stores selling their own versions. Many varieties are also available online.
Where You Can Buy Oat Bran Cereal
You can buy oat bran at practically any supermarket or convenience store. It is most commonly found in the cereal aisle of your grocery store, but also try the baking section if you have no luck next to where the cereal is. This is because oat bran is often used for baking, so it could be close to the flour in this aisle.
You can also find it online at places like Amazon and Walmart if you prefer.
Famous Oat Bran Cereal Commercials
With oat bran being such a popular choice of cereal over the years, there have been dozens of cereal commercials broadcast during that time.
One popular commercial boasts a man saying he gets up 15 minutes earlier to enjoy the bran because of its healthy properties, when previously he didn't take breakfast when he woke up.
Another commercial for Kellogg's Cracklin' Oat Bran sees two bizarre sock puppets wreak havoc while devouring the cereal. You can watch it here.
User Reviews
Review Summary
0 out of 5 stars (based on 0 reviews)
Recent Reviews
There are no reviews yet. Be the first one to write one.
Submit a Review